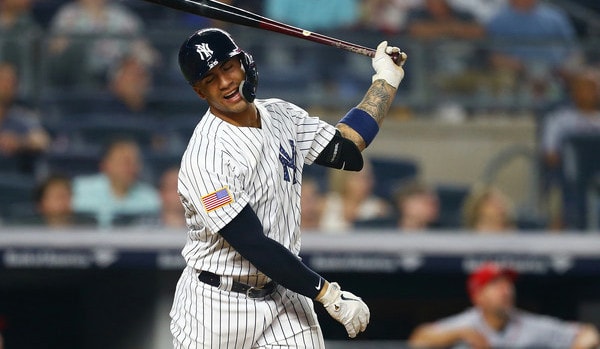 On May 6 of this year, the Yankees played a day game against Cleveland at home. The game started at one and I was able to catch the middle and late innings on my drive home from work. I arrived just as Dellin Betances was melting down and he and Jonathan Holder combined to give Cleveland a 4-0 lead. Once I got in, I prepared to take my son back from my mother-in-law who and take him on a walk around the neighborhood. Small talk ensued while my son played–presumably with trucks–and the Yankees scored three runs in the bottom of the eighth, then retired the Cleveland batters 1-2-3 in the ninth. Delaying the walk allowed us to watch Gleyber Torres come up in the bottom of the ninth, with the score tied, and deliver a walk off, three-run homer to give the Yankees their sixth straight win. At times for the last few weeks, that day has felt very far away.
Since coming off the DL in late July, Torres is hitting just .158/.253/.303/.556. He has three home runs in that stretch, but two came on a multi-homer day on August first. Since then, he has just one homer and one double to show for power. On the plus side, briefly, he has ten walks in that stretch. However, since walking twice on August 8, he hasn't walked at all; on the flip side of that, he's struck out at least once in every game since returning from injury, save for the double header on July 28–he entered in the 8th of game two–and the game on July 31. When he went out with an injury, his OPS was .905; it's now down to .814.
At times, I've thought he was ready to get going again, but then any progress seemed to stall out. Is his timing still off? Is his hip still bothering him? Is it just bad luck? I'm not nearly qualified enough to comment on the first and the Yankees surely wouldn't be playing him if it were the second–so long as he told them–so maybe it's the third.
A quick glance at his batted ball splits by month may say otherwise as his line drive rate is a season low 18.1% in August. Additionally, his soft contact is relatively high this month at around 16%. It was about 18% in July after being under 14% in both May and June; it was freakishly high in April at around 27%, which seems to be an outlier. Predictably, his hard contact is down to a season low 29.7%. Likewise, he has very low xWOBA marks on all three pitch types–fastball, breaking, offspeed–each clocking in at .284 or lower.
The weak contact is also showing up on his zone profiles, 'sorted' by ISO, courtesy of Brooks. First is Torres from his debut to July 4.
In this chart, there are high ISO marks in many different locations in the zone–and even some out of the zone. Now let's take a look at Gleyber's ISO by zone since his return from injury.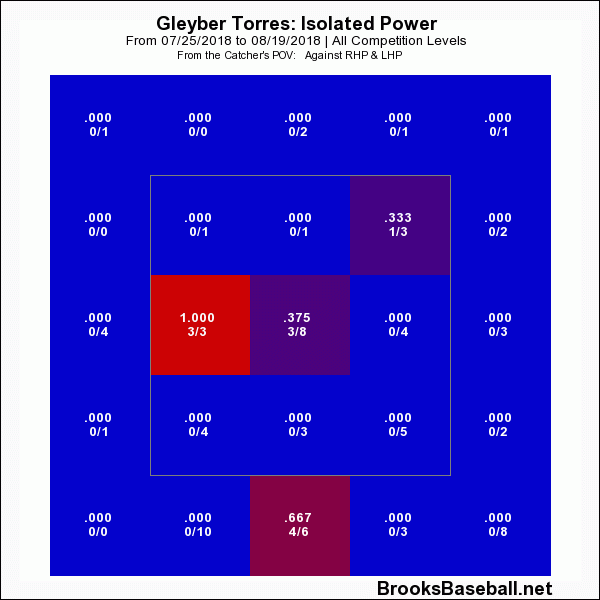 On this plot, there are only four spots that have ISOs higher than zero; on the first plot, there are four spots with an ISO of .500 or higher.
Is the answer just that he's not hitting the ball hard enough? It seems like it could be. The fix for that is obviously tougher and more nuanced than I'm qualified to speak about, but it's fairly intuitive: hit the ball hard and good things will happen. For one reason or another, that's gotten away from Gleyber since he's been back from injury. The sooner he gets it back, the better for both him and the team.