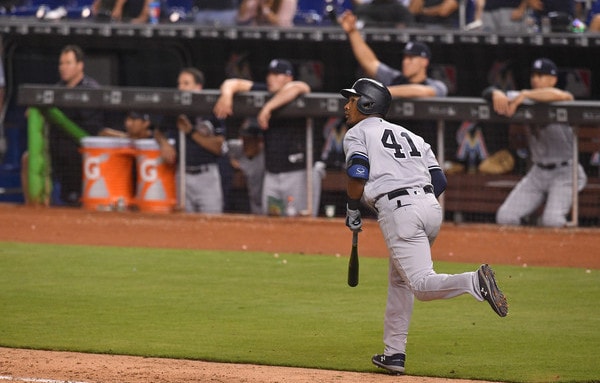 The Yankees lost yet another key player to the disabled list yesterday. Didi Gregorius suffered a left heel contusion and landed on the disabled list alongside Aaron Judge (wrist), Gary Sanchez (groin), CC Sabathia (knee), Clint Frazier (post-concussion migraines), and Jordan Montgomery (Tommy John surgery), among others. Starting catcher, starting shortstop, starting right fielder, backup right fielder, and two starters all injured. Yuck.
The Yankees are fairly deep as an organization, so even after all those injuries and the trade deadline, they were still able to run out a representative lineup in last night's series opener against the Marlins. Giancarlo Stanton is a star, Aaron Hicks isn't a star but he sure as hell is playing like one these days, and youngsters Miguel Andujar and Gleyber Torres supplement the lineup as well. Andujar is probably the AL Rookie of the Year favorite. Torres was an All-Star.
Earlier this season, when everyone was healthy, Andujar and Torres were regulars near the bottom of the lineup, and man, they were productive. Torres especially. Lately though, the injuries have pushed the two rookie infielders into more prominent lineup spots. More prominent lineup spots and more prominent defensive positions. The Brandon Drury trade means Andujar is the third baseman, no questions asked. Torres is filling in at short for Gregorius.
Gleyber has mostly slumped since returning from the disabled list, but he is 8-for-20 (.400) in his last five games, including two hits last night, so he's starting to come around. Andujar? I'm not sure he's stopped hitting at any point this year. Last night he drove in the game-winning run with a two-strike tomahawk sacrifice fly. It was the kind of off-balance swing on an elevated pitch that seemingly only Andujar can make work.
Andujar had a single in addition to his go-ahead sacrifice fly last night. He's currently at .297/.328/.526 (128 wRC+) overall and .347/.361/.627 (166 wRC+) since the All-Star break, and he has 12 extra-base hits (six doubles and six homers) in his last 14 games. These last few weeks have ostensibly pushed Andujar into the AL Rookie of the Year lead.
In a perfect world, the Yankees wouldn't need Andujar or Torres to play such big roles so soon. They're middle of the order bats alongside Stanton and Hicks now. They're not the promising depth bats at the bottom of the lineup. They're the guys expected to do damage in the middle of the lineup. And, by and large, Torres and especially Andujar are handling it well. Judge, Sanchez, and Luis Severino handled it well last year. Now Andujar and Torres are this year.
It's hard to believe that, as recently as Spring Training, the Yankees were wary of starting the season with two rookie infielders. They acquired Drury to play third base right before camp and signed Neil Walker in March. Both Andujar and Torres were slated to begin the season in Triple-A and now here they are in August, batting fourth and sixth for a team on pace to win 102 games. It happened fast. Injuries will do that.
"You hope to avoid (injuries) as much as you can, especially to the key guys. Whether they're freakish, whether they're significant, whether they're small, they're all things you have to deal with," said Aaron Boone yesterday. The Yankees probably wish they didn't have to lean on the rookies so heavily so soon, but injuries have forced their hand, and Andujar and Torres have handled it very well. The Yankees wouldn't be where they are without them.