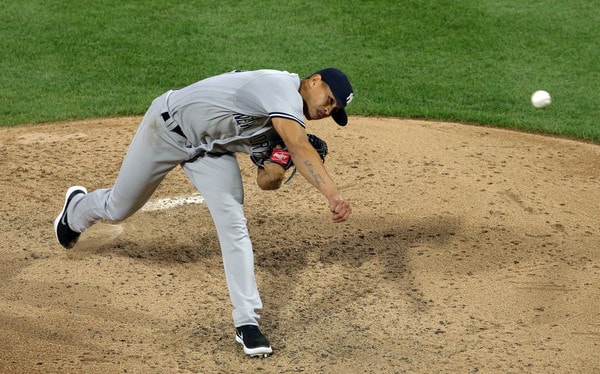 Last night right-hander Jonathan Loaisiga made his fourth start back from a shoulder issue that sidelined him a little more than a month. He threw four innings of one-run ball for Double-A Trenton and has allowed three runs on ten hits and four walks in eleven innings in his four starts back from the injury. He's struck out nine. Fairly standard "this guy missed a month and is working his way back to midseason form" stuff.
Loaisiga suffered the injury right after being sent down early last month. He threw four innings against the Braves on July 2nd, was sent down the next day, and then was placed on the disabled list July 7th. Apparently he felt a little something in his shoulder during his between-starts throwing work. The injury required a cortisone shot and now Loaisiga is healthy and back on the mound.
During his brief big league stint Loaisiga looked very good at times and very inexperienced at times, which is is no way unexpected. The kid had thrown 47.2 innings total in full season ball before being called up, including zero in Triple-A. And yet, Loaisiga still managed a 28.4% strikeout rate and a 60.0% ground ball rate in his 18 big league innings (3.00 ERA and 2.88 FIP). The kid showed a quality three-pitch mix and very good composure, I thought.
Rosters expand this Saturday,
and while I don't expect Loaisiga to be a September 1st call-up
, I do think he'll be back with the Yankees next month. He's thrown only 74 innings this season — and 189.1 innings in his entire career — and I think the Yankees will leave him with Trenton for the time being. Loaisiga needs to pitch. He can do that with the Thunder, who have already clinched a postseason spot.
I do expect Loaisiga to rejoin the Yankees once Trenton's season ends, though it is not set in stone. The Yankees will have two choices. One, send him to Instructional League in Tampa for more innings and more work on a set schedule, possibly in preparation for an Arizona Fall League stint. Or two, call him up, and put him in the big league bullpen. Barring injuries, it's tough to see Loaisiga making any more starts for the Yankees this year. And that's fine.
I'm not sure there's a right answer here. I think there's value in calling Loaisiga up and value in sending him to Instructional League. If the Yankees do bring Loaisiga back as a September call up, I think he has a chance to be a sneaky good bullpen weapon down the stretch as a one or two (or three?) inning guy. The stuff might play up a tick — Loaisiga's fastball averaged 96.1 mph and topped out at 98.4 mph earlier this year — and he seems unflappable.
The Yankees have so many good setup relievers that high-leverage work won't happen, but perhaps Loaisiga could take over what seems to be the Adam Warren A.J. Cole role, that guy who comes in when the Yankees are down a run or two and tries to hold the other team right there. Cole's not very good at it. Loaisiga might be! The Yankees are good enough offensively that preventing tack on runs could make a real difference in the standings in the season's final month. (Example: Last night.)
September call-up pitchers have a way of getting buried in the bullpen — we all get excited when these kids get called up, and then they throw like two mop-up innings all month — so maybe Loaisiga won't get an opportunity to pitch much next month. That said, he did pitch for the Yankees earlier this year, and the guys who've been up before tend to get another look in September. Loaisiga's four-start cameo may've pushed him to the front of the line.
One other thing to keep in mind here: The Yankees are preparing Justus Sheffield for bullpen work as a September call-up. He is the organization's top prospect and his playing time figures to be a priority. I don't think the Yankees will call Sheffield up and not pitch him. He'll see some work, and it could be that he takes innings away from Loaisiga. Not necessarily a bad thing! Sheffield could be really good. But his playing time could come at Loaisiga's expense.
I expect Loaisiga to get called up once Trenton's postseason ends but it is not set in stone. If he does get the call, and if he doesn't get buried behind some other call-ups pitchers (i.e. Sheffield and Chance Adams), I think Loaisiga could give the Yankees a real nice boost out of the bullpen. He might be an immediate upgrade over Cole, and besides, there's no such thing as too many good relievers. Every little bit helps, and Loaisiga showed enough earlier this year to lead me to believe he could help again in September, even out of the bullpen.