There are ten questions in this week's mailbag. As always, send your questions to RABmailbag (at) gmail (dot) com and I'll answer as many as I can each week.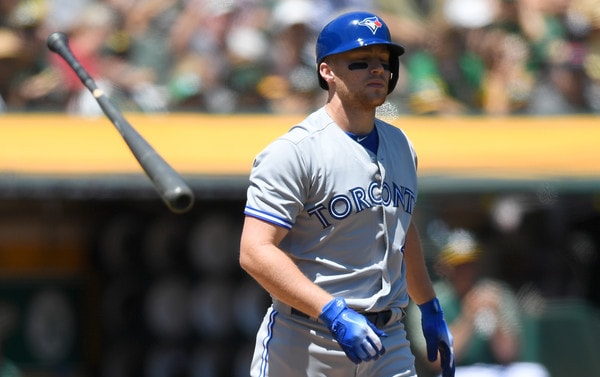 Michael asks: Does Toronto have the right to ask for compensation for Brandon Drury's broken hand?
Drury was placed on the disabled list with a broken hand a few days ago, and he originally suffered the injury while with the Yankees. Remember when he got by the pitch in Tampa? That's when his hand was broken. There have been instances in which a team received compensation after trading for a player they didn't know was injured. The Marlins and Padres reworked the Andrew Cashner trade after it was discovered Colin Rea's elbow was messed up.
In Drury's case, the Blue Jays can't ask for compensation because they reviewed the x-rays before the trade. Well, I should rephrase that. They can file a grievance with MLB and request compensation, but it won't go anywhere because again, they reviewed the x-rays. From Richard Griffin:
The Drury trade is different because of that 2001 fiasco (the Mike Sirotka trade). The Jays had access to the Yankees' X-ray of his hand that had been hit by a pitch and it was clean.

"It just wasn't really getting any better," Drury said of the pre-trade injury. "I just wanted to get a CT Scan on it and see if anything was wrong and it was broke. I was doing everything I could to play through it, but it was just to the point where I couldn't swing right. I couldn't catch the ball either."
This isn't going to go anywhere. The Blue Jays reviewed the x-rays, and even if they're given the opportunity to reverse the trade, they wouldn't do it. J.A. Happ is going to be a free agent and they don't want to go through the hassle of trying to move him on trade waivers, because he'll get claimed and their options will be limited. The injury was no secret. Toronto looked at the x-rays. They can ask for compensation, but it's hard to see MLB granting it.
Joe asks: Did you noticed they issued Mussina's #35 to Phil Nevin after Britton got #53? I guess the next step is to see if they give anyone #21.
I did not notice. I'm don't pay attention to uniform numbers much these days. Besides, the Yankees have issued No. 35 several times since Mussina retired. Michael Pineda wore it the entire time he was with the Yankees. Brendan Ryan and David Aardsma wore it as well. I have no idea what the Yankees are doing with No. 21. We're closing in on 20 years since Paul O'Neill retired. Either retire it or reissue it. Make a decision already.
Christopher asks: Wouldn't Ronald Torreyes fit perfectly into the DH/#2 spot in the lineup while Judge is out? Has great bat control and hits for a good average. Has to be better than Voit, no?
Bat Torreyes second? Goodness no. I like Torreyes, he's pretty much the perfect utility infielder and I'd rather have him on the roster than Luke Voit, but he has no business batting second on a good team. He doesn't get on base enough, doesn't hit for any power, and doesn't steal bases. Torreyes is an empty batting average, nothing more, and that is totally fine as a utility guy. As an everyday designated hitter batting second? Nah.
Joe asks: Andrew McCutchen. Do we think the Yankees can afford him or nah? Thanks. 
Of course the Yankees can afford McCutchen. They just choose not to afford him. The luxury tax plan is an organizational priority and there's no way to fit McCutchen's pro-rated $14.75M luxury tax hit under the $197M luxury tax threshold right now. The Yankees would have to kick in an extra prospect(s) to get the Giants to eat money to facilitate a trade. And remember, San Francisco is trying to get under the luxury tax threshold themselves, and they don't have as much wiggle room as the Yankees. It won't be easy to convince them to eat money.
Anonymous asks: How likely is it that Andujar can increase his range enough to be an average third baseman? Are the Yankees confident enough that it rules out signing Machado? If they do sign Machado, would Andujar move to first (and presumably Bird traded?)
It's possible Miguel Andujar will improve his footwork and mobility at third base, sure. He is a good athlete and other guys have done it. Chase Utley and Nolan Arenado were terrible defenders early in their careers, especially in the minors, and they worked their way into being Gold Glove caliber. It can be done, but it won't be easy at all, and I'd bet against it because it doesn't happen often. Andujar doesn't need to be a Gold Glover though. I'd be happy with league average defense going forward.
As for Manny Machado, I don't think Andujar will have any bearing on the team's decision to pursue him. I love Andujar, he's my dude, but he is not Machado and almost certainly never will be. Machado is a prime-aged superstar and if you have a chance to get a guy like that, you get him and figure out the rest later. First base could be a landing spot for Andujar in that case. I'd probably try him in the outfield first so his arm doesn't go to waste. Maybe he can be a first base/third base/left field guy who rotates?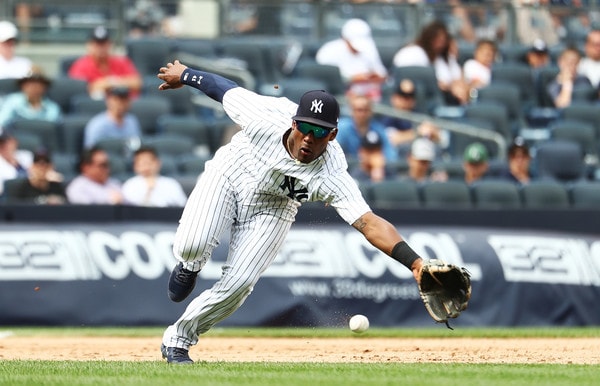 Keane asks: Which pitcher is potentially better, one with 10 strikeouts swinging or one with 10 strikeouts looking? Does it even matter?
Within the context of that one ten-strikeout game, it doesn't really matter. Outs are outs. Going forward, I'd rather hitch my wagon to the guy who gets the swinging strikeouts because at least you know he can miss bats. Did the other guy benefit from an umpire with a generous strike zone? Generally speaking, a pitcher racks up called strike threes because he deceives the hitter. Relying on an offense not swinging doesn't seem like a great idea. Give me the guy who gets swings and misses.
John asks: If the Yankees finish with the second best record in MLB to the Red Sox are they guaranteed to be the road team in every round? I'm pretty sure answer is yes for ALCS but is WS home field decided solely by record or do the rules continue to unfairly penalize the WC team?
As far as I can tell, the Wild Card team never gets homefield advantage in the LDS or LCS. So, if each team continues at their current pace, it's possible the 91-win Indians will have homefield advantage over the 102-win Yankees in the ALCS. It is dumb, but that's the rule. The division winner gets homefield advantage over the Wild Card team in the LCS. In the World Series though, homefield advantage goes to the team with the best regular season record, even if that team is a Wild Card team. So long story short, the World Series is the Yankees' only chance at having homefield advantage in a postseason series this year, barring a late run at the AL East title.
Joe asks: How does Luke Voit compare statistically to Tyler Austin? Seems like Cashman significantly weakened the bench at the deadline.
Austin has a little more power and Voit makes a little more contact, otherwise they are the same age and the same player. A bat-only platoon first baseman. Here are the career numbers:
PA
AVG/OBP/SLG
wRC+
HR
BB%
K%
Austin in MLB
268
.230/.287/.459
97
15
7.1%
39.6%
Voit in MLB
146
.233/.301/.414
89
5
6.8%
25.3%
Austin in AAA
866
.268/.348/.482
134
35
9.8%
26.9%
Voit in AAA
585
.312/.397/.529
141
22
10.2%
17.6%
The Yankees didn't "significantly" weaken the bench because Austin wasn't even on the bench. He'd been in Triple-A since mid-June. Voit and Austin are basically the same player. They're up-and-down first basemen on the light side of the platoon. Voit has a minor league option for next season) and Austin doesn't. All the Yankees did was swap out Austin for a similar yet more flexible player.
Nico asks: Let's say you had to choose between 3 pitchers: they all go 6.0 IP every single start, and they all have ERAs of 4.50. Pitcher A gives up 3 ER every single start. Pitcher B gives up 4 ER half the time and 2 ER half the time. Pitcher C gives up 6 ER half the time and 0 ER half the time. Who do you choose? Does it matter?
Hmmm. I would go with Pitcher A because, even though it's a 4.50 ERA, I consider three earned runs in six innings a winnable start. Certainly a winnable start for a (fully healthy) 2018 Yankees squad with their offense and bullpen. Example: J.A. Happ last night.
I suppose we could figure out an actual answer though. Here are the 2018 winning percentages for each situation described:
6 IP, 3 ER: .429
6 IP, 4 ER: .349
6 IP, 2 ER: .616
6 IP, 6 ER: .000
6 IP, 0 ER: .855
Huh, I'm surprised no team has escaped a six-inning, six earned run start with a win this year. Anyway, let's assume 30 starts each. Pitcher A is 30 starts with a .429 winning percentage, so 12.9 wins. Pitcher B is 15 starts with a .349 winning percentage plus 15 starts with a .616 winning percentage, so 14.5 total wins. Pitcher C is 15 starts with a .000 winning percentage and 15 starts with a .855 winning percentage, so 12.8 total wins. I guess Pitcher B the right answer in a league average setting.
Joe asks: I wanted to get your take on the spat the occurred Michael Kay and Clint Frazier? Should Kay have called him out for not being healthy? Did Frazier over react?
In case you missed it, Kay found himself in hot water for some comments he made on his radio show earlier this week. He was ranting about the Yankees getting swept in Boston and came off as blaming Frazier (and Jacoby Ellsbury!) for missing the series with injuries. Here's the audio. The rant is at the 10:30-ish mark. Here's a transcript, emphasis mine:
"I think that the whole thing started as a little pebble, turned into a snowball, and has gone into an avalanche. I mean, if you look at their record this year with Aaron Judge out of the lineup, it's under .500. He's an important part of what they do. And I thought (Giancarlo) Stanton did OK during the weekend, and all that. But, I mean when you're playing Luke Voit and Shane Robinson in important games — you know, shame on the Yankees for not having the depth. But again, shame on guys like Jacoby Ellsbury for not getting healthy. Shame on Clint Frazier for not getting healthy. Again, you can't make them get healthy, but if those guys are healthy it's a completely different animal."
At best, it's a clumsy choice of words. At worst, it's senselessly ripping a player for being hurt. Frazier called Kay out on Twitter and Kay tried to defend himself, saying he was being facetious with a healthy dose of "I'm sorry you were offended" thrown in. Listen to the audio. It sure doesn't sound facetious to me. Anyway, I didn't hear it myself because I'd rather pick moths out of my ear than listen to sports radio, but apparently Kay apologized the next day and talked to Frazier about it.
My opinion: Calling a player out for an injury is generally stupid. It is possible to analyze an injury objectively — Greg Bird gets hurt a lot and it is a problem for him and the Yankees — without blaming the dude for it. Aaron Boone tearing up his knee playing basketball? That was dumb. He should be ripped for that because he did something he knew he wasn't supposed to be doing. Frazier crashing into an outfield wall and suffering a concussion though? The dude got hurt playing the game. I can't fault him for that. Phrasing it that way — "Shame on Clint Frazier for not getting healthy" — is a bad look, man. Kay deserved all the criticism that came with it, and no, I don't have a problem with the player firing back in this case.