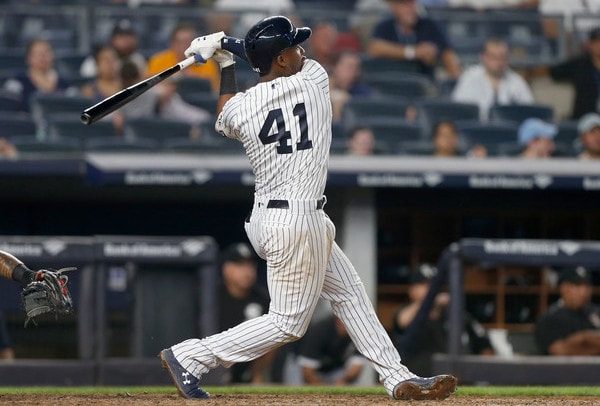 Over the last month, really since Aaron Judge got hurt, Miguel Andujar has stepped up and become an offensive force for the Yankees. He's hitting .317/.341/.618 (155 wRC+) with seven doubles and ten home runs in 31 games since Judge was placed on the disabled list, and he's batted 3-4-5 in each of the last 18 games. This isn't just a feel good rookie story. He's an integral part of the team.
Andujar has his defensive issues, for sure, but he really shines on offense thanks to a hard-to-find power/contact combination. He's sitting on a 16.9% strikeout rate and a .230 ISO at the moment. Only five other qualified hitters can make that claim (Alex Bregman, Mookie Betts, Francisco Lindor, Manny Machado, Jose Ramirez). We've seen Andujar hit pretty much everything. Fastballs, breaking balls, pitches up, pitches down, whatever.
So far this season Andujar has 99 batted balls with a 100 mph exit velocity or better — only 28 batters have more — and 57 of those 99 have been fly balls or line drives. Those are damage balls in play. The MLB averages on fly balls and line drives at 100+ mph are a .730 AVG and a 1.091 ISO. Andujar is hitting .754 with a 1.351 ISO on those batted balls. Good things happen when you hit the ball hard and in the air. Very good things.
What really stands out about Andujar is the way he can seemingly hit any pitch hard. Here are the pitch types and pitch locations of those 57 fly balls or line drives with at least a 100 mph exit velocity: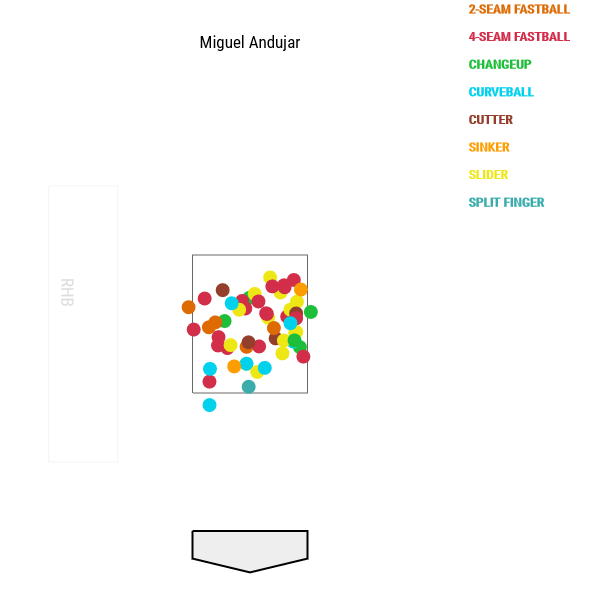 Not many pitches up in the zone, but Andujar has been hammering everything else. Inside, outside, down, hard stuff, breaking stuff, whatever. Among these 57 balls in play, 30 have come on fastballs and 21 have come on breaking balls. It's kinda funny there's a hole middle-middle on that strike zone plot. That seems to be the one place in the strike zone Andujar hasn't hit the ball hard.
"I think he's a really talented hitter with a lot of swing versatility," said Aaron Boone to Erik Boland over the weekend. "Meaning, he's not a guy you necessarily pitch one way and are going to get him out. Like some guys are a low-ball hitter and if you make that mistake, they make you pay, but if you execute on them, there's holes where you can go. I don't feel like there's a lot of holes"
According to the pitch type data at FanGraphs, Andujar has been an above-average producer against fastballs (0.42 runs above-average per 100 pitches), sliders (2.08), curveballs (2.90), and changeups (1.00). I'm kinda surprised his fastball production isn't better. I'm also pretty impressed Andujar has been so successful against non-fastballs. Those usually give rookies lots of problems.
For every 100 thrown, Andujar is a full run better than average against sliders, curveballs, and changeups. The list of hitters who can make that claim is quite small.
| | Sliders | Curveballs | Changeups |
| --- | --- | --- | --- |
| Miguel Andujar | 2.08 | 2.90 | 1.11 |
| Scooter Gennett | 2.19 | 2.05 | 3.81 |
| Jose Martinez | 1.73 | 1.71 | 1.87 |
| David Peralta | 3.89 | 3.96 | 1.20 |
| Gregory Polanco | 1.48 | 1.14 | 1.88 |
| Jose Ramirez | 1.28 | 1.11 | 1.28 |
| Trevor Story | 1.23 | 2.03 | 3.04 |
| Christian Yelich | 1.81 | 4.22 | 1.42 |
Only six hitters other than Andujar are at least two runs above average per 100 pitches against both sliders and curveballs, including big time heavy hitters like Aaron Judge and Freddie Freeman and Jose Altuve. It is very difficult to be good at hitting all types of pitches no matter the player's experience level. Andujar is doing it as a rookie. Could it be a fluke? Sure. But getting the barrel on the ball and hitting it hard has always been his M.O.
"I feel like he has adjustability within the strike zone that he can handle a lot of different pitches, a lot of different zones, a lot of different pitches from fastball to offspeed," Boone added. "You can't necessarily get him out one way, and I think that lends itself to him being consistently a very tough out."
Contrary to what seems to be popular belief, Andujar has slumped this season, specifically when he hit .226/.276/.383 (76 wRC+) in 123 plate appearances from June 13th through the All-Star break. That is the kind of thing that can happen to any hitter, especially rookies, and often does. Andujar raked early, pitchers flat out stopped throwing him fastballs …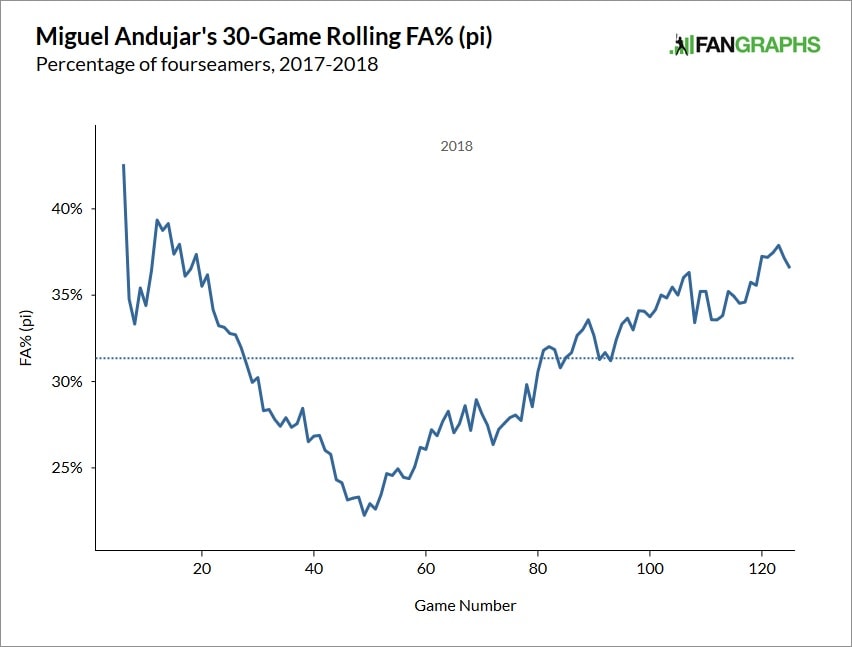 … and his production slipped. Andujar then made the adjustment back and starting hitting all those offspeed pitches, and he's been excellent since the All-Star break. "I think he's getting more and more comfortable. I think we saw this early, his adjustability, and I think the intelligence he shows in the box, he's good at having a plan. But I think he's got a really good idea of what teams are doing to him and what pitchers are doing to him," said Boone.
In a way, I see Andujar as being similar to Didi Gregorius as a hitter. Gregorius is a lefty and that puts him at the platoon advantage more often, but what I mean is they are both free swingers — they both rank in the top 25 in swing rate this year — who don't swing and miss much, and have the ability to get the bat on pretty much anything anywhere. Didi can hit fastballs, sliders, curves, whatever, and he can cover the entire strike zone.
Andujar can do that as well. He's doing it with much more power now than Gregorius did at the same age, he's doing it without the platoon advantage as often, and he's doing it earlier in his career. It took Didi a few years to become the hitter he is today. Andujar is that same type of hitter (with more power), but as a rookie. His ability to barrel up the baseball is bordering on elite, and there's still another level to his offensive game once he develops a little more plate discipline. What he's doing now, as a rookie, is even more impressive than the raw stats when you look beneath the hood a bit.