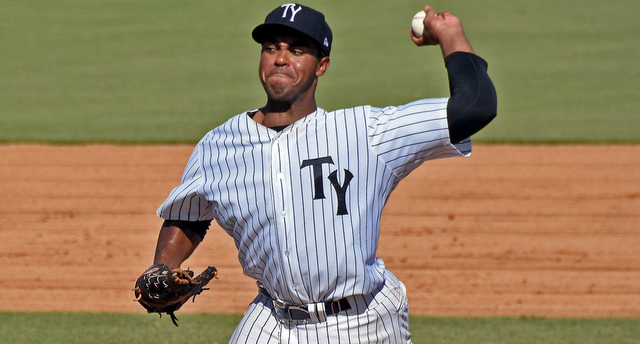 Two years ago, when the Yankees sold at the deadline, they made several moves that helped shape the team that takes the field today. The lowest profile of those trades was the Ivan Nova trade, which netted the Yankees two players to be named later. Nova was an impending free agent with a 4.99 ERA (4.99 FIP) in 191.1 innings back from Tommy John surgery. He didn't have much trade value.
The two players to be named later: Tito Polo and Stephen Tarpley. Polo was sent to the White Sox in last year's David Robertson/Todd Frazier/Tommy Kahnle trade. The 23-year-old outfielder is hitting .245/.313/.337 (86 wRC+) in 46 Double-A games around an injury this year. Tarpley remains with the Yankees and is currently with Triple-A Scranton after opening the season with Double-A Trenton. The numbers are quite good:
| | IP | ERA | FIP | K% | BB% | GB% | Whiff% |
| --- | --- | --- | --- | --- | --- | --- | --- |
| Double-A | 35.2 | 1.26 | 2.99 | 23.2% | 10.6% | 69.8% | 12.1% |
| Triple-A | 27.2 | 2.28 | 3.69 | 28.4% | 7.3% | 70.3% | 10.0% |
| Total | 63.1 | 1.71 | 3.29 | 25.5% | 9.2% | 70.0% | 11.2% |
A few too many walks, but that 70.0% ground ball rate is the highest among the 1,004 pitchers with at least 60 innings pitched in the minors this season. By 2.4 percentage points too. Tarpley is way ahead of the pack. Not surprisingly, Tarpley generates those ground balls with a sinker. He'd always thrown a two-seam fastball, but he morphed it into a true sinker last year.
"It just kind of played up for me and started getting ground balls, and I kind of made that my thing. Ground balls and strikeouts and low walks is kind of what I was trying to go for," he said to Conor Foley earlier this month. "My velo wasn't completely back, but I was getting a lot of ground balls and a lot of strikeouts. They were like, 'This thing works for you. We want you to be a ground ball guy.' My velo came back this year, so it's been a plus."
Tarpley's velocity was down last year because he suffered a shoulder injury in Spring Training that kept him out of action until June. The sinker helped him compensate for the lost velocity and wouldn't you know it? The velocity is back this year. He was more 89-91 mph after the injury last season. This year he's back closer to 94-95 mph. Look at his career ground ball rate and you can see exactly when Tarpley added the sinker:
2014: 58.7% in 66.1 innings in Short Season ball
2015: 50.7% in 116 innings at Low-A
2016: 47.4% in 105 innings at High-A
2017: 68.5% in 41 innings at High-A and Double-A
2018: 70.0% in 63.1 innings at Double-A and Triple-A
Tarpley's ground ball rate has spiked since he added the sinker. His role has changed as well. The Yankees moved the southpaw into the bullpen full-time last year. He'd been a starter his entire career prior to 2017. "It was like, 'We're going to move you to the bullpen, try to give you some innings,' I was a starter at the time, and there weren't many spots available. And I was like, as long as I get to play I'll be fine," he explained to Mark Sanchez recently.
As a reliever, Tarpley has scrapped his changeup and focused on his sinker and breaking ball. The breaking ball is kind of a slurve. It's somewhere between a curveball and a slider. There's not much Stephen Tarpley video available at all, so here's a clip from last August, before his velocity returned:
Tarpley was passed over in the Rule 5 Draft last winter — that's not surprising given his injury and lost velocity, there were plenty of lefty relievers ahead of him in the pecking order — but chances are that won't happen again this winter. His velocity returned, he's getting a ton of ground balls and plenty of strikeouts, he's left-handed, and he's having success in Triple-A. The 2018 version of Tarpley is prime Rule 5 Draft fodder.
Because of that, I think it is all but certain the Yankees will add Tarpley to the 40-man roster over the winter. And if that is indeed the plan, adding him to the roster early and giving him a look as a September call-up makes sense, and I expect it to happen. In fact, during a radio interview last week, Brian Cashman mentioned Tarpley by name when discussing Triple-A call-up candidates.
"There's a number of different guys pitching down there extremely well that are catching our eye, whether it's Stephen Tarpley, who we got in the Nova deal, or Erik Swanson," said Cashman. "Just a lot of it is going to come down to roster moves, in terms of being able to slide somebody else on the roster. (Justus Sheffield is) not on it currently and Tarpley's not on it currently, but these are guys that we're taking notice of."
Thanks to their trade deadline roster cleanup, creating 40-man roster space won't be much of a problem in September. The Yankees have an open 40-man spot right now after designating George Kontos for assignment last week. Ryan Bollinger is still on the 40-man after his most recent big leaguer for a day stint, so he could be removed easily. Clint Frazier might be a 60-day DL candidate at this point as well. Point is, there is 40-man space available.
A year ago at this time Tarpley was mostly an afterthought. The fact he went unpicked in the Rule 5 Draft tells us that. The shoulder injury took away the luster of his new sinker and the new bullpen role. This year though, Tarpley's velocity has returned and his performance has been great. He's already 25 and maybe he's nothing more than an up-and-down guy, but age is kinda irrelevant. If you can get outs, you can get outs. I suspect the Yankees will start to find out whether Tarpley can get outs at the big league level in September.