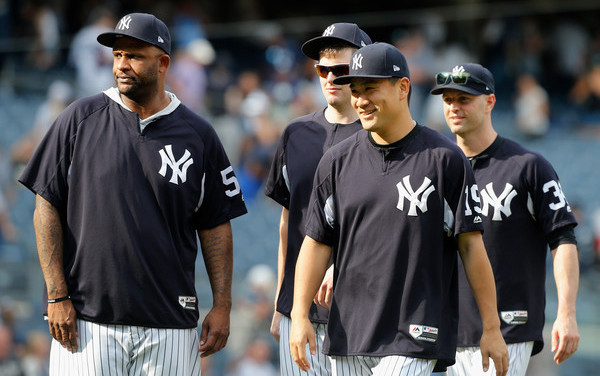 Starting tomorrow the 30 MLB teams will be allowed to expand their active roster from 25 players to as many as 40 players. No more worrying about running out of relievers or using an emergency catcher or anything like that. Reinforcements are on the way. The Yankees have called up lots of players on September 1st in recent years and I have no reason to think this year will be any different.
Expanded rosters create flexibility and a chance for creativity, and, with the Yankees, the talk always seems to center around a six-man rotation. They've made it clear they value giving their starters extra rest whenever possible. A six-man rotation is tough to do from April through August — a six-man rotation means a seven-man bullpen and a three-man bench, or an eight-man bullpen or a two-man bench — but September? Piece of cake.
The Yankees, perhaps moreso than at any point in the last four or five years, are well-positioned to use a six-man rotation in September. That's because they actually have six viable big league starters, or thereabouts. It can be a challenge finding five big leaguer starters sometimes. Right now, the rotation depth chart looks something like this:
Luis Severino
Masahiro Tanaka
CC Sabathia
J.A. Happ
Lance Lynn
Sonny Gray
Luis Cessa
Domingo German
Jonathan Loaisiga
Don't get too caught up in the 1-5 order. Those guys are the top five starters. The order doesn't really matter. Gray is the obvious sixth man, Cessa has been the primary spot starter, then German and Loaisiga fall into place at the end there. Aside from Cessa, who's been up-and-down all year, the other three guys all held down a rotation spot at some point earlier season.
Gray pitched very well last weekend, but it was against the Orioles, and they stink. Maybe he truly has turned a corner. I'm not falling for it again though. He's going to have to do it again (and again and again) for me to buy in. The Yankees could go with Sonny as a sixth starter in September though. It is an option. If not him, German and Loaisiga could be options, ditto Cessa. That's a pretty good crop of sixth starter candidates, I'd say.
The No. 1 benefit of the six-man rotation is extra rest. Sabathia, Tanaka, Happ, and especially Severino all get a little late season breather heading into the postseason. Improved performance is part of it as well, though that can sometimes be more theoretical than reality. The 2018 numbers real quick:
| | Regular Rest | Extra Rest |
| --- | --- | --- |
| Gray (as SP) | 50.1 IP, 3.40 ERA, .634 OPS | 59.2 IP, 6.79 ERA, .868 OPS |
| Happ | 51.2 IP, 2.79 ERA, .672 OPS | 92.2 IP, 4.37 ERA, .646 OPS |
| Lynn | 54 IP, 5.83 ERA, .814 OPS | 75.2 IP, 4.40 ERA, .711 OPS |
| Sabathia | 67.2 IP, 3.46 ERA, .674 OPS | 57.2 IP, 3.12 ERA, .734 OPS |
| Severino | 81.2 IP, 3.20 ERA, .664 OPS | 83.3 IP, 3.33 ERA, .661 OPS |
| Tanaka | 34 IP, 3.71 ERA, .689 OPS | 93 IP, 4.06 ERA, .744 OPS |
There's no pattern there. It's almost like weird and different things can happen in relatively small sample sizes. Extra rest improves performance on a league average level — the league average is a 4.41 ERA on normal rest and a 4.25 ERA with extra rest — but, individually, who knows? Every pitcher is different. Some guys benefit (Lynn, Sabathia), some guys don't (Gray, Happ, Tanaka), and for some guys it doesn't mater at all (Severino).
Going to a six-man rotation and expecting better performance is kind of a fool's errand. The extra rest does equal less wear and tear though, that is undeniable — throw fewer pitches and there's less fatigue — it's just a question of whether the extra rest now equals improved performance down the road, specifically in the postseason. Every player is beat up and running on fumes in September. Anything to give your horses a little breather seems worthwhile.
The upside here is more rest for the regular starters late in the season. The downside is more starts for your sixth starter and fewer starts for your top starters, which could hurt the team overall. Then again, we're only talking about three or four starters here, so it might not be a huge deal. My guess is the Yankees will stick with a five-man rotation for at least a few weeks. They haven't clinched anything yet and it's too soon to go into cruise control.
In mid-to-late September though, once the postseason races really start to firm up, the Yankees could go to a six-man rotation for a turn or two, just for that little extra rest before October. The Yankees have used spot sixth starters and manipulated off-days to give their starters extra rest enough times these last few years to tell us they value that extra rest. With expanded rosters coming tomorrow, giving the starters that extra rest is about to get much easier.