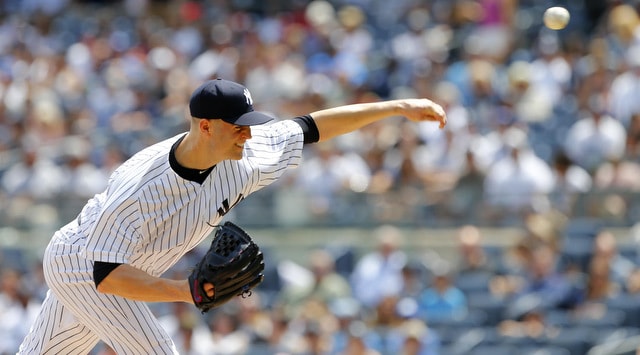 The 2018 non-waiver trade deadline has come and gone. The Yankees made six trades within the last week, five of which directly impacted the MLB roster, though they did not sneak in one last move prior to yesterday's 4pm ET deadline. Lame! Not a big deal though. Let's get to some deadline thoughts.
1. Perhaps my favorite thing about the trade deadline moves is that they Yankees fully committed to Miguel Andujar at third base. He doesn't have to look over his shoulder at Brandon Drury anymore. The Yankees originally acquired Drury because they weren't completely sold on Andujar — I could be completely wrong here, though that's what it seemed like to me, and I don't think it was unreasonable — and now, five months later, Drury gets moved and Andujar is the man at the hot corner. He's earned it too. The kid's hitting .292/.324/.497 (120 wRC+) with 45 extra-base hits in 94 games. Yeah, I wish he walked more and I wish he had more range defensively, but there's so much to like about Andujar. The Yankees made their third base pick and said here you go kid, the position is yours the rest of the season while we're in this division race. They're showing a lot of confidence in him. Will that confidence still exist when Manny Machado becomes a free agent after the season? We'll see. For now, the Yankees just gave Andujar a big vote of confidence. I love it.
2. As for things I didn't love, I didn't love effectively salary dumping Adam Warren — salary dumping him on another AL contender, no less — and I still don't love it even after the other shoe dropped and the Yankees added Lance Lynn. Warren's pretty good! Has been for a while and I don't really trust A.J. Cole to fill that role. That said, what I think doesn't matter. The Yankees made that series of moves for two reasons. One, Lynn is better able to move into the rotation than Warren, if necessary. And two, they probably believe there isn't much of a difference between Warren and Lynn as a reliever. Lynn's numbers as a starter this season aren't great (5.10 ERA and 4.72 FIP), but let him air it out for an inning or two in relief and good things could happen. We're only talking about maybe 20 innings the rest of the season, so any difference between Warren and Lynn is unlikely to be significant, and the fact Lynn can start makes it worth it.
3. Speaking of Lynn starting, my guess is it'll happen quite a bit in the coming weeks, especially once rosters expand in September. Heck, the Yankees might go with a full blown six-man rotation in September. Last night's game kicked off a 20 games in 20 days stretch and I'd put money on Lynn making a start or two during this stretch to give the other starters a little extra rest. Same when the Yankees play 14 games in 13 days in a few weeks. Luis Severino might be hitting a wall here in the second half, and any little bit of extra rest the Yankees can give CC Sabathia and Masahiro Tanaka is worthwhile. The balancing act won't be easy — how do you keep Lynn stretched out to start when he's sitting in the bullpen for weeks at a time? — but I don't think this was a spur of the moment trade. The Yankees have a plan in place. They brought Lynn in specifically because he can start and relieve, and they already have an idea how they'll use him the rest of the season.
4. No team in baseball throws fewer fastballs than the Yankees. Going into last night's game their 44.8% fastball rate was the lowest in baseball. The Indians were a distant second at 49.4%. Bendy pitches are hard to hit, so the Yankees throw a lot of them. Now here are the pitchers with the highest fastball rates in baseball this year:
Bartolo Colon: 79.0%
Lance Lynn: 76.7%
J.A. Happ: 74.5%
Junior Guerra: 70.8%
Trevor Williams: 70.2%
Hmmm. The anti-fastball Yankees just picked up two of the most extreme fastball pitchers in the game. Happ threw 78.1% fastballs the other day, so the Yankees haven't changed him (yet). And I don't think they will. Same with Lynn. They are fastball pitchers. They succeed by throwing a lot of fastballs. Why change it? They're rentals. Stick with what works for them. I don't think the Yankees made a concerted effort to add fastball pitchers at the trade deadline. I think that's just kinda how the market shook out. If nothing else, Happ and Lynn will bring a much different dynamic to the pitching staff.
5. I am very glad the Yankees were able to keep Clint Frazier. Yes, his post-concussion migraines and the fact there was no controllable high-end starter available played a big part in that, but I'm still glad Frazier was able to stick around. "He survived this deadline and he survived the winter because we do value him," said Brian Cashman to Bryan Hoch yesterday. It's still unclear where exactly Frazier fits long-term — letting Brett Gardner go and sticking Clint in left field next year is the easy move, though I'd bet the farm on Gardner being a Yankees in 2019 — though there's no need to figure that out now. Let him get healthy and get some at-bats before the season ends, then evaluate things in the offseason and Spring Training. I'm just glad Frazier is still around. Gary Sanchez joined the lineup in 2016 and had an impact. Aaron Judge did it last year. Gleyber Torres and Andujar are doing it this year. Frazier can do it next year. It's fun to think about. Very happy Clint is still a Yankee. The more young talent, the better.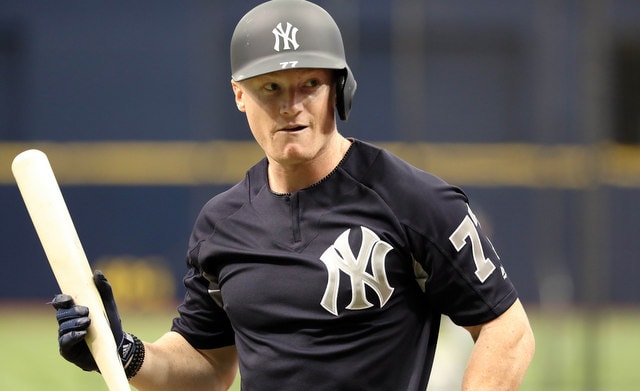 6. The Yankees really cleaned up their 40-man roster at the deadline. They traded four prospects who were going to have to be added to the 40-man after the season (Cody Carroll, Caleb Frare, Josh Rogers, Dillon Tate) as well as three guys who figured to end up on the 40-man chopping block (Tyler Austin, Gio Gallegos, Billy McKinney). That creates flexibility during the season and will also make life easy when Rule 5 Draft protection times in November. I know it's easy to say most Rule 5 Draft picks don't stick, which is absolutely true, but there is a lot of selection bias there. The best players, the ones with the best chances to stick, are either added to the 40-man roster or traded ahead of time. Guys like Carroll and Rogers and Tate have a much better chance of sticking as a Rule 5 Draft pick than someone like, say, Anyelo Gomez or Nestor Cortes. At the moment the Yankees have one open 40-man spot with two more easily available by dropping Ryan Bollinger — Bollinger was called up yesterday because Lynn had yet to arrive and the Yankees didn't want to play with a 24-man roster last night — and sliding Jordan Montgomery to the 60-day DL. A few weeks ago the 40-man roster was real tight and the Yankees were at risk of losing useful players for nothing on waivers. That is no longer a concern.
7. What are the Yankees going to do with those 40-man roster spots? Well, that remains to be seen, but I absolutely expect one of them to go to Justus Sheffield before the end of the season. He might only be a September call-up to work low-leverage spots out of the bullpen — the Happ and Lynn additions make it less likely Sheffield is needed as a starter now, and I am totally cool with that — and that's fine. Letting a young pitcher get his feet wet as a reliever in September is a-okay with me. Point is, we're going to see Sheffield in the big leagues at some point soon. We could also see some other young pitchers get those 40-man roster spots in September, like maybe Chance Adams or Stephen Tarpley, but Sheffield is the big one. He's the best prospect in the organization and anytime you're talking about a lefty with mid-90s gas and a wipeout slider pitching out of the bullpen, there's going to be a chance for him to carve out a role quickly. Hey, maybe Sheffield can be the Yankees' version of the 2002 Francisco Rodriguez. K-Rod came up as a September call-up in 2002, completely dominated, and the Angels had no choice but to carry him on the postseason roster. That'd be cool, though the Yankees have enough quality arms in the bullpen. We'll see. I do think Sheffield is coming up at some point. The deadline moves helped clear a 40-man spot.
8. The Yankees traded a surprising among out of pitching depth at the deadline, huh? Warren, Gallegos, Carroll, and Chasen Shreve were all traded away. Three dudes with big league time this year and a fourth who was a phone call away. Rogers and I suppose even Tate could've been call-up options if necessary. Instead, the Yankees traded them all away. And to be fair, the Yankees did get three big league pitchers in return. It's just kinda weird to see so much MLB pitching depth traded away. This tells me two things. One, the Yankees feel pretty darn good about kids like Sheffield and Adams and Tarpley as call-up options. And two, Tommy Kahnle is not a forgotten man. Reports indicate Kahnle is still more 95-96 mph with Triple-A Scranton rather than 98-99 mph like last year, and that is kinda worrisome, but 95-96 mph is still plenty good enough to get outs. Gallegos was the primary up-and-down reliever this year. Whenever the Yankees needed a 26th man for a doubleheader or just an extra arm for a few days, he got the call. I think Kahnle might be that guy now. That the Yankees traded away a decent amount of pitching depth and still have a guy like Kahnle — even a slightly reduced version of Kahnle — in reserve at Triple-A is pretty awesome.
9. Thanks to the recent trades the Yankees have maxed out their 2018-19 international bonus pool at $8,721,125. They've already signed a bunch of international free agents and it sounds like more signings are coming. The Yankees could be gearing up for a run at much ballyhooed Cuban outfielder Victor Victor Mesa — he's still waiting to be cleared by MLB, so his signing is not imminent — though I think the Yankees traded for all that bonus money with the intention of using it on other players. Other teams are going to have more bonus money to offer Victor² and I will always bet on the team that offers the most money getting the player. Shohei Ohtani was a very unique case. Cuban players have a history of going to the highest bidder and that is totally cool. That's what I'd do. Because of that, I think the Yankees have other signings lined up for all that bonus money. Either way, the Yankees typically do very well in Latin America, so I'm excited to see where they go. This trade deadline was as much as bolstering the MLB roster with Britton, Happ, and Lynn as it was about adding future talent to the organization through international free agency.
10. The trade deadline has passed but that does not mean the deal-making is over. Trades are still possible in August through trade waivers and, because the Yankees did not get the right-handed hitting outfielder they were said to be seeking, there's a chance they'll be active on trade rumors. A righty hitting outfielder and a catcher. Those are the two items atop the shopping list right now. The Yankees have two obstacles to navigate with trade waivers. One, only the Red Sox have a lower waiver priority. The Indians and Astros and Mariners and every other non-Red Sox team can place a claim to block a player from going to the Yankees. Happens all the time. At the same time, the Yankees can block a player from going to the Red Sox, so that's cool. And two, the Yankees have to watch their claims because of the luxury tax plan. When you claim a player, you have to be prepared in case the other team dumps him and his contract on you, even when it seems unlikely. The Yankees won't be able to claim Andrew McCutchen because the Giants might dump the remainder of his $14.75M salary on them and blow up the luxury tax plan. Making trades in August is always more complicated than making trades before the deadline, but it's not impossible. The Yankees just have to watch their claims this year because of the luxury tax plan, which may put them at a disadvantage.