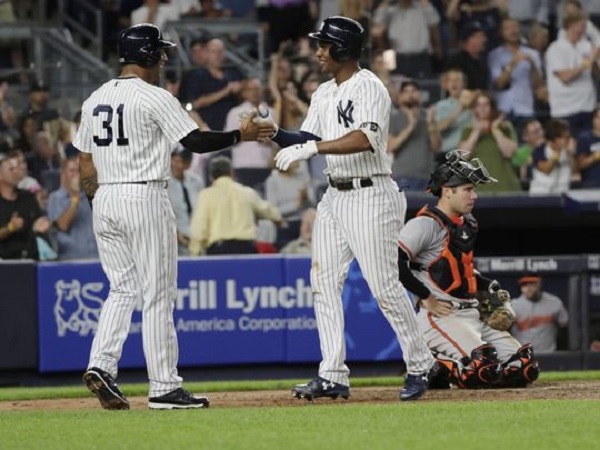 Ace Tanaka
Backed by another standout performance from Masahiro Tanaka, the Yankees took the first game of this two-game set with a mostly drama-free 6-3 win. Coupled with their final two wins in the Kansas City series over the weekend, it was the first time they'd won three or more games in a row since a four-game win streak from June 18-21. The Yankees finished July with a .281/.355/.468 batting line, the first time they reached each of those numbers in the month of July since 2009 (.288/.370/.483).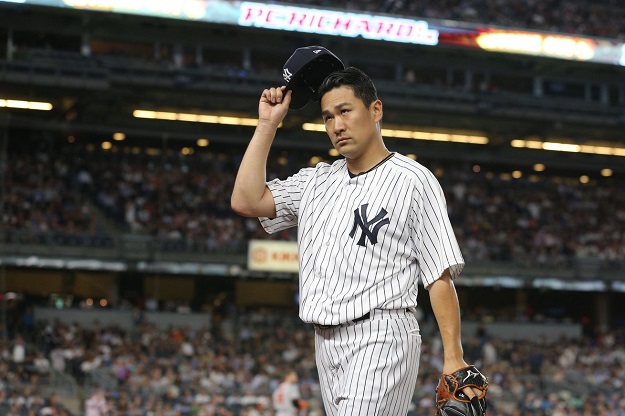 Tanaka battled through a shaky 31-pitch first inning but then settled down and held the Orioles scoreless over six strong innings. It was his second straight stellar outing, following his three-hit, nine-strikeout shutout of the Rays last week. Those back-to-back gems made Tanaka the second Yankee ever to pitch consecutive games with at least eight strikeouts, no earned runs and three hits or fewer allowed. The other? David Cone on April 6 and 11, 1997.
After a rough first couple months, Tanaka is rounding into ace-like form and has been super-dominant in his last five starts dating back to (and including) the game he injured his hamstrings:
Masahiro Tanaka Last 5 Starts:

30.2 IP
1.76 ERA
35/7 K/BB
19 Hits
3 HR

— Katie Sharp (@ktsharp) August 1, 2018
Tanaka went 2-0 with a 1.75 ERA in July, striking out 27 batters in 25 2/3 innings. He's the first Yankee starter with at least 25 strikeouts and a 1.75 ERA or better in the month of July since CC Sabathia in 2011 (0.92 ERA, 50 strikeouts in 39 innings).
Another dark, cloudy, rainy day in the Bronx
The Yankees mini-streak of beating up on bad teams came to a screeching halt on Wednesday as they lost 7-5 to the lowly Orioles. It is the first time in at least the last 15 seasons that the Yankees lost a game after the All-Star break to a team that entered the day with a win percentage below .300. Welp.
They were playing from behind the entire game — and trailed 7-1 after three innings — thanks to another disaster outing by Sonny Gray. This was the first time the Orioles scored seven or more runs in the first three innings of a game against the Yankees since June 29, 2013. The starting pitcher for the Orioles in that game was Zach Britton.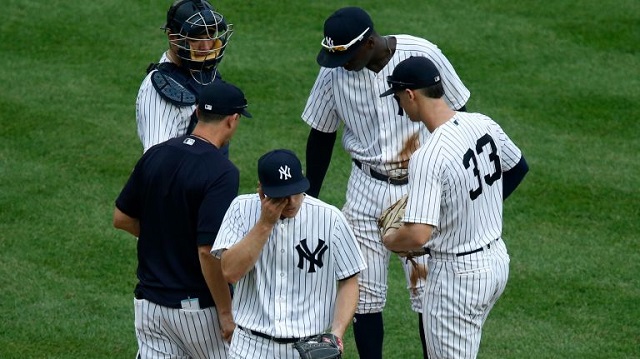 He got the hook with two outs in the third after coughing up seven runs on eight hits. It was the first time in his career that he allowed at least seven runs in an outing of fewer than three innings pitched. The Yankees are now 10-11 in games started by Gray and 58-27 in games started by everyone else.
It was the fourth time in 2018 he gave up at least five earned runs and got fewer than 12 outs in a game at Yankee Stadium. No other Yankee has ever pitched four such games like that in the Bronx in a season. It was also his sixth game this season with those numbers at any venue. And — you guessed it! — no other Yankee has ever compiled six games of five-plus earned runs allowed and fewer than four innings pitched in a single season. And August just started.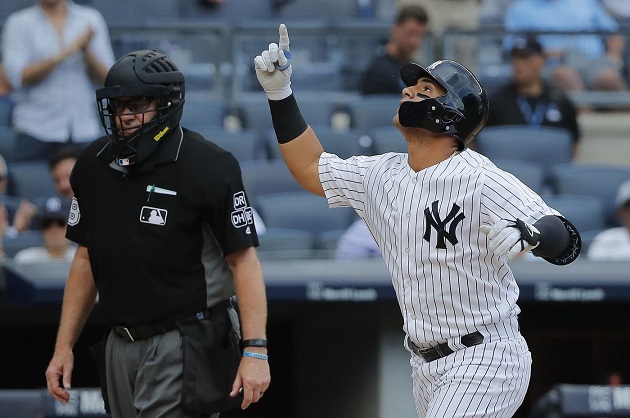 Gleyber Torres — who finished with a career-high four RBI — did his best to keep the Yankees within striking distance, crushing a solo homer in the second inning and a three-run blast in the ninth. Some #FunFacts to celebrate Gleyber and spice up an otherwise miserable loss:
His second shot was his seventh home run with two men on base this season, the most of any player in the majors.
The only other Yankee second baseman with at least two homers and four RBI in a game against the Orioles/Browns franchise was Joe Gordon on August 25, 1939.
This was his second career multi-homer game, and at the age of 21 years and 231 days old, he became the youngest player in franchise history with two multi-homer games in a season.