Now that is much more like it. The Yankees started this four-week stretch against teams without a winning record with a crisp 7-0 win over the White Sox on Monday night. The season-high five-game losing streak is over. Let's hope we see many more games like this over the next month.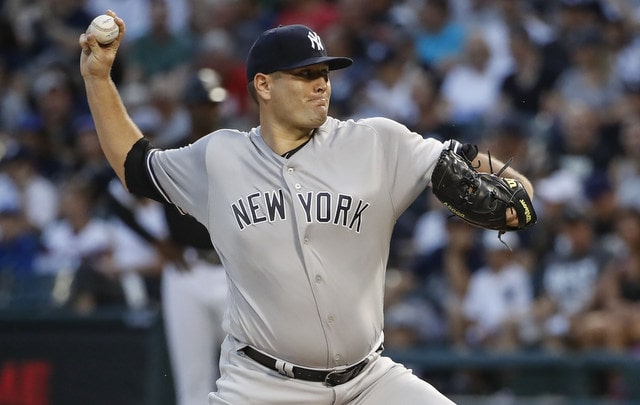 The Opposite of a Gray Day
After the weekend they just had, the Yankees need someone to step up and win them a damn game, and that someone was Lance Lynn. The hefty righty overcame early pitch count issues to fire 7.1 scoreless innings Monday night, allowing only a walk, an infield single, and a ground ball single through the right side. Lynn retired a career high 19 consecutive batters between the singles.
Now, the White Sox do admittedly stink, but hold any Major League team to two soft singles and a walk in 7.1 innings, and you're doing something right. Lynn attacked the zone Rick Porcello style — 70 of his 108 pitches were strikes — and, true to form, he was very fastball heavy. The breakdown:
Four-seamer: 50 thrown (93.8 mph average and 96.1 mph max)
Two-seamer: 29 thrown (92.3 mph average and 94.8 mph max)
Cutter: 13 thrown (97.1 mph average and 90.3 mph max)
Curveball: 14 thrown (79.5 mph average and 81.9 mph max)
Changeup: 2 thrown (85.1 mph and 85.9 mph)
Lynn throws a lot of fastballs but they're three different types of fastballs. One stays true (four-seamer), one dives in on righties (two-seamer), and one cuts in on lefties (cutter). It's not like he's pumping four-seamer after four-seamer, you know? He's using three different fastballs to mess with hitters, and mixing in juuust enough breaking balls to keep them honest. Here is Lynn's spray chart for the night: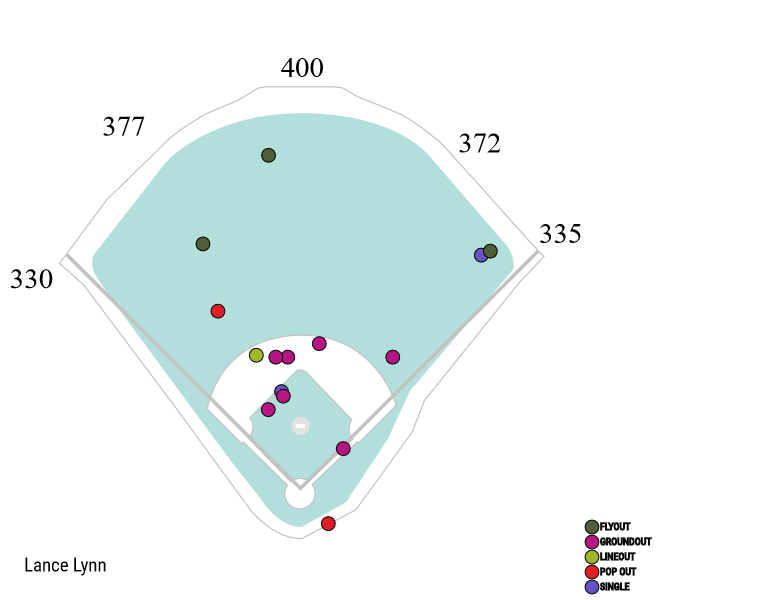 Fifteen balls in play and only five made it out of the infield, one of which was a ground ball through the right side. Outstanding. Lynn's final line: 7.1 IP, 2 H, 0 R, 1 BB, 9 K on 108 pitches. I thought Aaron Boone would leave him in to complete the eighth inning — Lynn has thrown as many as 118 pitches in a game this season and he averaged 102 pitches in his final ten starts with the Twins, plus it's not like the Yankees have anything at stake long-term here — but he gave him the hook, which is fine. Great start for Lynn. A much-needed pick-me-up.
The Offense Wakes Up
The first time through the lineup against Dylan Covey did not go well. Nine up, nine down on 37 pitches. Covey retired Brett Gardner to start the fourth inning as well, so he retired ten straight to begin the game. The floodgates started to open after that. Giancarlo Stanton worked a one-out walk in the fourth, Didi Gregorius hammered a double off the right-center field wall, and Aaron Hicks fisted a single back up the middle to drive in Stanton. Shortstop Tim Anderson came up just short on the dive.
Gleyber Torres, who's been slumping pretty hard since returning from the disabled list, stroked a single to center to score Gregorius and give the Yankees a 2-0 lead. Greg Bird very nearly stretched the lead to 4-0. He sent a towering fly ball to center field that did clear the wall, but Adam Engel reached up for the leaping home run robbery. To the video:
Can't do anything about that. Great play by Engel. Bird hit it hard, hard enough to clear the wall. The kid robbed the homer though. So it goes. There was no robbing Torres (solo) and Neil Walker (two-run) of their home runs in the eighth inning to break the game open though. Add in a run-scoring wild pitch and Didi's two-out single in the fifth, and you get a 7-0 lead. The Yankees went 3-for-9 with runners in scoring position and also socked three dingers even though only two counted. Good night for the offense after a yucky weekend in Boston.
Leftovers
The 3-4-5 hitters: 6-for-14 (.429) with a double, a homer, two runs scored, and four runs driven in. Gregorius, Hicks, and Gleyber had two hits apiece. Walker had two hits as well. Gardner and Kyle Higashioka had one each. Stanton drew two walks and also struck out against position player Matt Davidson. Heh. Don't feel bad Giancarlo. You're not the only hitter Davidson has struck out this year. (He got Rougned Odor as well.)
Sonny Gray remains MIA. He did warm up in the bullpen in the ninth inning, though I get the sense Boone and the Yankees had no real intention of using him. A.J. Cole relieved Lynn and retired five of the seven batters he faced. The bullpen got a night off following Sunday's game, which was sorely needed. Hooray for well-pitched and stress-free games.
And finally, the three trade deadline pickups (Lynn, J.A. Happ, Zach Britton) have combined to allow two runs in 21.1 innings thus far. The early returns are quite strong.
Box Score, WPA Graph & Standings
ESPN has the box score, MLB has the video highlights, and ESPN has the updated standings. Here is our Bullpen Workload page and here's the win probability graph:

Source: FanGraphs
Up Next
This three-game series continues with the middle game Tuesday night. CC Sabathia and Reynaldo Lopez are the scheduled starting pitchers.