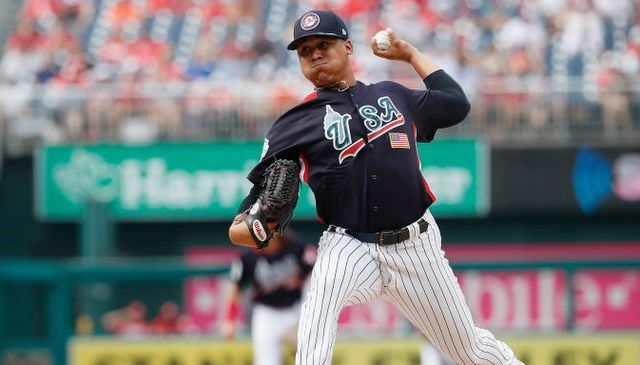 Last night, in a spot start replacing the injured CC Sabathia, Luis Cessa was tagged for five runs in 3.2 innings. It was his fourth start this season and his second straight game with five runs allowed in three innings and change. Cessa was sent back to Triple-A Scranton after the game because the Yankees don't need a fifth starter for a while thanks to two off-days next week.
Sabathia is only expected to miss one start and the Yankees went with Cessa as the spot starter over several internal options. The easy move would've been to pull Sonny Gray out of the bullpen. (Sonny wound up pitching a ton in long relief anyway.) They could gone with Chance Adams as well. Another option: Justus Sheffield, the organization's top pitching prospect and one of the best pitching prospects in baseball.
The Yankees did not go with Sheffield even though he lined up to start, and wow, it's a good thing they didn't. He got rocked in Triple-A last night. Five walks and 72 pitches thrown in only 1.2 innings. Egads. Sheffield had been outstanding with Triple-A Scranton prior to yesterday, throwing 79 innings with a 2.16 ERA (2.98 FIP) and a 23.4% strikeout rate while being more than four years younger than the average International League player.
As bad as Cessa was, Sheffield was worse. Twenty-four hours ago going with Sheffield over Cessa would've been defensible, if not the "right" move. Instead, the Yankees left Sheffield in Triple-A, and there is a very simple explanation for that: They don't think he's ready. It really is that simple. It's not roster status or anything like that. The Yankees don't believe Sheffield is ready to get MLB hitters out.
"Obviously everybody we've taken so far we've taken because we felt they were in a position to help us sooner than Sheff," said Brian Cashman during a radio interview yesterday. "The people we've decided to take we thought were in better position to compete currently as Sheff finishes off some of the things we've wanted him to work on, but the stuff's electric. The ceiling and upside is exciting, and just because it hasn't happened yet doesn't diminish what we think of him."
The Yankees have gotten pretty good at this whole player development thing. They're not only getting young players to reach their ceiling — I'd argue guys like Aaron Judge and Luis Severino have exceeded their ceilings — but they're getting their young players to reach their ceiling in a hurry. Guys come up and produce right away. Severino, Greg Bird, Gary Sanchez, Miguel Andujar, Gleyber Torres … they came up and hit the ground running.
Sheffield, even before last night's clunker, was walking a few too many batters (9.7%) and he averaged 89 pitches and five innings per start with Scranton, so the efficiency is not there yet. And again, that's before throwing 72 pitches in 1.2 innings yesterday. As good as Sheffield's raw fastball/slider/changeup arsenal is at the moment, he's still learning to command it, and learning how best to use it to pitch deep into games. It doesn't happen overnight.
Could Sheffield get outs at the big league level right now? Yeah, I'm pretty sure of it. Is Sheffield a viable big league starter at the moment? Eh, that's a bit more debatable. The best case scenario might be a five-and-fly guy, and hey, Cessa's not much better. But Sheffield is an actual prospect and his development is a priority. Interrupting the plan for a big league spot is not ideal, and when it can be avoided, avoid it. That's what the Yankees did.
I still believe Sheffield will help the Yankees at some point this year. With J.A. Happ and Lance Lynn coming over at the trade deadline, the need for another starting pitcher has lessened, and that means Sheffield is more likely to make his debut as a reliever. And that is perfectly fine. Countless top pitching prospects got their feet wet as relievers. Let him air it out for an inning or two at a time and give him that taste of the big leagues. A month of bullpen work can be a great learning experience.
"Timing is everything. When do we unwrap and deploy that? Is it going to be before September?" Cashman added. "It just depends on how things shake out, and compared to come of the competition, I think, for the service that's needed at the time it's needed … You'll see him pitching here in New York — whether it's as a rotation guy or out of the bullpen — at some point I would expect in 2018."
I've pounded the table for certain prospects to be called up for years now, more than I care to count, and at this point I am more than comfortable deferring to the team. When it comes to a prospect's MLB readiness, the Yankees (and every other team) know better. Calling up Sheffield would be fun and exciting as hell. There's also a big picture view that has to be taken here, and that's why Sheffield wasn't called up for yesterday's spot. And, not for nothing, yesterday's results show he probably isn't ready for a big league start either.