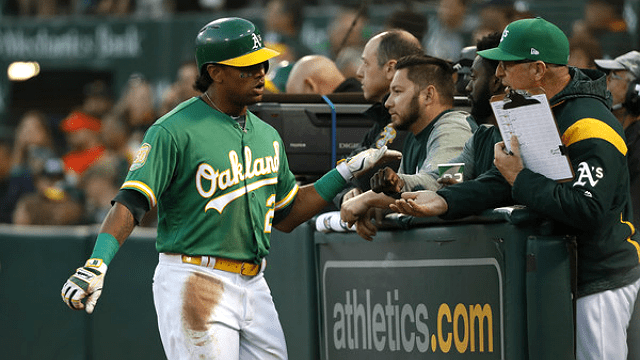 In a likely playoff preview, the Yankees travel to the Bay Area for a three-game set with the current WC2 leader, the Oakland Athletics.
The Last Time They Met
It's been more than three months since the Yankees took two of three from Oakland at Yankee Stadium on May 11-13.
The A's took the opener with four homers, blitzing Sonny Gray and scoring five runs off David Hale and David Robertson combined.
The Yankees took Game 2 in 11 innings on a Neil Walker walk-off single. Six no-hit innings from the bullpen did the job while Brett Gardner and Gary Sanchez combined for the most exciting defensive play of the season.
Luis Severino topped Brett Anderson in the rubber game with Giancarlo Stanton putting up a four-hit game, which included a homer.
For more information, check out Katie's Yankeemetrics post on that series.
Injury Report
Starters Sean Manaea and Brett Anderson are both on the disabled list with Manaea likely out for the year. Fellow pitchers Jharel Cotton, Paul Blackburn, Daniel Gossett, Kendall Graveman and Andrew Triggs are also out with only Blackburn and Triggs potentially returning this season.
CF Jake Smolinski is on the 60-day DL with a blood clot.
Their Story So Far
The surprise team of the American League sits at 82-56, 4.5 games behind the Yankees for the first Wild Card, 5.5 games up on the Mariners for the second spot and two games back of the Astros in the AL West. Since falling to 28-28 on May 30, they've gone 54-28. They're 41-28 at home.
So many good players to mention. Blake Treinen's sinker is unfair. Matt Olson and Khris Davis have power for days with Davis leading the AL in homers with 40. Matt Chapman is the best fielding third baseman in the game and is a stealth MVP candidate. Their main weakness is rotation depth with their best starter out and little depth with which to begin.
Lineup We Might See
Here's their most recent lineup against a lefty pitcher as the Yankees will toss out southpaws in two of three games. Olson (.240/.324/.444, 110 wRC+) will certainly start against a righty and may even start a game at first against Sabathia or Happ.
1. SS Marcus Semien (.261/.324/.386, 96 wRC+)
2. 3B Matt Chapman (.280/.364/.524, 143 wRC+)
3. 2B Jed Lowrie (.274/.359/.470, 129 wRC+)
4. DH Khris Davis (.246/.324/.543, 132 wRC+)
5. RF Stephen Piscotty (.262/.318/.472, 115 wRC+)
6. LF Chad Pinder (.262/.339/.430, 113 wRC+)
7. CF Ramon Laureano (.304/.380/.493, 141 wRC+)
8. 1B Matt Canha (.246/.323/.437, 107 wRC+)
9. C Jonathan Lucroy (.240/.292/.324, 70 wRC+)
The Starting Pitchers We Will See
Monday (4:05 PM ET): LHP CC Sabathia vs. RHP Trevor Cahill
Returning to where it all began, Trevor Cahill has found success in his second stint with the Athletics in a way that has eluded him in recent seasons. His home run and walk rates have gone down significantly, leading to a 3.60 ERA and 3.27 FIP as he's been one of Athletics' best starters.
Cahill missed a good chunk of time this season with an Achilles injury and is often injured. If healthy, he's probably the best bet to start the Wild Card Game with Manaea out.
The 30-year-old righty is throwing his low-90s fastball less than ever, using it at a 41.3 percent clip. Instead, he's turned more to his high-80s slider while still working in his low-80s changeup and curveball.
Last Outing (@ HOU on Aug. 29) – 3.1 IP, 5 H, 4 R (3 ER), 6 BB, 2 K
Tuesday (10:05 PM ET): LHP J.A. Happ vs. TBD
Frankie Montas is on turn to start Tuesday and can be called up despite being optioned near the end of August because Triple-A Nashville's season ends Monday. However, after he gave up six runs to the Mariners, Bob Melvin may choose to bullpen this game.
As you can read about below, this team is stacked in the bullpen. Montas can give the team length while Melvin still relies upon a cacophony of arms thanks to September call-ups.
Wednesday (10:05 PM ET): RHP Luis Severino vs. RHP Mike Fiers
FIREWORKS TIME!!! Fiers, who was with the Tigers earlier in the season, came to the A's thanks to a waiver deal. As you may remember, he has an extensive history with Giancarlo Stanton. Stanton wears his face mask because Fiers hit him in the face in 2014 (Here's the video for the non-squeamish). Fiers hit Stanton again in June before Stanton homered off the righty and stared him down.
Fiers has been quite good, particularly because he's been able to solve him homer problem pitching in larger stadiums like the Coliseum and Comerica. He fired off five straight quality starts shortly before the trade and had been dynamite for the Athletics until his last start, when his homer problem reared its ugly head.
Fiers' fastball sits in the high 80s and he throws it only a third of the time. Otherwise, he goes to his cutter, changeup, curveball or sinker, each between 13 and 19 percent. Definitely willing to throw just about anything.
Last Outing (vs. SEA on Aug. 31) – 3.2 IP, 7 H, 5 R, 0 BB, 2 K, 3 HR
The Bullpen
This bullpen is kinda bonkers. Treinen is the closer and isn't afraid to go multiple innings if need be, going four outs on Sunday. He has a 0.92 ERA with a 1.75 FIP and has 91 strikeouts in 68 1/3 innings. Yowza.
Setting him up is rookie righty Lou Trivino (2.18 ERA/3.59 FIP in 66 innings), former Mets closer Jeurys Familia (2.77/2.39 in 61 2/3) and Fernando Rodney (2.60/3.48 in 55 1/3). Ryan Buchter is the go-to lefty in the pen. Yusmeiro Petit is the multi-inning reliever that can put out any fire. Further down in the pen are Emilio Pagan, lefty Daniel Coulombe and former Yankee Shawn Kelley.
This is one of the few teams that can match the Bombers arm-for-arm in relief. However, they've had to use their bullpen plenty recently with short starts and bullpen games.
Yankees Connection
Dustin Fowler was one of three players in the Sonny Gray deal last season while Jorge Mateo, who was also in the deal, is on the 40-man roster but not the active roster. Kelley was a Yankee in 2013-14.
Who (Or What) to Watch?
Wild Card Game preview. It's that simple. If the Yankees win two of three, they'll basically have homefield for that game. Lose two of three or suffer a sweep and the chance they have to travel for the game becomes a real fear.
Fiers vs. Stanton. Ding. Ding.