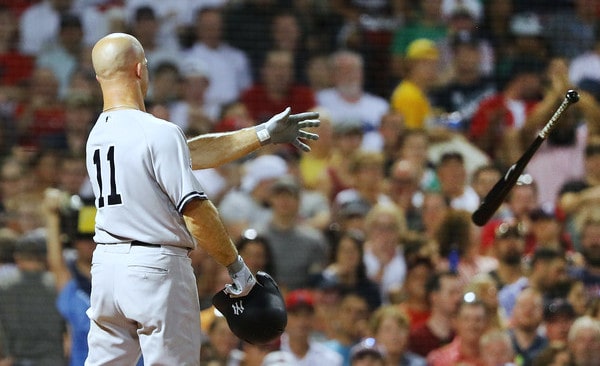 Somewhat surprisingly, Aaron Judge made his return to the Yankees lineup last night. He'd been taking batting practice and hitting in simulated games, so it was clear his return was imminent, but I'm not sure anyone expected it yesterday. It seemed like Judge would return against one of the lefties tonight or tomorrow, if anything. I'm glad he's back. Now Judge can begin getting back up to speed at the plate.
"Another one of those we'll put under good problems to have," said Aaron Boone to Chris Iseman over the weekend when asked how he'll align his outfield once Judge returns as a full player. "There were times this year we wondered who were going to play on certain days. So looking forward to those guys being all in the mix."
Now that Judge is a full player again, the Yankees have five players for four lineup spots (three outfield plus DH): Judge, Brett Gardner, Aaron Hicks, Andrew McCutchen, and Giancarlo Stanton. The Yankees will go from playing Shane Robinson and Neil Walker in right field to playing two MVPs (McCutchen and Stanton) and an MVP runner-up (Judge) in the outfield. Pretty cool.
And that is what should happen, really. Boone played it cool and indicated everyone will remain in the outfield/DH mix going forward but, clearly, Gardner should be the odd man out. Love the guy, he's a heart and soul Yankee, but he is hitting .207/.286/.303 (62 wRC+) since the All-Star break, and, at age 35, it might not be a slump. It could be permanent age-related decline or just fatigue that will require an offseason's worth of rest. I mean: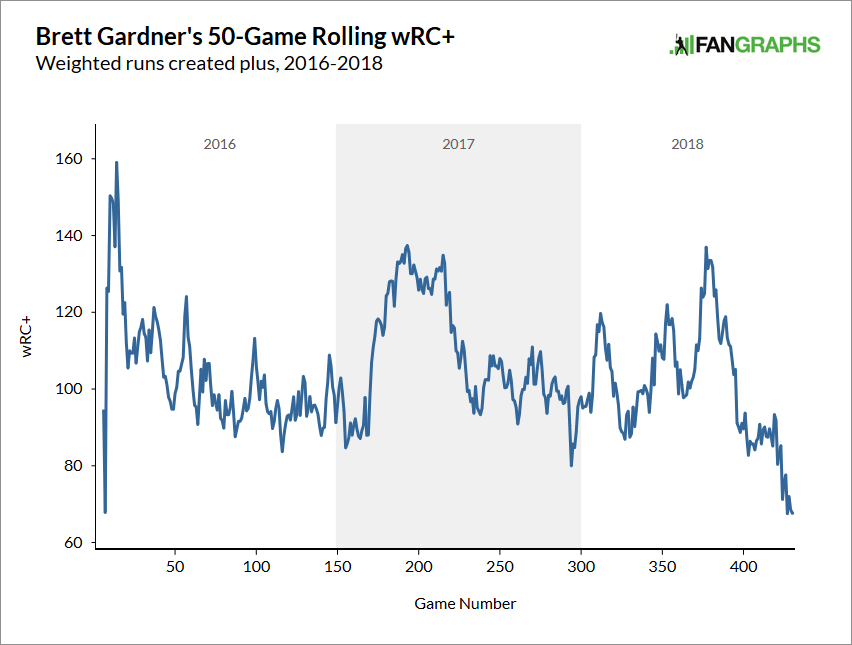 Judge has to play as much as possible going forward. There are only 12 games remaining in the season and he's been out two months now with the wrist fracture. He needs as many at-bats as possible to get back up to speed at the plate. That's the easy part here. When doling out outfield/DH playing time, Judge has to be the priority. There are a few other things that have to be considered here as well.
1. How is Stanton's hamstring? We haven't heard much about it lately. Stanton has been the designated hitter in 13 of the last 16 games — he played left field three times in a four-game span last week — and, prior to last night, McCutchen had started every game in right field since the trade. I feel like McCutchen would've had a DH day at some point had Stanton's hamstring been completely okay. Seems like he's still somewhat limited in his ability to play the field.
2. Who plays left when Gardner sits? Last night it was McCutchen, who went into the game with five innings worth of big league experience in left field, all within the last few days. He admitted the other day he is not comfortable out there, which isn't surprising. Stanton didn't seem to comfortable in left when he first made the move in Spring Training. Eventually he figured it out. McCutchen doesn't have "eventually." He has 12 games.
Should Judge play left field? Eh, he has a lot on his plate already. Asking him to adjust to a new position on the fly while working to regain his timing at the plate feels like an unnecessary complication to me. Let him focus on hitting. McCutchen in center and Hicks in left is an option, though McCutchen is so bad in center (-65 DRS from 2014-17!) that any gains from familiarity will quickly be given back. As long as Stanton's hamstring is an issue, I guess McCutchen is in for a crash course in left field. (Gardner can replace him for defense late in games.)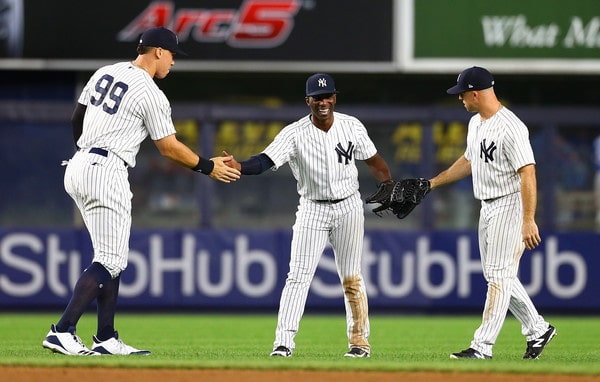 3. The Yankees haven't clinched anything! This is kind of a big deal. The Yankees are limping to the finish right now and they haven't clinched anything. Not a postseason spot and certainly not homefield advantage in the Wild Card Game. Until that happens, they should play their best players, and Gardner is not one of their best players at the moment. Hicks, Judge, McCutchen, and Stanton are best able to help the Yankees get things clinched.
Gardner's slide since the All-Star break makes this a relatively easy call for Boone. It's not the move he or the Yankees want to make, they'd rather have a productive Gardner raising hell atop the lineup and pushing everyone else for playing time, but that is not the case. We're past the "give him some time to see if he figures things out" point of the season. Judge is back and he needs to play, and the other three outfielders give the Yankees the best chance to win.
"At this point in the season the last thing I want to do is make it about me. It's about the team, and we are trying to win games and going into the postseason trying to stay alive," said Gardner to George King. "Whatever role they see me in, I will be ready."