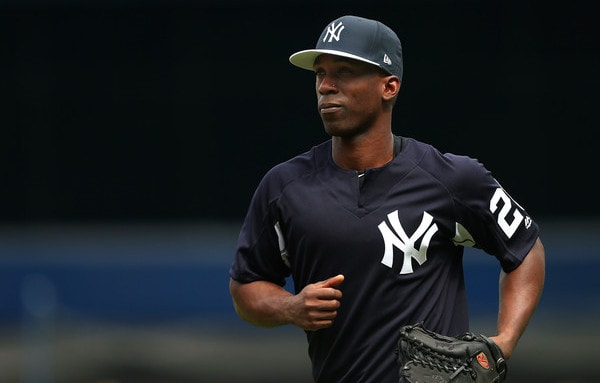 Last night, as the Yankees blew out the Rays en route to their sixth win in the last eight games, the offensive attack was led by new leadoff hitter Andrew McCutchen. McCutchen went 1-for-2 with two walks and a hit-by-pitch, and he saw 20 pitches in his five at-bats. That's after seeing 34 pitches in five at-bats Monday night. Fifty-four pitches in ten at-bats the last two days. Golly.
McCutchen has now reached base 37 times in his last 17 games — it works out to a .468 OBP in those 17 games — and his overall batting line with the Yankees is .233/.424/.493 (154 wRC+) in 99 plate appearances. The batting average is a little low, but he's walked (21) more than he's struck out (18), and he's hit for power too. Everything but the batting average is great.
"All we've seen since he's gotten here, even the first week when he wasn't getting a lot of hits, is a guy that really controls the strike zone and has gotten on base a ton for us," said Aaron Boone to Randy Miller over the weekend. "He's had impactful at-bats. He worked at (left field) and has been an impactful teammate, and someone that plays like a winning player. He's done a lot for us."
When the Yankees initially acquired McCutchen, it was to replace Aaron Judge in right field, and to provide depth in case Judge didn't return. Shane Robinson and Neil Walker weren't cutting it in right field. With Judge back, McCutchen is now filling a different role: Leadoff hitter. Brett Gardner, even with a recent little hot streak, is hitting .210/.289/.303 (63 wRC+) in the second half. That is unplayable.
McCutchen has assumed top of the lineup duty and, as I mentioned a moment ago, he has a .424 OBP overall in pinstripes and a .468 OBP in his last 17 games. That is about as good as it gets. Only Joey Votto (16.0%) and Alex Bregman (17.5%) swing at fewer pitchers outside the zone than McCutchen (17.7%), who has also taken to bat flipping his walks …
Nobody walks with more swag than @TheCUTCH22. pic.twitter.com/ngx6HN45sL

— YES Network (@YESNetwork) September 26, 2018
… and that is pretty darn cool. Not everyone can get away with that. McCutchen is a former MVP who remains very productive and has a sterling reputation within the game. He's earned the right to pimp his walks (lol) and he's been doing it a lot lately. No player in the American League has walked more often than McCutchen this month.
The Yankees were missing that swagger earlier this year. They were dull and flat for a long time, and still can be every so often. Now McCutchen is raising hell atop the lineup and looking cool as hell doing it. Even with the low batting average, it looks like coming to New York and playing for a contender has rejuvenated McCutchen. Wouldn't be the first time that's happened with a veteran coming over from a losing team.
More than anything, the Yankees needed more from the top lineup spot down the stretch and going into the postseason. Their leadoff hitters hit .205/.319/.298 (75 wRC+) in 40 games from the All-Star break through August 1st. They ranked 28th in AVG, 24th in OBP, 28th in SLG, and 28th in wRC+ from the leadoff spot during that time. You can't win like that. Can't be done. Love Gardner. He's forever cool with me. But the Yankees could not continue like that.
McCutchen's taken over the leadoff spot and the Yankees now rank first in OBP and first in wRC+ from the leadoff spot in September. He's making the pitcher work and he's getting on base for Judge and Giancarlo Stanton. While they Yankees have undoubtedly had some stinkers this month, the offense has been much more formidable with McCutchen. He's knows what it's like to be The Man in the lineup and he's playing like that right now.
"Just being myself. Trusting the process. Trusting what I've been doing day in and day out, and just going out there and doing what I know I can do," said McCutchen earlier this week when asked what allowed him to settle in with the Yankees so quickly (video link). "The guys have been great. When you have someone like Stanton and Judge hitting behind you, you know you're going to get some pitches. And if not, hey, you take a walk, and they step up and they do it."