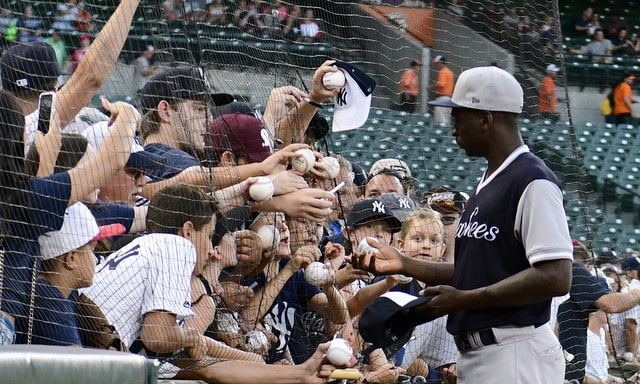 Nothing is official yet, but all signs point to Didi Gregorius rejoining the Yankees for tonight's series opener against the Mariners. He's been out since August 21st with a bruised left heel — how he bruised his left heel on this play, I'll never know — and all his rehab work the last few days has gone well. Gregorius has been hitting, running, the whole nine. He is expected back in the lineup tonight.
"He had a good day and we are looking at probably activating him Friday," said Aaron Boone to George King on Wednesday. "In a lot of ways, he is one of the heartbeats of this club. He is in the middle of the diamond and playing a premium position as well as he does (and) gives us a lefty presence in the middle of the lineup. Kind of the captain of the infield out there. Just looking forward to his presence back in our lineup on both sides of the ball."
Gleyber Torres has made a few careless errors but has otherwise filled in capably at shortstop while Gregorius was on the disabled list. Adeiny Hechavarria has helped out as well. The issue hasn't been shortstop while Didi has been out. It's been second base. With Gleyber shifting over to short, it has largely been Neil Walker and Ronald Torreyes at second base since Gregorius got hurt, and, uh:
SS while Didi hurt: .382/.460/.655 (204 wRC+) with five homers
2B while Didi hurt: .130/.226/.185 (14 wRC+) with no homers
Goodness. The Yankees capably replaced Gregorius at shortstop by shifting Gleyber over. No one bothered to replace Torres at second. Once Didi returns, hopefully tonight, that second base black hole on offense goes away and I think the defense improves at both positions as well. Gregorius is better in the field than Torres, and Torres is better in the field than the Walker/Torreyes tandem. The Yankees will be better on both sides of the ball.
Also, Gregorius will add another left-handed bat to the lineup and wow do the Yankees need it. Greg Bird has been relegated to the bench, Walker's bat has cooled, and Brett Gardner has had a bad second half. That all left the switch-hitting Aaron Hicks as the team's most reliable left-handed bat while Gregorius has been sidelined. Hicks has been awesome — he's hit .260/.415/.445 (139 wRC+) with more walks (20.7%) than strikeouts (19.1%) in the second half — but yeah, another reliable left-handed bat will be a welcome addition.
The Yankees have played some uninspired baseball the last week and a half — you can go back further than that, but it's been really uninspired the last week and a half — and I don't think Gregorius returning will fix it. Didi's a ballplayer, not a miracle worker. He'll help, for sure, but the Yankees have some deeper issues to fix. Luis Severino has been terrible and that is the team's single biggest problem as far as I'm concerned. Gardner has vanished, Bird is unplayable, Giancarlo Stanton has been slumping, Aaron Judge is still out, so on and so forth.
For now, the Yankees are about to get one of their best players back from the disabled list, and that is undeniably a good thing. Gregorius improves the offense and the defense, and he's a high-energy glue guy. The Yankees will be that much closer to full strength once he returns this weekend. They still have a bunch of other problems to figure out, but righting the ship is a multi-part process, and getting Didi back is a big part of that process.
Update: The Yankees reinstated Gregorius from the disabled list this afternoon, the team announced. He will officially be back in action tonight. Hooray for that.