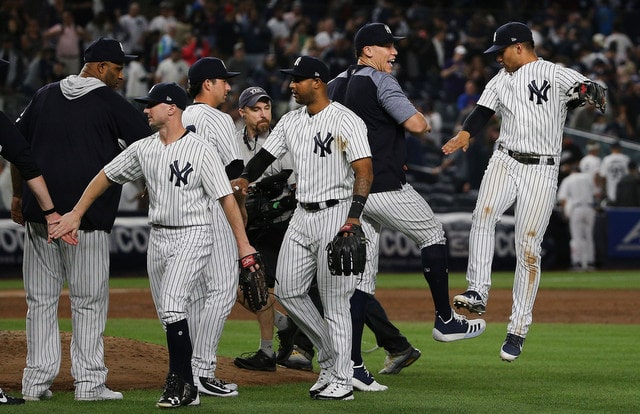 Today is a pretty cool day in Yankeeland. Literally. Temperatures are in the 70s today. After a week with real feel temperatures in the triple digits, this feels like the arctic. Pretty great.
But seriously, today is a pretty cool day because Andrew McCutchen will wear Yankee pinstripes for the first time. Also, Gary Sanchez is back from the disabled list. The Yankees have been scraping by with a bare bones lineup the last few weeks. Some of those 7-8-9s were ugly. That changes today.
Cutch is a Yankee, Gary is back, and this afternoon the Yankees go for their second straight win over the Tigers. The first two games of this series have been a bear. Far more difficult than they needed to be. Hopefully the new guys (well, new guy and returning guy) help correct that. Here are the lineups:
New York Yankees
1. RF Andrew McCutchen
2. DH Giancarlo Stanton
3. CF Aaron Hicks
4. 3B Miguel Andujar
5. C Gary Sanchez
6. SS Gleyber Torres
7. 1B Luke Voit
8. 2B Neil Walker
9. LF Brett Gardner
RHP Masahiro Tanaka
Detroit Tigers
1. LF Mikie Mahtook
2. 1B Jim Adduci
3. RF Nick Castellanos
4. DH Victor Martinez
5. 3B Niko Goodrum
6. SS Ronny Rodriguez
7. C Grayson Greiner
8. CF JaCoby Jones
9. 2B Dawel Lugo
LHP Daniel Norris
It is a bit cloudy in New York today but it is relatively cool and there is no rain in the forecast. Good afternoon for a ballgame, I'd say. This afternoon's game will begin at 4:05pm ET and you can watch on YES locally and FOX Sports 1 nationally. Enjoy the game.
Roster Moves: In case you missed it earlier, the Yankees announced their first round of September roster call-ups. McCutchen and Adeiny Hechavarria were added to the active roster, Sanchez was activated, and Luis Cessa, Tyler Wade, and Stephen Tarpley were all called up.
Injury Update: Didi Gregorius (heel) is progressing but is more likely to be activated for the Mariners series late next week than the Athletics series that begins Monday … Aroldis Chapman (knee) is expected back this season, but Brian Cashman said that's not a guarantee. Gulp.