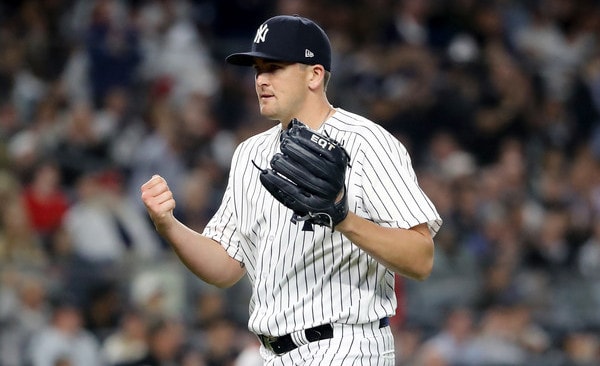 One week to go in the 2018 regular season. The Yankees have already clinched a wildcard spot. Now they need to clinch the top wildcard spot. The magic number to do so is five. Tonight the Yankees open a four-game series in Tampa against a Rays team that is still mathematically alive in the postseason race. The Rays have to win out and the Athletics have to lose out, and all that does is force a Game 163 tiebreaker. Tampa can't claim a postseason spot outright at this point. But that's their problem.
The Yankees are going to give the Rays a taste of their own medicine tonight by using an opener. Jonathan Holder is starting tonight as the Yankees rejigger their rotation in advance of the postseason. My thoughts: It's about time. I wanted the Yankees to use an opener for Domingo German (9.00 ERA in the first inning) and for Chance Adams at Fenway Park (two runs in the first), but no luck. Beating the Rays with an opener and knocking them out of the postseason race sure would be sweet. Here are tonight's lineups:
New York Yankees
1. LF Andrew McCutchen
2. RF Aaron Judge
3. CF Aaron Hicks
4. DH Giancarlo Stanton
5. 1B Luke Voit
6. 3B Miguel Andujar
7. 2B Gleyber Torres
8. C Gary Sanchez
9. SS Adeiny Hechavarria
RHP Jonathan Holder
Tampa Bay Rays
1. CF Mallex Smith
2. 3B Matt Duffy
3. 1B Ji-Man Choi
4. LF Tommy Pham
5. SS Joey Wendle
6. 2B Brandon Lowe
7. RF Austin Meadows
8. 1B Jake Bauers
9. C Nick Ciuffo
RHP Diego Castillo
It is hot and rainy in St. Petersburg and dry and air conditioned in Tropicana Field. Tonight's game will begin at 7:10pm ET and you can watch on YES locally and MLB Network out-of-market. Enjoy.
Injury Update: Didi Gregorius (wrist) feels better today and has more range of motion. "I think I'll be ready before the regular season ends," he said. For now, Gregorius remains day-to-day. He hasn't done any sort of baseball activities and he'll continue receiving treatment. He'll be reevaluated Wednesday.
Rotation Update: Luis Severino will start tomorrow, Masahiro Tanaka will start Wednesday, and CC Sabathia will start Thursday. That means J.A. Happ is starting Friday and will line up to start the Wild Card Game on normal rest. It also means the Yankees could start Tanaka in the Wild Card Game on an extra days' rest or Severino with two extra days. Not an accident. The Yankees have given themselves options. Also, Boone said the Yankees are "not close" to naming a Wild Card Game starter. They hope to have their Wild Card Game starter in place by the end of the week. Translation: We need to clinch homefield advantage first. (Severino will be in position to start Game 162, if necessary.)