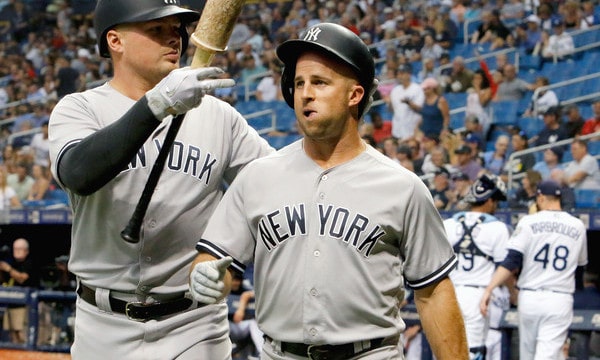 Good win last night. The Yankees beat the Rays at their own game with the bullpen and knocked them out of postseason contention in the process. That was satisfying. That doesn't mean the Rays will lay down these next three days, of course. It doesn't work like that. They still want to win and make life miserable for the Yankees. The magic number for homefield advantage in the Wild Card Game is four.
On the mound tonight is Luis Severino, who is potentially making his final start of the regular season. He lines up to pitch tonight and on the season's final day. My guess is Severino will only start the final game if it's a must-win for homefield advantage. Otherwise he'll be held back for the Wild Card Game, even if he's only on the roster as a reliever. If this is his final regular season start, I hope Severino dominates, and goes into the postseason confident. Here are tonight's lineups:
New York Yankees
1. LF Andrew McCutchen
2. RF Aaron Judge
3. 1B Luke Voit
4. DH Giancarlo Stanton
5. 2B Neil Walker
6. 3B Miguel Andujar
7. C Gary Sanchez
8. SS Adeiny Hechavarria
9. CF Brett Gardner
RHP Luis Severino
Tampa Bay Rays
1. RF Mallex Smith
2. 3B Joey Wendle
3. LF Tommy Pham
4. 1B Ji-Man Choi
5. 2B Brandon Lowe
6. DH C.J. Cron
7. CF Kevin Kiermaier
8. SS Willy Adames
9. C Adam Moore
RHP Jake Faria
It is it hot, humid, and rainy in St. Petersburg today. Good day to play indoors. Tonight's game will begin at 7:10pm ET and you can watch on YES locally and ESPN out-of-market. Enjoy the ballgame.
Injury Updates: Aaron Hicks (hamstring) went for an MRI today and it brought back good news. There's no tear. The hamstring is still tight and Hicks is day-to-day. Best case scenario, basically. "We feel like we dodged a bullet," said Aaron Boone … Didi Gregorius (wrist) took ground balls today without throwing. He is still receiving treatment and said he feels better than he did yesterday, when he felt better than he did Sunday. Gregorius will see the doctor for a check-up tomorrow … Gleyber Torres was scratched from tonight's lineup with tightness in his groin/hip. He spent a few weeks on the disabled list with a hip problem earlier this year, remember. Torres was scratched as a precaution and is available off the bench.