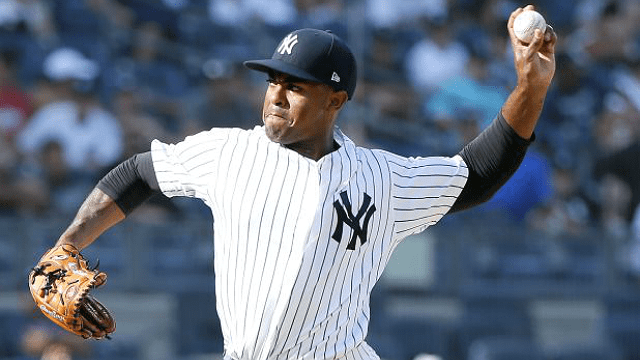 When the Yankees were faced with the prospect of a bullpen game Monday night, they turned to Jonathan Holder as the "opener." That's not all that surprising. Holder's been one of the team's top bullpen arms all year.
The surprise was who came next: a southpaw with the potential to earn a postseason roster spot.
As you can tell from the title of this piece, that lefty is Stephen Tarpley, who promptly sat down three Rays lefties in order. While Yankee fans likely assumed Justus Sheffield was the only September call-up with a chance to earn a postseason role, Tarpley has emerged as the LOOGY the Yankees haven't had this year.
"He's a problem for left-handed hitters," Aaron Boone said of the young lefty. "He's coming in pounding the zone. That sinker combined with the slider makes for a problem for lefties. That's why he got on our radar this year … and he's pitching his way into the conversation right here."
The 25-year-old's debut on Sept. 2 was highly forgettable, as he issued two walks and gave up three runs on three hits in an inning of work. He did, at least, pick up his first strikeout and show off his slider.
Since then, he's been electric, holding batters to a .150/.227/.150 line with three hits, two walks and seven strikeouts in 5 2/3 innings. Lefties are just 1-for-11 with a walk and five strikeouts against him. He saw a definite platoon split in Triple-A, though he was able to tame right-handers at earlier levels.
While I love me an up-and-coming middle reliever, let's not get too hyped; He's only had eight appearances. At most, he'll throw around 10 innings in the majors before October after starting the season in Double-A. His highest leverage outing was Monday's second inning, so he's yet to really find himself in a pressure situation. That's not ideal for a potential postseason piece.
He's not going to unseat one of the Yankees' top six in the pecking order, nor would you be apt to use him before Lance Lynn in long relief. Whether he beats out an extra bench player or not comes down to how he matches up with an opponent's left-handed options.
Luckily, we've gotten a chance to see how he would attack some of his potential postseason assignments when he faced Brock Holt, Rafael Devers and Mitch Moreland in last week's Red Sox series (He faced the Athletics but only right-handed batters).
After walking Holt, he pitched Devers backward, starting him with an 86-mph slider at the top of the zone.
He then missed with a slider before getting Devers to foul off his two-seam sinker. He went right back to that two-seam sinker and got Devers to swing and miss.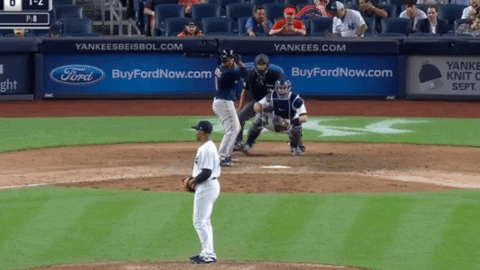 He attacked Moreland in a similar way. After getting a called strike on his four-seamer, he went away with the slider, prompting a swing and miss.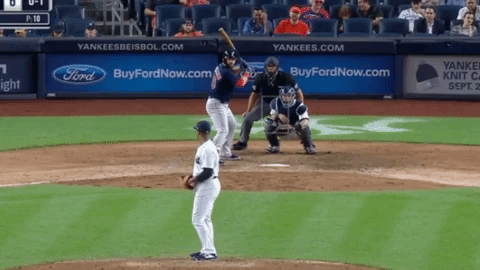 After a pair of foul balls — one on a slider and one on a sinker — Tarpley dropped down a bit for another sinker, catching Moreland looking to end the inning.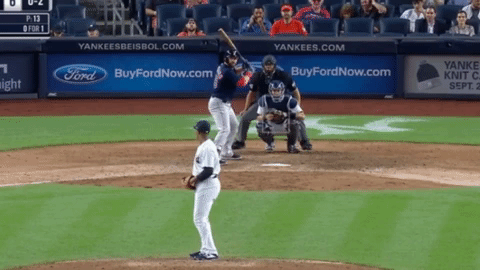 You can see in the gifs above why his mere motion would be tough on lefties. Pitching from his three-quarters arm slot, Tarpley ends up almost behind the LHB's field of vision. That mixed with deception in his motion makes it uncomfortable for same-sided hitters.
Tarpley features four pitches consistently in his repertoire: A four-seam fastball that touches 95 mph, a high 80s slider, a low 80s curveball and his most frequent pitch, that two-seam sinker that goes in on lefties hands.
"I get a lot of movement to both sides of the plate," Tarpley said about why he's effective left-on-left, "and I kind of just read guys. If the guy is already uncomfortable out there and I'm feeling comfortable, I already have the advantage."
The sinker is reminiscent of Zach Britton with the movement down and in on lefties that produces both swing-and-miss and worm-killing qualities, not that he's quite on Britton's level. As Lindsey Adler of The Athletic found in her profile of Tarpley, it's not coincidence as Tarpley both watched video of Britton and received some tips from the lefty last offseason.
Unfortunately for Tarpley, there are two late-inning lefties and David Robertson's platoon split sitting ahead of him in the pecking order even if he gets a postseason role. Jordan Montgomery and Jaime Garcia were the last guys on the Yankees' 2017 postseason roster and they combined for one low-leverage appearance.
However, with a strong performance this month while getting his feet wet in the majors, Tarpley has made himself a pitcher to watch for the Yankees, both in October and future seasons.