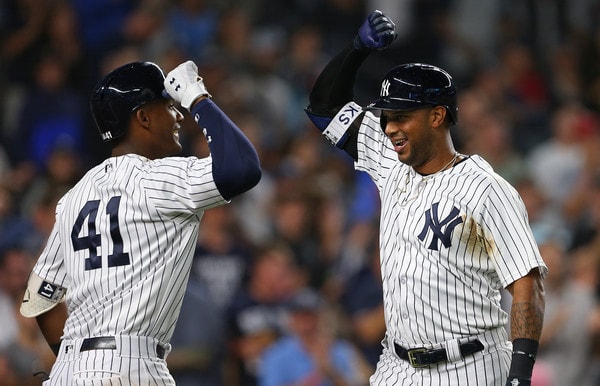 Before we begin, an early Happy Labor Day to all of you. While you're winding your summer down this weekend, please take a minute and reflect on the blood, sweat, and tears of the labor movement that made this weekend and so many other things possible.
Last week, I had my first three days of work since June. There weren't any students, and not even the full staff was there, but it gave those of us who were there a chance to plan ahead. So, in a notebook, I have my units and lessons vaguely planned out up through the three day weekend of Veteran's Day. Like talking about the Yankees' roster in 2019 in September 2018, that's a fool's errand because so many things can and will come up to disrupt those plans. Regardless, and given that shaker of salt to consider, let's take a look into the near future.
Starting with departures, the Yankees have a handful of pending free agents. On the pitching side of things, there's CC Sabathia, JA Happ, Lance Lynn, David Robertson, and Zach Britton. On the position player side of things, there's Andrew McCutchen, Neil Walker, Adeiny Hechavarria,  and Brett Gardner (with a $2MM buyout). That would leave the roster looking something like this as this year ends and next year begins.
C–Gary Sanchez, Austin Romine/Kyle Higashioka
1B–Greg Bird, Luke Voit
2B–Gleyber Torres, Ronald Torreyes
3B–Miguel Andujar
SS–Didi Gregorius
LF– Clint Frazier
CF–Aaron Hicks
RF–Aaron Judge
DH–Giancarlo Stanton
SP–Luis Severino, Masahiro Tanaka, Sonny Gray,  Justus Sheffield (hopefully?), OPEN–presumably Jordan Montgomery if/when healthy
RP–Aroldis Chapman, Dellin Betances, Chad Green, Tommy Kahnle, Jonathan Holder, AJ Cole, Stephen Tarpley, Luis Cessa
That in and of itself is a decent roster; with it, the Yankees could easily compete, but there are enough questions that 'reinforcements' would be needed, especially on the pitching staff. A backup outfielder is also needed, as this bench is pretty thin.
Starting with, well, the starters, I think it's almost a no brainer to bring CC Sabathia back. At this point, he's earned the Andy Pettitte treatment–one year deals until he's ready to retire. As he finishes out his career, he's a good option on the back end of the rotation and he would be a great mentor to the younger guys on the staff in Sheffield and Montgomery. Additionally, he sets the tone for the clubhouse and having that around for another year would be valuable for the team in its present and future.
JA Happ has also earned a shot at a second look, at the very least. Having another lefty in the rotation, especially in Yankee Stadium, would be welcomed. His transition to a strikeout pitcher is also promising as his career moves forward. I'm not sure I'd go more than one or two years with him, but I wouldn't object to him being back at all.
Between those relievers (and Lance Lynn), I think I'd only bring one back, and it would be David Robertson. Zach Britton still seems to be searching for something and while it might be a case of letting him go just as he's about to figure things out, it's risky enough that I'd be okay walking away.
As for the position players, all three are probably worthy of starting jobs, but it's unclear if there would be one for them. Though it's hard to say this–given he's basically the position player version of Sabathia at this point, with the added homegrown label–it might be time for the Yankees to move on from Brett Gardner. I've loved rooting for him since his time in the minors and he's been a good-at-times-great player for the Yankees since he came up, but the constant second half swoons and the young, viable replacement that is Clint Frazier make me think a send off is fine.
This, of course, doesn't factor in outside spending and the Yankees–as every team–will look at the FA market for options, including Bryce Harper and Manny Machado. I, however, am unconvinced that the Yankees will spend big on either one. It would require a lot of moving parts and I don't think that ownership wants to spend big anymore. While frustrating at times, it is an okay strategy in free agency, especially when the team doesn't necessarily need big stars, given its construction and production.