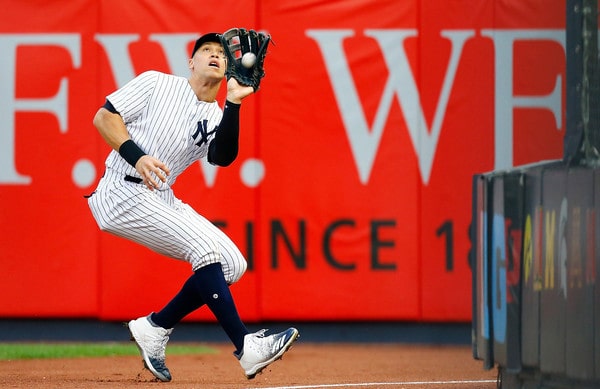 There are five days to go in the regular season and, at some point in the next seven days, the various voting members of the BBWAA will have to submit their ballots for the major awards. Ballots are submitted after the regular season but before the postseason. MVP and Cy Young and all that are regular season awards. The postseason is not a factor.
In recent years the voting body has done a better job handing out the awards, and by that I mean the voting results have aligned closely with my hypothetical ballot. The Yankees have several awards candidates this year — not as many as last year, but definitely a few — and could have someone walk away with some hardware. Let's break down the awards races with only a handful of regular season games remaining.
Most Valuable Player
Aaron Judge's wrist injury removed him from the MVP conversation. It wouldn't surprise me to see him get some eighth or ninth or tenth place votes, but, as far as being a true MVP candidate, missing two months put an end to that. The AL MVP award will likely go to Mookie Betts, Mike Trout, Jose Ramirez, Alex Bregman, or J.D. Martinez. Khris Davis and Matt Chapman will get some love as well. Those are the top MVP candidates at the moment.
With Judge out of he mix, the Yankees don't have a bona fide MVP candidate, which is kinda weird for a team with a chance to win 100+ games. Giancarlo Stanton's had a good but not great year, Didi Gregorius had a brutal May and has missed time with injuries, Aaron Hicks doesn't seem high-profile enough, and Luis Severino slumped terribly in the second half. Miguel Andujar or Gleyber Torres? I bet they get some down ballot votes., especially Andujar.
Unlike last season, when Judge was right there with Jose Altuve, the Yankees don't have a legitimate MVP candidate this year. They might not even have anyone finish in the top ten of the voting. The last time that happened was 2016. The last time it happened in a year the Yankees made the postseason was … 2015. I would've guessed the last time that happened was much further back. Apparently not.
Cy Young
Man, Severino was so good in the first half. He went into the All-Star break ranked fifth in the AL in ERA (2.31), third in FIP (2.74), seventh in strikeout rate (28.7%), sixth in K/BB ratio (4.50), and fourth in WAR (+4.1). The second half slump knocked him down a peg:
ERA: 3.39 (9th in AL)
FIP: 2.95 (4th)
Strikeout rate: 28.2% (8th)
K/BB ratio: 4.78 (4th)
WAR: +5.7 (5th)
The second half skid doomed Severino's Cy Young chances. Others like Blake Snell, Chris Sale, Corey Kluber, Justin Verlander, and Gerrit Cole have been so good that Severino might not even get a fifth place vote. (The Cy Young ballot runs five names deep.) Lame, but when you pitch as poorly as Severino did for as long as Severino did, you can't expect Cy Young votes.
Aside from Severino, I think the only pitcher on the staff with a chance to get a Cy Young vote is Dellin Betances. Masahiro Tanaka labored in the first half, Aroldis Chapman has been hurt and ineffective in the second half, and David Robertson hasn't had a "reliever who deserves Cy Young attention" season. Betances might've. He has received Cy Young votes before — one fifth place vote in 2015, to be precise — and it could happen again. I'd bet against it. Decent chance the Yankees are completely shut out of the Cy Young voting this year.
Rookie of the Year
Now we're talking. The Yankees had the Rookie of the Year runner-up two years ago (Gary Sanchez) and the unanimous Rookie of the Year last year (Judge). They could have the Rookie of the Year winner and runner-up this year thanks to Miguel Andujar and Gleyber Torres. The last team with the first and second place finishers in the Rookie of the Year voting is the 2011 Braves with Craig Kimbrel and Freddie Freeman. The last AL team to do it is the 1984 Mariners with Alvin Davis and Mark Langston.
Now here's where I be a jerk and say Shohei Ohtani is almost certainly going to win Rookie of the Year. And he wouldn't be an unreasonable pick! Ohtani is hitting .280/.360/.559 (151 wRC+) with 21 homers in 351 plate appearances, and, before his elbow injury, he threw 51.2 innings with a 3.31 ERA (3.56 FIP) and 63 strikeouts. That is ridiculously good! The AL rookie WAR leaderboard:
FanGraphs WAR
1. Shohei Ohtani: +3.6
2. Joey Wendle: +3.6
3. Miguel Andujar: +2.6
4. Brad Keller: +2.5
5. Shane Bieber: +2.4
6. Gleyber Torres: +2.1
Baseball Reference WAR
1. Joey Wendle: +4.4
2. Shohei Ohtani: +3.8
3. Brad Keller: +3.6
4. Gleyber Torres: +2.9
5. Jaime Barria: +2.4
6. Miguel Andujar: +2.1
Wendle ain't winning Rookie of the Year. You have a few weeks to prepare yourself to be angry when Wendle gets a handful of third place votes instead of Andujar or Gleyber, but he's not winning. Fair or not, there is a narrative component to these awards, and Wendle has zero narrative going for him. He's a 28-year-old rookie who was designated for assignment over the winter and is getting a WAR boost because the defensive stats still don't handle multi-position guys well.
Anyway, Ohtani has the numbers and the narrative. He's been incredible. He's a top ten hitter on a rate basis and he was very good when on the mound. Doing one thing well is hard. Ohtani is doing both well. Can he overcome the lack of playing time? Andujar has 583 plate appearances. Torres has 465 plate appearances. Ohtani is at 351 plate appearances as a hitter plus 211 batters faced as a pitcher (562 combined). The offensive numbers side-by-side:
Ohtani: .280/.360/.559 (151 wRC+) and 21 homers
Andujar: .298/.329/.525 (128 wRC+) and 26 homers
Torres: .276/.345/.484 (122 wRC+) and 23 homers
Even with the injury, Ohtani has more than lived up to the hype, and it's an incredible story. I fully expect him to win Rookie of the Year and I don't think it would be undeserved. And I expect Andujar and Torres to finish second and third in the voting, in either order. That's still really cool. I mean, you could rank these three guys in any order and I'm not sure it'd be "wrong."
There is no shame in finishing behind Ohtani. The Yankees will be the first AL team with two top three finishers in the Rookie of the Year voting since the 2013 Rays (Wil Myers and Chris Archer).
Manager of the Year
Last season only four AL managers received Manager of the Year votes. Two years ago it was six. The year before that it was seven and the year before that it was seven as well. Nearly half the league! This year the Manager of the Year award figures to go one of three managers: Kevin Cash, Alex Cora, or Bob Melvin. The Red Sox are having a historic year and that'll undoubtedly get Cora votes. The A's are a surprise contender and that usually equals Manager of the Year votes. The same applies to the Rays and Cash.
As for Aaron Boone, everyone expected the Yankees to be good this season and the Yankees have been good this season, if not underwhelming in the second half. A team expected to be good having a good year — and not a historically great year like the Red Sox — usually doesn't earn a skipper many Manager of the Year votes. There are 30 Manager of the Year ballots and three spots per ballot. How many of those 90 spots go to Boone? Three or four, tops? I'm not sure he even gets that many. The last Yankees manager to win Manager of the Year was Joe Torre in 1998. That won't change this year.
Comeback Player of the Year
The Yankees don't have a Comeback Player of the Year candidate. This usually goes to a guy who missed most (or all) of the previous season with an injury and the Yankees don't have anyone like that. Maybe Betances would get some Comeback Player of the Year attention? I doubt it. As bad as he was down the stretch last year, he had a 2.64 ERA (3.23 FIP) and was an All-Star last season. My guess is Matt Duffy will be named Comeback Player of the Year considering he's hitting .294/.360/.366 (106 wRC+) at the moment and played 91 total games from 2016-17 (zero in 2017) due to an Achilles injury.
Gold Gloves
The Gold Glove selection process has improved in recent years — there's a statistical component now and there doesn't seem to be as much reliance on reputation — and I'm not sure the Yankees have a Gold Glove candidate. Judge missed too much time and he wouldn't beat out Betts anyway. Hicks is a good defensive center fielder but also probably no better than the fourth best defensive center fielder in his own division. Gregorius has to contend with Andrelton Simmons and Francisco Lindor. Gardner? Meh. The Yankees' best hope for a Gold Glove is probably Tanaka. He's an excellent fielder. But yeah, bot seeing a Gold Glove in the 2018 Yankees' future.
* * *
As far as the Yankees are concerned, all the intrigue this award season will revolve around Rookie of the Year. They don't have a serious MVP or Cy Young candidate, but Andujar and Torres are right in the Rookie of the Year mix. Beating out Ohtani won't be easy. Maybe even impossible! But I do expect those two to finish in the top three of the voting somewhere. Three straight seasons with top Rookie of the Year candidates is pretty cool. Hopefully Justus Sheffield makes it four straight next year.