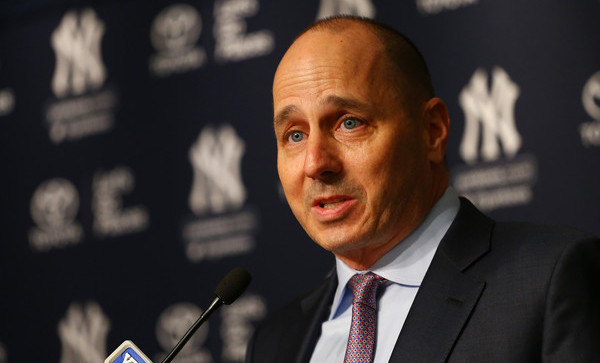 No later than one week from yesterday, the 2018 World Series will end and the 2018-19 offseason will begin. The Yankees have more heavy lifting to do this winter than I think they would like. Blame injuries (Didi Gregorius, Jordan Montgomery) and poor performance (Sonny Gray). The rotation will be a "focus point." Don't sleep on the infield and even the bullpen too.
We don't know how much the Yankees will spend this winter and we don't know their payroll limit for next season. The Yankees reset their luxury tax rate this season and Brian Cashman indicated he has to seek approval from Hal Steinbrenner to exceed the luxury tax threshold next year. We know the Yankees can support a $240M payroll. They did it just last year. The franchise could almost certainly support a payroll much higher than that. They choose not to. C'est la vie.
Since the Yankees are counting pennies these days, I figured I'd be good to lay out the payroll situation for this offseason and next season. The Yankees operate in the world of the luxury tax. They're more concerned with luxury tax hits than actual salary, so this is an estimate of the luxury tax payroll. Here's what the Yankees have on the books for next season:
Masahiro Tanaka: $22.14M
Giancarlo Stanton: $22M
Jacoby Ellsbury: $21.86M
Aroldis Chapman: $17.2M
Arbitration-Eligibles: $45.1M (projected)
Pre-Arbitration-Eligibles: $13M (estimated)
Miscellaneous: $15M (estimated)
That all adds up $156.3M and that, in theory, covers the entire 40-man roster. In reality, it doesn't even cover the 25-man roster because the Yankees aren't going to plug three kids making the minimum behind Tanaka and Luis Severino in the rotation. I mean, they could, but I'd bet against it. The luxury tax threshold jumps to $206M next year, so, based on this, the Yankees have $49.7M to spend this winter. That's a lot! Let's talk out the payroll.
1. Wait, only four guaranteed contracts? Really? Really. I was shocked. The Yankees shed Brett Gardner ($13M), David Robertson ($11.5M), CC Sabathia ($10M), J.A Happ ($4.32M) Neil Walker ($4M), Lance Lynn ($2.03M), and Andrew McCutchen ($1.26M) this offseason. They're all free agents. Tanaka, Stanton, Ellsbury, and Chapman are the only remaining guaranteed contracts on the books. Pretty wild. That'll of course change once the Yankees start signing free agents and making trades. Those guys becoming free agents have to be replaced.
2. What about Gardner's option? Yeah, don't forget about this. Gardner's contract includes a $12.5M club option with a $2M buyout for next season. It's a $10.5M decision. I really have no idea what the Yankees will do. Declining it seems like an easy decision given his second half — even if the Yankees want to bring Gardner back, they'd be able to do so at a lower salary than the option, right? — but the Yankees love love love Gardner. Wouldn't surprise me to see them pick it up, honestly.
Anyway, as far as the luxury tax goes, the Yankees have already been taxed on the $2M buyout. It is guaranteed money and it was lumped into the average average value of Gardner's contract these last few years. Declining the option has no luxury tax impact next year. The $2M has be paid to Gardner, but it doesn't get charged to next season (or this season). It's already been taxed. Here's what the Collective Bargaining Agreement says about the option being exercised:
Article XXIII(E)(5)(b)(ii): Potential Adjustment to Payroll
Notwithstanding subparagraph (b)(i) above, if the Player ultimately does not receive the Option Buyout, then for the Contract Year covered by that option, no portion of the Buyout shall be included in any Club's final Actual Club Payroll. In addition, any Club whose final Actual Club Payroll in a previous Contract Year had included that Buyout (or a portion thereof) will receive a deduction (in the full amount of the Buyout included in previous Contract Years) in its final Actual Club Payroll in the Contract Year covered by that option.
In English, that means Gardner's luxury tax hit for next season would be $10.5M should the Yankees pick up the option. They get to subtract out the $2M buyout from the $12.5M salary because they've already been taxed on it. Got it? Good. I'm leaving Gardner out of the 2019 payroll estimate right now because he's technically not under contract for next season.
3. What about Sonny Gray? He's a goner. Brian Cashman couldn't have made it any more clear at his end-of-season press conference. Gray will get traded this winter, he'll go somewhere else and pitch well, and the Yankees won't care one bit. The organization's frustration with Sonny was almost palpable this year. Cashman, Aaron Boone, Larry Rothschild … they're all over Gray. They'll trade him this winter and won't look back.
MLBTR projects a $9.1M salary for Gray next season and that is included into the estimate above because, well, he's on the roster. He hasn't been traded yet. Once the Yankees trade Sonny, we'll circle back and adjust our 2019 payroll estimate. There's a pretty good chance the Yankees will take back salary in a Gray trade (it might even be a payroll neutral trade) so shedding that $9.1M might not be as cut-and-dried as it may seem.
4. Where'd you get $13M for pre-arb players? I based it on this year's payroll. According to our math, the Yankees spent $8,889,531.81 on pre-arbitration players and $3,904,834.64 on miscellaneous players (Shane Robinson, David Hale, etc.) this year. I added those two numbers together and rounded up. See how easy that is?
In all seriousness, I'm comfortable assuming next season's pre-arbitration players will cost a similar amount as this year's. The league minimum doesn't increase much ($545,000 to $555,000) and the Yankees had a ton of injury call-ups throughout the year. That last part is important. This estimate includes minor league salaries and injury call-ups and September call-ups and all that. We don't have to set aside anything for that. To use my favorite Boone-ism, it's all baked into the cake.
5. What are those miscellaneous costs? The Yankees paid $6M to players no longer on the Yankees this past season. They paid $5.5M of Brian McCann's salary and they paid half the $1M bonus Chase Headley received when he was traded. That $6M is off the books now. At the moment, the Yankees do not owe any money to players on other teams.
That $15M estimate for miscellaneous expenses is tied up in two things: Stanton's award bonuses and benefits. Every club chips in toward player benefits and this year that amount was $14,0444,600. That counts against the luxury tax and the number increases a little each season. Stanton has $325,000 in potential bonuses in his contract and those also count against the luxury tax payroll. Add the bonuses with the increased benefits expenditure and you get $15M or so.
* * *
Based on all that above, the Yankees have about $50M to spend this winter before hitting the $206M luxury tax threshold next season. It could be more depending on the Gray trade and it could be less depending on Gardner's option. Hal could always approve a higher payroll as well and I hope he does because there are some premium free agents out there. The Yankees have money and the window ain't getting any more open. If they're not going to exceed the luxury tax threshold now to sign some top free agents, when will they?