We've got nine questions in this week's mailbag. Make sure you send any questions or comments to RABmailbag (at) gmail (dot) com and I'll answer as many as I can each week.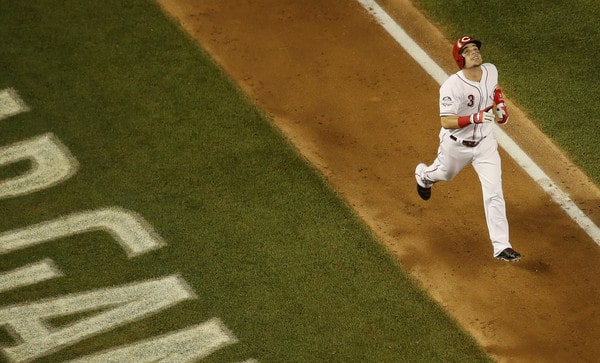 Stephen asks: Wouldn't Scooter Gennett make a great trade target? He would provide some balance to the lineup and allow Gleyber to slide over to SS.
Gennett would be a great trade target. He hit .310/.357/.490 (125 wRC+) with 23 home runs this past season. When he hit .295/.342/.531 (123 wRC+) with 27 homers* last year, it was fair to wonder if he'd ever do it again because there was nothing in his track record to suggest he could be that type of hitter. Well, Gennett did do it again. The 2019 season is his final year of team control, which means one of three things will happen:
The Reds will trade him.
The Reds will sign him to an extension.
The Reds will keep him and lose him for nothing as a free agent.
Don't sleep on No. 3! That is exactly what happened with Zack Cozart. Cozart hit .297/.385/.548 (140 wRC+) with 24 home runs and Gold Glove defense at shortstop in 2017, and Cincinnati didn't trade him or even make him the qualifying offer. They lost him to free agency after the season and did not even get a draft pick in return. I would imagine the Reds learned from the Cozart stuff and won't repeat it with Gennett, but we'll see.
Anyway, Gennett has now put together back-to-back strong seasons at the plate and he's also played some third base and corner outfield in addition to his usual second base. The Yankees could stick him at second until Didi Gregorius returns, then move him elsewhere as necessary. He's a real good fit. The Reds desperately need pitching. The Yankees won't trade Justus Sheffield for Gennett. Would they take one year of Sonny Gray? Seems unlikely to me. What about some combination of Jonathan Loaisiga, Chance Adams, Mike King, Luis Cessa, and Domingo German? Maybe two of the five plus another prospect? Remember, my trade proposal sucks.
* That is way too many home runs for a guy named Scooter.
Many asked: What about re-signing Neil Walker?
Lots of Walker questions this week in the wake of the Gregorius Tommy John surgery news. I thought there was a chance the Yankees would consider re-signing Walker even before Didi got hurt, and now that they need another middle infielder, a reunion seems more likely. It's hard to see Walker getting a starting job at this point. A utility role seems to be his ticket to stay in the big leagues. Another one-year deal at $4M or so seems likely no matter where he signs. That's the going rate for this role.
Walker had an up-and-down season and hit .219/.309/.354 (81 wRC+) in 398 plate appearances overall. He was much better when playing every day than as a part-timer. Perhaps he'll be more comfortable in a part-time role going forward now that he's experienced it? As for signing him to play second, it could work, I just worry about his defense. Walker doesn't have much range and that's kinda important at second. He does seem to have a knack for timely hits though, doesn't he? That's nice. I'm open to a Walker reunion. He wouldn't be my Plan A as Didi's replacement, but he would be in the mix.`
Ryan asks: How soon do we look for the Yankees to buyout Judge's arb years and get a long term deal locked in? Is this winter too soon? Could next winter be a little late?
Honestly, I am totally cool with going year-to-year with Aaron Judge. He is an incredible player. Top ten in the world in my opinion. Plus he's a great dude and a tremendous ambassador for the game. He's going to represent the organization well and he's someone you want young players looking up to, I think. The thing is, the Yankees have already have Judge under team control through his age 30 season, and how does he age at that size? He might be a first baseman/DH with a 33% strikeout rate by time he hits free agency.
What does an extension look like anyway? At his pace, Judge might get $50M total in his three arbitration years ($10M, $16M, $24M?). Doesn't seem crazy to me. He already has a Rookie of the Year, an MVP runner-up, two All-Star Games, and a home run title. Would six years and $100M work right now? Something like $2M, $8M, $12M, $18M, $25M, $30M with the final $5M coming as part of a signing bonus/option buyout? That buys out two free agent years and takes Judge through his age 32 season. It's worth considering, if you're the Yankees. I don't think going year-to-year with Judge would be unreasonable.
Ben asks: What is Ronald Torreyes's role with the team going forward? He seemed to be more popular among Girardi's people than with Boone's. I like Toe and think he can be a good backup infielder but I'm not sure the team feels the same way. Is he back next year, in Triple-A, or let go?
I think Torreyes will be back next year as the up-and-down reserve infielder at worst. MLBTR projects a $900,000 salary next season and that shouldn't be an issue for the Yankees. Signing a backup infielder in free agency probably costs you $1M to $2M, and that guy won't be able to be sent to Triple-A. Torreyes has an option remaining and can go to Triple-A. I think he's a great utility guy. I wouldn't want Torreyes playing every day because he has no power, he doesn't walk, and he doesn't steal bases. He can play all around the infield and contact bomb pitchers. That's about it. That works wonderfully as a utility guy. I know Torreyes is incredibly popular in the clubhouse. Sending him down this season was a front office decision, not a coaching staff decision. I think Torreyes will be in the mix for a bench job again going into next year. I don't see the Yankees cutting ties this winter.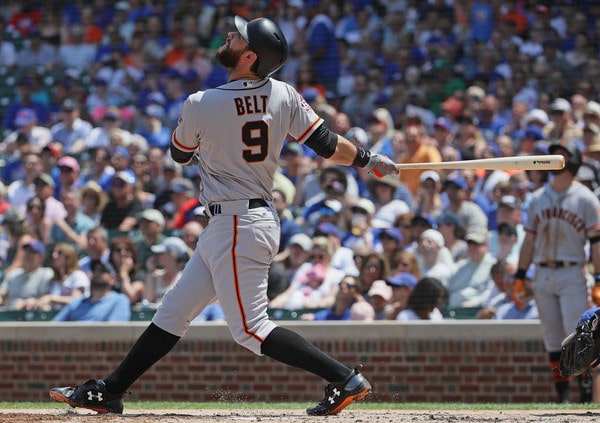 Anonymous asks: Brandon Belt. Should the Yanks target him? He would improve the defense, gets on base and lefty bat plays well in YS. Or are age and strikeouts a concern here?
I was thinking about Belt a few weeks ago. He's had a bunch of injury problems over the years (multiple concussions, broken fingers from hit-by-pitches, a knee problem this year) and has only played 150 games once in the last five years, but he also has seasons with a 140 wRC+, a 132 wRC+, and a 136 wRC+. This past season he hit .253/.342/.414 (107 wRC+) with 14 homers, 23.5% strikeouts, and 10.7% walks in 112 games around knee trouble and an appendectomy.
Belt turns 31 in April (where does the time go?) and he has three years remaining on his contract at $16M per season. He is pretty much the player the Yankees hoped Greg Bird would become. Left-handed with power and walks at first base. Buster Posey had hip surgery a few weeks ago and he's a soon to be 32-year-old catcher with a ton of innings on his legs. More first base time is in his future, inevitably. That could make Belt expendable, especially if the Giants want to shed some cash to get their luxury tax situation straight. Belt's not perfect, but he could be available, and the Yankees should kick the tires if so.
Jim asks: How about a Sonny Gray/Joe Panik exchange?
I don't think the framework is unreasonable. Panik has been hurt and kinda crummy the last three years, hitting .262/.325/.383 (90 wRC+) while starting 340 of 486 possible games from 2016-18. He has two years of control remaining whereas Gray has one. The Giants need pitching — the Giants need pretty much everything — and the biggest question is probably whether San Francisco is willing to trade two years of Panik for one year of Gray when they're not certain to contend in 2019. The Yankees did ask for Panik in Andrew Miller trade talks a few years, so they've had interest in the past, plus he'd give them a contact heavy lefty bat to plug in at second base while Gregorius is injured. I think the Yankees would do it in a second. I'm not sure about the Giants.
Michael asks: Sonny Gray to the Giants for…Tony Watson? Watson is a poor man's Britton, and while Britton is clearly better, Watson for 1/$3.5MM > Britton for 3/$50MM. Giants are gonna need arms and Gray will benefit from a big NL park. Sound good, or should the Yankees aim higher in terms of trade targets?
As with Panik, I think Gray-for-Watson would depend more on the Giants than the Yankees. I think the Yankees would do that in a heartbeat. They did have interest in Watson last winter and he'd be a fine addition to the bullpen. Couldn't the Giants do better though? Watson has a very complicated contract that could max out at $14M from 2019-20. That's still a really great price for a lefty who had a 2.59 ERA (2.45 FIP) with 27.6% strikeouts last season. Given the general demand for bullpen help these days, I feel like the Giants could fetch something better than one year of Gray for Watson. This seems like it'd be a really great get for the Yankees. I'd take Watson before Panik.
Keane asks: With a high strike out rate, low walk rate, but gives up a lot of hard contact is there any reason to think Corbin wouldn't be Michael Pineda 2.0?
Fair question! Patrick Corbin throws a ton of sliders as well, like Pineda, and he also doesn't have much of a changeup, like Pineda. Two key differences between the two. One, Corbin is left-handed and quality lefties are hard to find. And two, Corbin throws a sinker and is more of a true ground ball pitcher than Pineda. Pineda did post some surprisingly high ground ball rates with the Yankees (47.9% from 2015-17), but Corbin hasn't had a sub-48.5% ground ball rate since returning from Tommy John surgery a few years ago. I don't think Corbin is an ace and I get a feeling everyone expecting him to be an ace will end up disappointed. I do think he's very good though, comfortably above-average, and the best starter on the free agent market. He'd undoubtedly make the Yankees better.
Chris asks: If Mike is right and the Yanks don't offer Betances a longer-term extension, and assuming he stays healthy and has another year like this year, do they make a qualifying offer to him next year? The qualifying offer is set to be $17.9 million this offseason, but with some of the big dollar contracts likely to be awarded with this free agent class, I could see it getting well over $18 million – maybe approaching or even topping $20 million. Am I wrong?
The qualifying offer should jump over $18M next offseason, yeah. If Dellin Betances has another typical Dellin Betances season, meaning a sub-3.00 ERA with an insane strikeout total as a high-leverage guy, I think the Yankees would give him the qualifying offer. Chances are Betances would not beat $18M annually on his next contract, but I do think he'd net more than $18M total across multiple years, probably much more. He could get upwards of $40M on a multi-year deal. Next offseason figures to be his best chance to cash in big. I don't see Betances getting cute and accepting the qualifying offer, taking the sky high one year salary, then jumping into free agency. It's risky. He'll go for the big multi-year contract instead. With a typical Dellin year, I think he gets the qualifying offer, yeah.