You know, when the other team tries to hand you a game like that, you really should take it. The Yankees had more than enough chances against the soft underbelly of the Red Sox bullpen in Game One of the ALDS on Friday night, but The Big Hit never came. The final score was 5-4. The Yankees have lost Game One of their last four postseason series (2012 ALCS, 2017 ALDS, 2017 ALCS, 2018 ALDS).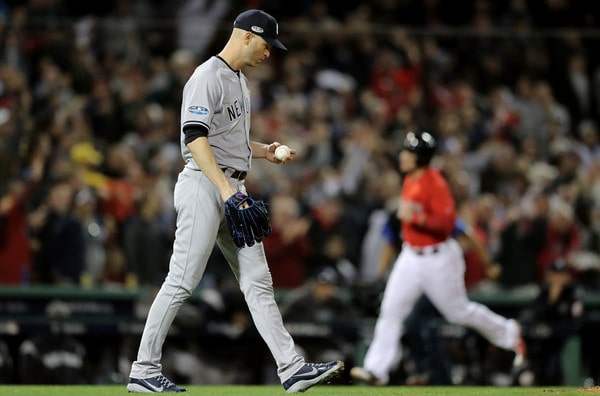 Sh*t Happ-ens
Good gravy what a disaster start for J.A. Happ. I never really put much stock into the whole "he was great against the Red Sox!" thing — how much more evidence do we need showing player vs. team splits are not predictive? — I thought he should've started Game One because he's been the Yankees' best pitcher for weeks now. See how easy that is? No need to overthink these things. Start your best available guy in Game One.
Anyway, Happ was a disaster. Thirteen pitches into the game the Yankees were down 3-0. Happ struck out Mookie Betts (hooray!), gave up a ground ball single to Andrew Benintendi (groin), walked Steve Pearce on four pitches (oh come on), and then gave up a three-run home run to J.D. Martinez. The home run pitch wasn't even in the strike zone: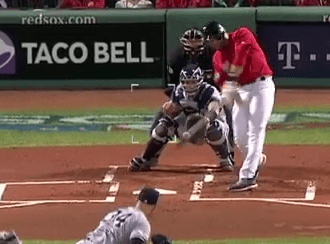 Credit to Martinez for being such a good hitter and doing damage on that pitch. Setting that up with the four-pitch walk to Pearce was pretty bad. Happ pitched him scared. Pearce hit that grand slam last week and he didn't see anything close to the strike zone. It was an easy walk. No tough takes. Free baserunners at Fenway and free baserunners in front of Martinez are bad, bad news.
Following a 1-2-3 second inning against the bottom of the order, Happ gave up a booming double to Mookie Betts — Betts thought he walked on the previous pitch, which would've been preferable to the double — and a bunt single to Benintendi. The bunt was in no man's land. No one had a play on it. Luke Voit had to field it and neither Happ nor Gleyber Torres were going to beat Benintendi to the bag.
And that was it. Happ's night was over after eleven batters. He allowed five of those eleven to reach base and left behind runners on the corners with no outs. Chad Green allowed both inherited runners to score on a single and two fly balls. Happ's final line: 2 IP, 4 H, 5 R, 5 ER, 1 BB, 2 K, 1 HR on 44 pitches. Bad. Bad bad bad. The Yankees acquired him for starts like this and he didn't make it out of the third.
Nothing Against Sale
Chris Sale's velocity returned Friday night. Kinda. After averaging 90.2 mph with his fastball in his final regular season start last week, he averaged 94.7 mph on Friday, which good but still a notch below his 96.1 mph pre-shoulder injury average. Also, Sale didn't hold that velocity. His fastball averaged 91.7 mph in the fifth inning. Clearly, Sale's still not 100% right.
And, obviously, it didn't matter. Sale gave the Yankees a taste of their anti-fastball medicine and fed them more combined sliders (33) and changeups (17) than fastballs (44). Through five innings Sale held the Yankees to three singles and two walks while striking out eight. He back-doored his sliders to the Yankees' right-handed batters all night and there was nothing they could do with it. I mean: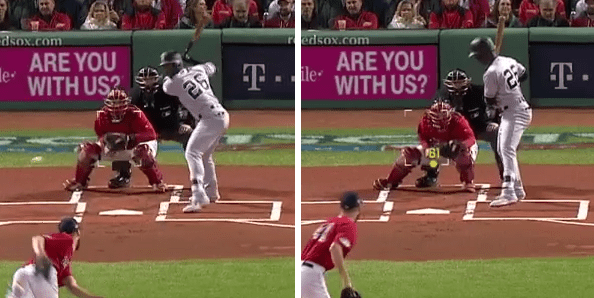 The pitch starts way the hell out there *waves left hand* and winds up all the way over here *waves right hand*. Sale has a great slider. He threw the Yankees a lot of sliders. They had trouble with it. Not really a mystery what happened here, right? Even without his tippy top velocity, Sale was able to be (very) effective because his secondary pitches are so good.
Chances Against The Bullpen
It wasn't until the sixth inning, when he was clearly running out gas, that the Yankees broke through against Sale. Aaron Judge smoked a leadoff single to center and Giancarlo Stanton smoked a one-out single to center. Sale's pitch count was up over 90 and the Yankees were starting to square him up. Red Sox manager Alex Cora went to his bullpen and that's where it got dicey.
Rather than go to Nathan Eovaldi, who was reportedly available in relief but not used, Cora went to 31-year-old rookie Ryan Brasier, who gave up a hard-hit single to Luke Voit and a run-scoring fielder's choice to Didi Gregorius. Two runs on the board. Braiser walked Miguel Andujar (not easy to do!) before giving way to Brandon Workman, who walked Gary Sanchez to load the bases with two outs.
For the Yankees, this was Blown Opportunity No. 1. Andujar and Sanchez got nothing to hit, so they took their walks. Torres also got nothing to hit. He worked the count full and saw six pitches, but only five were in the strike zone. Torres struck out. The pitch locations: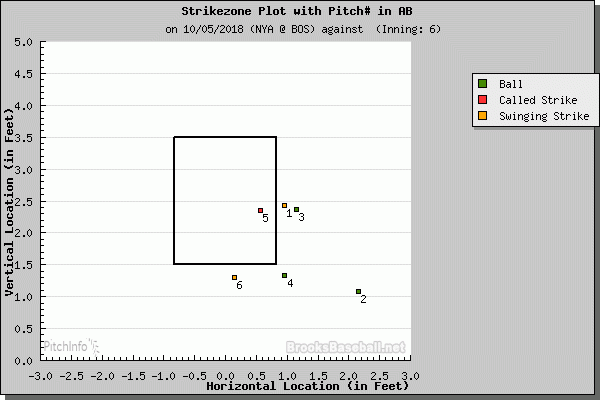 Gah. To be fair, Workman threw Gleyber five straight fastballs, then broke off a nasty curveball for the swing-and-miss strikeout, but yeah. Torres is a very impressive rookie who's shown an advanced approach all season. Right there though, he needed to show a little more patience. Workman was very willing to put him on base.
Blown Opportunity No. 2 came in the seventh inning. Two singles and a walk loaded the bases with no outs. Workman allowed the singles to Andrew McCutchen and Judge, and Matt Barnes walked Brett Gardner. Bases loaded situations have been the Yankees' kryptonite this year. I don't get it. They hit .253/.292/.440 (93 OPS+) with the bases loaded during the regular season. They ranked 20th in AVG, 20th in OBP, 12th in SLG, and 17th in OPS+.
Stanton struck out for the first out. He swung through a high fastball for strike one, fouled away a fastball for strike two, then saw three straight curveballs until finally one was good enough to get a swing-and-miss. Then, with one out, Voit hit a weak tapper to third base that had serious 5-4-3 double play potential. Fortunately Gardner slid in hard (and clean) at second base, forcing a weak throw from Ian Kinsler, allowing Voit to beat it. A run scored.
Gregorius followed with a grounder to second to end the inning. So, at one point spanning the sixth and seventh innings, eight of eleven Yankees reached base, and they had four at-bats with the bases loaded. Those at-bats went strikeout, strikeout, grounder, grounder. Not one ball out of the infield. The difference in this game: When the Red Sox had a prime run-scoring opportunity, Martinez hit a three-run homer. When the Yankees had prime run-scoring opportunities, they hit into fielder's choices. Homers win games, folks.
Judge cranked a solo home run against Craig Kimbrel in the ninth — it was one of those homers only Judge can hit, it looked like a jam shot bloop (I thought to myself "get down! get down!") and it wound up in the bullpen — to get the Yankees to within 5-4, but it wasn't enough. Kimbrel struck out the next three batters to end the game. The Yankees sent 19 men to the plate against the Red Sox bullpen and eight reached base (.421 OBP). Still not good enough.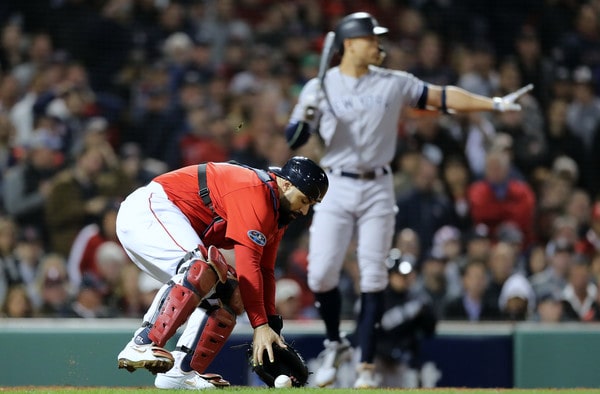 Leftovers
Green's first three batters: 102.4 mph single, 106.5 mph fly ball to the warning track, 101.9 mph fly ball. Yikes. The Red Sox are a great fastball hitting team. Maybe use David Robertson as the mid-inning fireman the rest of the series? The bendy stuff gives the Yankees a better chance at a strikeout. The bullpen was great though. Four relievers (Green, Lance Lynn, Zach Britton, David Robertson) allowed just those two inherited runners in seven innings.
Stanton had a base hit that helped start the team's first rally and he still managed to have a terrible game. He struck out with a runner on first in the first, with a runner on first in the fourth, with the bases loaded in the seventh, and while representing the tying run in the ninth. Kimbrel worked him over in the ninth. Three pitches and Stanton took them all. He jelly-legged the strike three breaking ball. He'll be on some backpages Saturday.
The Yankees had ten hits and five walks. The Red Sox had eight hits and three walks. The problem? The Yankees did not have an extra-base hit until Judge's ninth inning home run. Singles and walks will only take you so far. The Yankees needed a game-breaking hit and no one provided it. That they managed to score four runs and make the game as close as it was tells you how good the offense is and how crummy the Red Sox bullpen is.
Every starter reached base at least once. Judge had three hits and a homer — he is 10-for-23 (.435) with five homers in his last seven postseason games dating back to last year — and Voit had two hard-hit singles. Aaron Hicks had a single and a walk before leaving the game with a tight right hamstring in the fourth inning. He's going for an MRI in the morning. That could be bad.
Box Score, WPA Graph & Standings
ESPN has the box score and MLB has the video highlights. Here's our Bullpen Workload page and here's the win probability graph:

Source: FanGraphs
Up Next
Game Two. About as much of a must-win as it gets without being a literal must-win. Masahiro Tanaka and David Price are the scheduled starters for Saturday night. That's an 8:15pm ET start.