The 2018 season ended far earlier than we all would've liked. Now that the season is over, it's time for our annual season review series, which continues today with Dellin Betances. Aside from post a day Monday through Friday, there is no set schedule for these posts. We'll write about players when we feel like writing about them, so each day's review post will be a surprise (even to us!).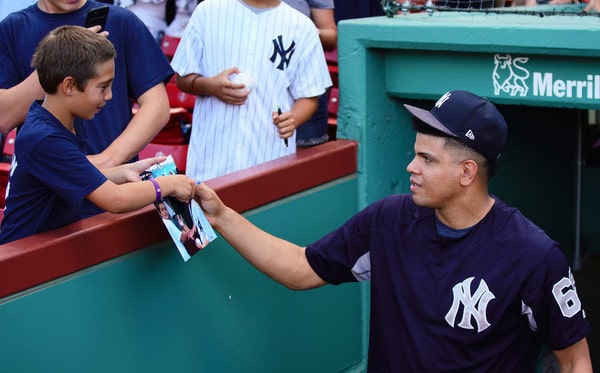 Had many folks gotten their way last offseason, Dellin Betances would not have been a Yankee in 2018. He collapsed so spectacularly down the stretch in 2017 that he seemed almost unsalvageable. We've seen Betances go through ups and downs for years now, often extreme ups and downs. What he went through last season was the lowest point of his big league career.
Things went so poorly for Betances down the stretch late last season — at one point Dellin walked ten batters in 9.2 innings, and he would've walked more had Joe Girardi not had a quick hook — that he was basically unusable in the postseason, which meant a larger workload for David Robertson and Chad Green in October. Would the Yankees trade Betances? Non-tender him? Many were ready to cut ties with Dellin.
Fortunately, the Yankees aren't the kind to give up on high-end talent, so they stuck with Betances and were rewarded with a spectacular 2018 season, one in which he was their best reliever and again a dominant bullpen force. Dellin went from persona non grata in the 2017 postseason to Aaron Boone's top weapon in the 2018 postseason. Quite a difference a year makes, eh?
In 66.2 innings this past season Betances posted a 2.70 ERA (2.47 FIP) with an excellent strikeout rate (42.3%) and an acceptable walk rate (9.6%). That is the highest strikeout rate of Dellin's career — only Josh Hader (46.7%) and Edwin Diaz (44.3%) had a higher strikeout among the 89 relievers to throw at least 60 innings this year — and a walk rate that is far below his 2017 number (16.9%) and career average (11.0%). He was awesome.
This season Betances became the first reliever in history with five straight 100-strikeout seasons — Betances and Hall of Famers Goose Gossage and Rollie Fingers are the only relievers with five 100-strikeout seasons in their career — and he jumped into 15th place on the franchise's all-time appearance list (357). He could move into the top ten next season. Let's review Dellin's season.
A Summer of Dominance
From May 19th through September 22nd, a span of 44 appearances, Betances pitched to a 1.74 ERA (2.00 FIP) with 81 strikeouts in 46.2 innings. The numbers are comical: 46.2 IP, 23 H, 9 R, 8 ER, 17 BB, 76 K. Opponents hit .158/.266/.253 against him. Only nine times in those 44 appearances did Betances allow multiple baserunners and only five times did he allow an earned run.
Those dates are not necessarily cherry-picked. May 19th is the day Betances started his American League record 44-appearance streak with a strikeout and September 22nd is the final appearance in that stretch. Here are the longest reliever strikeout streaks in baseball history:
Aroldis Chapman, 2013-14 Reds: 49 games
Corey Knebel, 2016-17 Brewers: 46 games
Dellin Betances, 2018 Yankees: 44 games
Bruce Sutter, 1979 Cubs: 39 games
Josh Hader, 2017-18 Brewers and Eric Gagne, 2003-04 Dodgers: 35 games
Betances set both the American League record and the MLB single-season record this year. His record streak came to an unceremonious end on September 24th, in his second-to-last appearance of the season. He didn't get hit around or anything. Betances faced three batters and got three quick ground ball outs on eight pitches. The strikeout streak is over. Long live the strikeout streak.
"Honestly, I'm not a guy that puts much attention into stretches or stats, but this is probably the best I've felt in a long time," Betances said in August. "I've been feeling good all year. Even when I was going through some stuff early on, I felt like it was just a matter of results changing and maybe paying attention a little bit more to detail and what I need to do to make sure I wasn't giving up as many runs as I was earlier. I just feel like I've been good with my delivery, repeating my delivery and using both my pitches equally, so I think that's helped me."
Dellin was not selected for the All-Star Game this season, ending his run of four straight All-Star selections. Betances, Chris Sale, Clayton Kershaw, and Max Scherzer were the only pitchers selected to every All-Star Game from 2014-17. Betances could've been an All-Star this year though. Even after his early season hiccup, he had great numbers, but pitching spots were hard to come by because the Twins (Jose Berrios), Blue Jays (J.A. Happ), and Tigers (Joe Jimenez) all needed a token All-Star. Oh well. Dellin did not get selected but was still worthy.
The Highest Leverage Situations
Regular season Leverage Index tells us Betances was not among the league leaders in high-leverage appearances. He didn't even lead the Yankees in such appearances. One-hundred-and-forty-seven relievers threw at least 50 innings this past season. Here are Dellin's Leverage Index numbers:
Average LI:  1.43 (46th in MLB)
Average LI when entering game: 1.34 (65th in MLB)
Appearances with 1.5 LI or higher: 24 (60th in MLB)
For the Yankees, Betances was second to Chapman (1.90) in average Leverage Index and third behind Chapman (1.56) and David Robertson (1.41) in average Leverage Index when entering the game. His 24 appearances with a 1.5 Leverage Index — anything at 1.5 or above qualifies as high leverage — were third on the Yankees behind Robertson (27) and Chapman (25).
Betances settled in as the Eighth Inning Guy™ early in the season and that meant he didn't always pitch in the highest leverage situation. Sometimes he'd pitch with a two or three run lead after Robertson or Chad Green entered with a one-run lead an inning earlier. Betances did, however, get some of the biggest outs in the postseason. He was Boone's middle of the order specialist and that mean crucial outs in the middle innings.
Championship Probability Added is essentially Win Probability Added on steroids. It tells you how much closer an individual play brings you to a World Series title rather than how much closer it brings you a single win. Here are the five biggest outs of the 2018 Yankees season by CPA:
Wild Card Game: Luis Severino strikes out Marcus Semien to end fourth (+0.011 CPA)
Wild Card Game: Betances gets Matt Chapman to fly out for the first out of the fifth (+0.009 CPA)
ALDS Game Four: CC Sabathia gets Ian Kinsler to fly out to end the first (+0.008 CPA)
Wild Card Game: Betances gets Jed Lowrie to fly out for the second out of the fifth (+0.007 CPA)
Wild Card Game: Betances strikes out Khris Davis to end the fifth (+0.007 CPA)
Severino striking out Semien with the bases loaded to preserve the two-run lead is, pretty clearly, the biggest out of the season. That passes the eye test and the CPA test, I think. Three of the next four biggest outs of the season came in the next inning, with Betances on the mound. He inherited runners on first and second with no outs from Severino, and the A's had their 2-3-4 hitters up. Dellin sat them down in order. He then tossed a 1-2-3 sixth inning as well.
"I've been waiting for that moment since last year," said Betances following the Wild Card Game. "Obviously, last year I didn't finish the season the way I wanted to. So for me to be able to go out there and do that, it's a dream come true."
Several pitchers still playing in the postseason have since passed Betances on the 2018 leaderboard, but, after ALDS Game Four, he was top five among all pitchers in CPA. He's still top ten. Betances led Yankees pitchers in CPA this season and rather easily as well. Here's the leaderboard:
Aaron Judge: +0.056 CPA
Dellin Betances: +0.050 CPA
Masahiro Tanaka: +0.024 CPA
Aroldis Chapman: +0.022 CPA
Neil Walker: +0.018 CPA
Neil Walker? Neil Walker! Anyway, this is all a very long way of saying Betances got some incredibly important outs this season. He was the team's best reliever this summer and, in the postseason, Boone used him in what he considered the game's biggest moments. Dellin was my platonic ideal of a high-leverage guy in October. He faced the other team's best hitters with the score close. It was awesome.
"Dellin is a stud. I told him before the (Wild Card Game), you may be who I go to in the fourth or the fifth inning potentially, if it's a part of the lineup that I want you facing in that spot," Boone said. "I just felt he was the guy and so we got him ready for it and he was lights out."
A Small Adjustment Pays Big Dividends
Betances did not have command problems last season. He had basic strike-throwing problems. Severino had command problems this year. He threw plenty of strikes but they weren't great strikes. He left pitches out over the plate rather than dotting the corners. Betances couldn't get the ball over the plate late last season. It was ugly. Relievers who don't throw strikes tend to find themselves outside the Circle of Trust™ rather quickly.
Never will Betances be a pristine control guy. He's not someone who will run a 4% walk rate or something like that. He overpowers hitters with upper-90s fastballs and a wicked breaking ball — it's actually two breaking balls — and he just needs to be around the zone to be effective. He doesn't have to paint the corners or hit the knees. Just be around the plate enough and in the zone enough, and things'll work out. Dellin couldn't do that last year.
To correct that problem, the Yankees and Betances worked to simplify his delivery a bit, specifically shortening up his leg kick and eliminating some extraneous movement. Here is the obligatory before-and-after GIF. That is 2017 Betances on the left and 2018 Betances on the right.
Last season Betances brought his left knee up high during his delivery. Right to his chest, basically. This year the leg kick was much more abbreviated. Up and down, quickly. Last year it was this clunky leg kick that seemed to slow everything down. Now the leg is up, the leg is down, and the ball is heading toward the plate. The simplified delivery helped Betances throw more strikes and get back to being one of the game's best relievers.
"You'd rather not go through those (struggles), but with relievers that have pitched a lot, it happens quite a bit," said pitching coach Larry Rothschild in August. "He's come out on the right side of that more times than not. His track record is impressive. Four All-Star Games is not something you ignore. It was just a matter of him getting back into a real solid delivery and repeating it. He's been able to do that."
Betances was not perfect this season. No relievers are. He struggled out of the gate this season and looked #stillbroken, then, late in the season, he had that back-to-back homers blown save against the Tigers. By and large though, Betances was excellent, and a dominant force at the end of the games. And it's not like we'd never seen that guy before. This season didn't come out of nowhere. Dellin has been outstanding the last five years. The dominance outweighs the hiccups and that was especially true in 2018. He was great.
What's Next?
The 2019 season will be Betances' final season of team control. He is arbitration-eligible for the third and final time this winter — MLBTR projects a $6.4M salary next year — and I suppose the Yankees could approach him about a long-term contract. Betances is obviously very good and very valuable. He also turns 31 in March and can be unpredictable. I wouldn't be surprised if the Yankees give him a one-year arbitration contract for next season, and then worry about 2020 after the season.
Either way, there shouldn't be any (or many, I guess) calls to trade or non-tender Betances this offseason. At least not like last offseason. He was great throughout the regular season and postseason, and other than the general "this guy can be unpredictable" worries, there's no real reason to believe Betances is about to see his performance slip. He'll be back in a high-leverage role again in 2019.