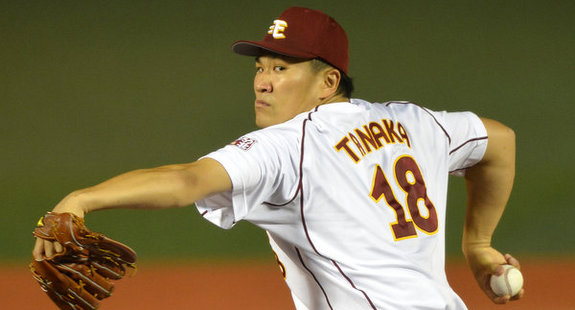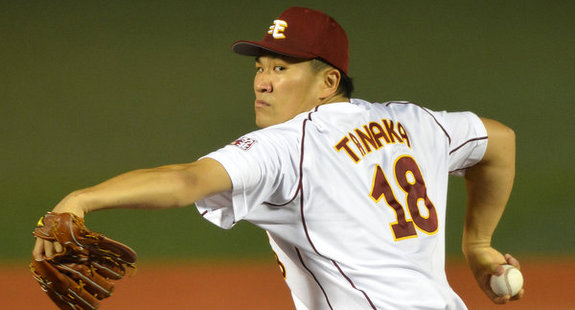 Another season is complete. Both in 2018 and in our 2013 time travel series. The 2013 Yankees went 85-77 with a -21 run differential, and they missed the postseason for the first time since 2008. It was a bad, ugly, no fun year with a revolving door of replacement level injury replacements. We got to say farewell to Mariano Rivera and Andy Pettitte. The rest of the season isn't worth reliving.
Heading into the 2013-14 offseason, we all wondered two things. One, would Joe Girardi return? The answer was ultimately yes, but his contact expired after the season and his hometown Cubs would surely come calling. And two, how much money would the Yankees spend? They wanted to get under the $189M luxury tax threshold in 2014. They also missed the postseason and had several gaping roster holes. October is usually a very slow month for hot stove news, but the Yankees did handle some business in October 2013, so let's dive into the MLB Trade Rumors archives once again.
October 2nd, 2013: Quick Hits: Humber, Kuroda, Indians, Mattingly
During a press conference yesterday, Yankees GM Brian Cashman told reporters (including Andy McCullough of the Star-Ledger) that he hopes Hiroki Kuroda will pitch for his team again in 2014. Cashman said that Kuroda was the Yanks' ace in 2013 but admitted that he wasn't sure what the future holds for the right-hander. McCullough quotes Kuroda as saying that while anything's possible, he hasn't given serious consideration to returning to Japan for his final season.
Kuroda was the right pitcher at the wrong time. The Yankees needed him from 2017-19 more than 2012-14. He was awesome. Kuroda gave the Yankees 620 innings of 3.44 ERA (3.68 FIP) ball from 2014-14 before returning to Japan for two final seasons with the Hiroshima Carp, his original team. The Yankees gave Kuroda one year deals worth $10M and $15M in 2012 and 2013. He eventually re-signed for 2014 at $16M. Dude was worth every single penny. I miss him.
October 4th, 2013: Alex Rodriguez Dues Major League Baseball
10:01am: Alex Rodriguez has filed a lawsuit against Major League Baseball, accusing MLB of buying the cooperation of Biogenesis founder Tony Bosch to further a "witch hunt" to push him out of the game permanently, according to Steve Eder, Serge Kovaleski, and Benjamin Weiser of the New York Times.
A-Rod had been suspended for his ties to Biogenesis in August and he appealed the suspension, then, in the offseason, he went on his scorched earth tour. He sued everyone. Everyone. The Yankees, MLB, the MLBPA, everyone. This was only the start of what became a true fiasco. What a circus. It was about as embarrassing an ordeal as a team can go through. This was really only the beginning.
October 5th, 2013: AL East Notes: Logan, Yankees, Pitching, Delmonico
Left-hander Boone Logan had arthroscopic surgery to remove a bone spur from his throwing elbow this week and should resume his throwing program in December, Andy McCullough of The Star-Ledger reports, citing an unnamed baseball official. The surgery was performed by Dr. James Andrews. Logan reaches free agency this winter after compiling a 3.38 ERA over 176 innings for the Yankees over the last four years.
The 2013 season was Logan's final season with the Yankees. Although he was hated at the time, Logan did throw 176 innings with a 3.38 ERA (3.63 FIP) and a 26.9% strikeout rate in pinstripes. Held lefties to a .223/.295/.365 (.290 wOBA) batting line with 33.1% strikeouts too. A perfectly fine left-on-left matchup guy, he was. The elbow surgery didn't really hurt Logan's market during that 2013-14 offseason either. The Rockies gave him three years and $16.5M. Logan with the Yankees: 3.38 ERA in 176 innings. Logan with everyone else: 5.24 ERA in 266 innings. Dude banked over $30M in player contracts and reached ten years of service time, thus qualifying for a full pension. Not bad for a former 20th round draft pick. Good for him.
October 9th, 2013: Yankees Re-Sign Joe Girardi
The Yankees announced that they have re-signed manager Joe Girardi to a four-year deal that will keep him in place as manager through the 2017 season. Girardi, 48, was at the top of the Cubs' wishlist this winter, but he'll be back in the Bronx for a seventh season in 2014.
The season ended on September 29th and, ten days later, the Yankees re-signed Girardi. Felt like much more time passed by before he re-signed. Girardi was able to leverage interest from the Cubs into a four-year deal worth $16M that, at the time, made him the second highest paid manager in baseball behind Mike Scioscia. There was also another $4M bonuses tied to the team's finish and whatnot.
Prior to this four-year contract, Girardi worked on back-to-back three-year contracts, and I can't help but wonder what would've happened if he'd signed another three-year contract during the 2013-14 offseason. Do the Yankees re-sign him during the 2016-17 offseason? Or let him walk a year earlier than they actually did? I think it would've been the latter.
October 11th, 2013: Yankees Expected To Pursue Masahiro Tanaka Aggressively
Masahiro Tanaka's video-game numbers for NPB's Rakuten Golden Eagles this season have turned quite a few heads in the United States, and according to George A. King III of the New York Post, the Yankees "are going to be serious players" for the Japanese ace.
The Mariners, Cubs, Angels, and Dodgers were said to be among the suitors for Tanaka at the time. Given their track record with Japanese players — they'd basically ignored the Japanese market following the Kei Igawa disaster — it was easy to doubt the Yankees making a serious push for Tanaka. They had interest in Yu Darvish and others over the years and never really came close. I was definitely in "I'll see it when I believe it" mode. The Yankees came through though. Tanaka was (eventually) posted and they gave him that big seven-year, $155M contract. In his five seasons in pinstripes, Tanaka has a 3.59 ERA (3.80 FIP) and +15.6 WAR in 824.1 innings. That is money well spent.
October 15th, 2013: Mutual Interest Between Beltran, Yankees Expected This offseason
Carlos Beltran showed interest in the Yankees during his two previous trips through free agency, but there wasn't enough interest in 2005 or 2011 on the club's side.  This year, however, the two sides could be a match as sources tell Mark Feinsand of the New York Daily News that there is mutual interest.
I wouldn't say it was a foregone conclusion, but the Yankees clearly needed an offensive upgrade in 2014, and the outfield was an obvious spot for such an upgrade. Beltran was a pretty clear fit. He had wanted to be a Yankee forever. Basically his entire career. Who can forget when he offered to take less money to join the Yankees before having the settle for the Mets? The Yankees gave Beltran a three-year contract during the 2013-14 offseason, two years after declining to give him a two-year contract because they were worried about his knees. Go figure. Desperation can make a team do weird things.
October 16th, 2013: Managerial/Coaching Notes: Adair, Rothschild, Williams
The Yankees and pitching coach Larry Rothschild have agreed to terms on a new deal, though nothing has been finalized or announced yet, according to Mark Feinsand of the New York Daily News.
Rothschild joined the Yankees during the 2010-11 offseason. (Was it really that lone ago? Geez.) The team's pitching ranks during his tenure:
3.87 ERA (9th in MLB)
3.88 FIP (7th)
93 ERA- (3rd)
91 FIP- (1st)
+167.1 WAR (1st)
The park-adjusted numbers are among the best in baseball. Shrugs. Eventually the Yankees will replace Rothschild, everyone will celebrate, and then like a year later they'll hate the new guy. It's the coaching circle of life.
October 23rd, 2013: Shin-Soo Choo On Yankees Radar
The Yankees have been linked to a handful of big name free agents like Carlos Beltran and Brian McCann in recent weeks, but there's apparently a new name on their radar.  The Yankees also discussed outfielder Shin-Soo Choo at their organizational meetings over the past couple of days, according to Jon Heyman of CBSSports.com.
We eventually learned the Yankees offered Choo a seven-year contract worth $140M even after signing Jacoby Ellsbury. They tried to sign both of them and instead went for Ellsbury and Beltran after Choo joined Texas. I wanted Choo over Ellsbury because I'm an offense first guy. Don't get me wrong, Ellsbury's defense and baserunning are clearly valuable skills. I just preferred Choo's on-base ability. Since signing their contracts:
Ellsbury: .264/.330/.386 (96 wRC+) and +7.9 WAR in 520 games
Choo: .260/.363/.424 (113 wRC+) and +7.4 WAR in 615 games
The Yankees are ahead here because Ellsbury has more WAR in fewer games, but yeah, there are no winners here. The Yankees would undo the Ellsbury contract and the Rangers would undo the Choo contract in a second if were possible.
October 24th, 2013: AL Notes: Oh, Yankees, Twins, Martinez
The Yankees are among the teams interested in Korean pitcher Seung-Hwan Oh, the New York Post's George A. King III writes. Oh, a reliever, must go through the posting process, which begins in November. The 5'10, 31-year-old righty throws a 94-96 MPH fastball and a splitter. He pitched in 51 2/3 innings for the Samsung Lions in 2013, with a 1.74 ERA, 9.4 K/9 and 1.7 BB/9.
Geez, the Yankees were in on Oh early, eh? He didn't come over to MLB until 2016. Here's a rumor about him from 2013. Huh. Oh jumped from the Samsung Lions in Korea to the Hanshin Tigers in Japan during that 2013-14 offseason. He spent two years with Hanshin before signing with the Cardinals. I don't remember the Yankees being connected to Oh much when he finally did come to MLB. He's had two excellent (2016 and 2018) and one okay (2017) season in the big leagues and is now reportedly looking to return to Korea, even though his $2.5M option for 2019 vested.