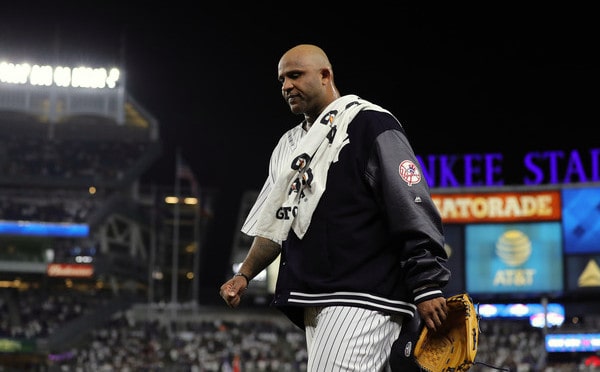 I remember exactly where I was when the news broke that the Yankees and CC Sabathia had reached a contract agreement way back in the day. It was during the 2008 Winter Meetings in Las Vegas, the first Winter Meetings that Joe and I attended, and I was still fast asleep in my hotel room. The news broke at like 5am local time.
That feels like a lifetime ago. RAB was less than two years old at the time and none of us here really knew what we were doing (not that we do now!). This past season was Sabathia's tenth with the Yankees. He signed his original seven-year contract, leveraged his opt-out into what amounted to a two-year extension, and then signed a new one-year contract worth $10M last offseason.
After ten years in pinstripes, Sabathia ranks seventh on the franchise's all-time starts leaderboard (284) and he's fourth on the franchise strikeout list. The top five:
Andy Pettitte: 2,020 strikeouts
Whitey Ford: 1,956
Ron Guidry: 1,778
CC Sabathia: 1,593
Red Ruffing: 1,526
Pretty amazing, isn't it? Ten years as a Yankee for Sabathia. He had another strong season in 2018, at least by late-career Sabathia standards, throwing 153 innings with a 3.65 ERA (4.16 FIP). In 2018, Sabathia posted his lowest ERA since 2012, his lowest FIP since 2013, his highest strikeout rate (21.1%) since 2014, and his lowest walk rate (7.7%) since 2015. Pretty great.
The season did not end the way Sabathia and the Yankees would've liked — Sabathia gave up three runs in three innings in the season-ending ALDS Game Four loss — but, overall, the veteran southpaw was a rock solid back-end starter. His troublesome right knee acted up no more than in years past — Sabathia missed eleven days with inflammation in August, received a lubrication injection at the All-Star break, and had offseason cleanup surgery, all of which is par for the course these days — and he remains a leader in the clubhouse. Let's review the big man's season.
Still The Soft Contact Master
At this point of his career, Sabathia is very predictable. He made the transition to cutter pitcher a few years ago and, since then, against righties it's been 90-ish mph cutters in and soft stuff away, and against lefties it's been 90-ish mph sinkers in and soft stuff away. Check out his pitch locations during the regular season. Each color gets its own little quadrant of the zone (click to embiggen).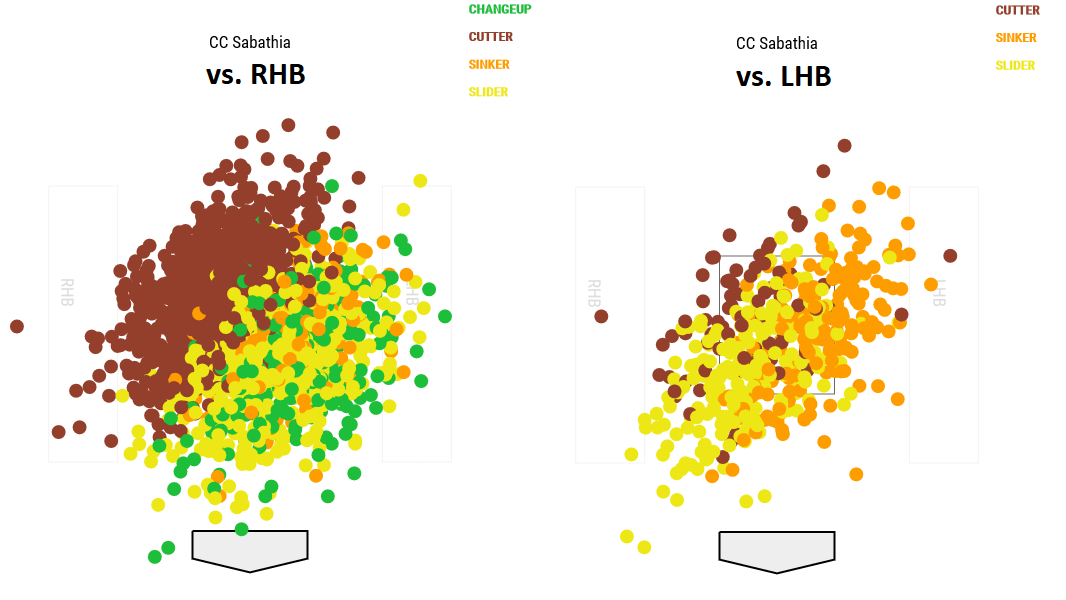 Opponents still stack their lineups with right-handed batters against Sabathia. He faced 541 righties and only 124 lefties this year. Every pitcher hangs a slider now and then, but when Sabathia struggles, it's usually because he can't get the cutter in enough on righties. I'm talking about when he really struggles. Those "I have no idea how he's going to get anyone out" starts. Not those "ah drat, he was pitching well until that mistake" starts.
Overall, Sabathia was very effective throughout 2018, and that's because all those cutters inside and breaking pitches outside generate weak contact. He gets a lot of jam shots — so many jam shots that Neil Walker was his personal third baseman late in the year because Miguel Andujar is a poor defender — and a lot of nubbers off the end of the bat. Three leaderboards of interest (min. 150 innings):
Hard Contact Rate
1. Noah Syndergaard: 21.9%
2. Zach Wheeler: 24.8%
3. Aaron Nola: 25.1%
4. Chris Sale: 26.5%
…
8. CC Sabathia: 28.5%
MLB Average: 35.3%
Average Exit Velocity
1. CC Sabathia: 84.4 mph
2. Zack Wheeler: 84.7 mph
3. Chris Sale: 84.7 mph
4. Noah Syndergaard: 84.9 mph
5. Kyle Hendricks: 85.2 mph
MLB Average: 87.7 mph
Soft Contact Rate
1. Chris Sale: 27.4%
2. Noah Syndergaard: 25.3%
3. Jacob deGrom: 25.2%
4. CC Sabathia: 25.1%
5. Max Scherzer: 23.9%
MLB Average: 18.1%
Once upon a time Sabathia would overwhelm hitters with velocity and a wipeout slider, and pile up strikeouts. He hasn't been that guy in a long time now. Sabathia is a contact manager now. Those jam shots and nubbers generate a lot of soft contact. A lot. Among the most in baseball. This is nothing new either. Sabathia had the seventh lowest hard contact in baseball last season. He had the second lowest the year before that. This is who he is now.
Based on his exit velocity and launch angle allowed and all that, Sabathia posted an expected .287 wOBA on batted balls this season. That is not elite — Sale led MLB with a .230 xwOBA — but it is comfortably better than the league average (.311 xwOBA). Sabathia ranks alongside guys like James Paxton (.284 xwOBA) and Dallas Keuchel (.289 xwOBA), and he's a tick better than Luis Severino (.296 xwOBA) and Kyle Freeland (.297 xwOBA).
Most Sabathia rallies look the same these days. He gives up some ground balls with eyes and bloop singles, then maybe gets done in by the kill shot double or homer on a mistake pitch. I can't remember ever seeing another pitcher give up as many runs on soft contact rallies as Sabathia these last few years though. It's uncanny. Still, soft contact is better than loud contact, and few pitchers in baseball are as good at getting soft contact as Sabathia.
Whereas Severino (shutout in Houston) and Masahiro Tanaka (shutout in Tampa) and others on the staff had clear "best starts" this season, Sabathia never really did. He had a bunch of really good starts but not one spectacular start. His best start was probably April 29th in Anaheim, when he held the Fightin' Trouts to one run on five hits in seven innings.
Only four times in 29 starts did Sabathia complete seven innings this season. Only eleven times did he complete six innings. Eight times he failed to complete five innings. Sabathia's days as a workhorse are over. Have been for a while. He's a two times through the order starter who tends to pitch quite well those two times around. Again, Sabathia threw 153 innings with a 3.65 ERA (120 ERA+). Know how many pitchers threw 150 innings with a 120 ERA+ this season? Thirty. Sabathia was one of them.
"That's For You, Bitch"
Possibly my favorite moment of the regular season. The date: September 27th. The venue: Tropicana Field. It was Game 159 of the regular season and the Yankees and Rays were wrapping up a four-game series. The offense scored four runs in the first and three runs in the fourth to put the game to bed early. Tampa had been eliminated from postseason contention earlier in the week and they were just running out the rest of the schedule.
The offense took care of business early and Sabathia was on cruise control. He retired the first eleven batters he faced before giving up (what else?) a soft ground ball single through the left side. Through five innings Sabathia allowed that single and a hit-by-pitch, and nothing else. He threw only 54 pitches as well. The hit-by-pitch was more of a grazed-by-pitch. It clipped Jake Bauers in the hand as it went by. A mistake. It happens.
Rays reliever Andrew Kittredge took exception to the grazed-by-pitch and threw behind Austin Romine's head in the top of the sixth inning. Everyone with the Yankees was upset about that, including Sabathia, who stepped out of the dugout before being reeled back in by Aaron Boone. The Yankees scored four runs against Kittredge that inning. Luke Voit and Giancarlo Stanton hit back-to-back homers. It was pretty cool. They got the last laugh.
The four-run inning was not enough payback for Sabathia, however. His first pitch of the bottom of the sixth was at Jesus Sucre's legs. He hit him, he was ejected immediately, and on his way back to the dugout, Sabathia stared down Kittredge and the Rays dugout, and said "that's for you, bitch."
thats for you, bitch. pic.twitter.com/XC258lBlnE

— Jomboy (@Jomboy_) September 27, 2018
Sabathia has always been the ultimate team player. This is a dude who made four straight starts on short rest at the end of the 2008 season with the Brewers, when he was on the cusp of a nine-figure payday in free agency. Romine got buzzed up high, Sabathia didn't like it, so he sent a message to protect his teammate.
That message cost Sabathia half-a-million bucks. That was Sabathia's final regular season start and he needed to throw seven innings to reach 155 innings and trigger a $500,000 bonus. Given the score, the way he was throwing, and his pitch count (55), there's little doubt Sabathia would've finished the sixth and seventh innings to reach that bonus. Instead, he stood up for his teammate.
"I don't make decisions based on money, I guess," said Sabathia following the game. "It was the right thing to do."
What's Next?
Sabathia is again a free agent this offseason and he's made it clear he wants to pitch next season. He is 14 strikeouts away from becoming the 17th pitcher (and only the third lefty) in history with 3,000 strikeouts and he's only four wins away from 250. Those are meaningful round number milestones. I don't know if they'll be enough to get Sabathia into the Hall of Fame (Mike Mussina has to get in first, right?), but they are significant numbers.
"Here lately, I guess I have been (thinking about my legacy)," said Sabathia during the ALDS. "Just trying to figure out how long I want to play and all those types of things. I haven't really given it much, much thought, but the last couple months I've thought about the Hall of Fame or my career and things like that, as I get to the end."
As expected, Sabathia said he is willing to leave the Yankees to continue playing — "I'll play anywhere. I still want to play. I still want to pitch. I definitely can help and still get guys out. So whoever needs me," he said — and he said the same thing last year. He has to at least indicate a willingness to leave to hold some leverage against the Yankees. I guess he could go back to the Indians? Maybe the Athletics near his hometown? Eh.
Anyone who's followed the Yankees and listened to Sabathia the last few seasons knows he doesn't want to leave. He loves the organization, his family lives here year round, and the Yankees give him as good a chance to win the 2019 World Series as any team in baseball. (Plus he'd get to go to London next year.) The Yankees need starters and Sabathia is still effective, and they know him well personally. Another one-year deal make sense for both sides, but we'll see.