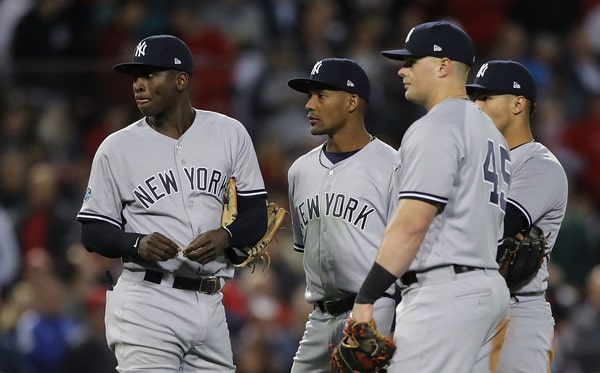 Once again, the Yankees are down one game to none in a postseason series. They dropped Game One of the ALDS last night and they've now lost Game One in their last four postseason series. Look at the bright side: J.A. Happ didn't make it out of the third inning, Chris Sale looked about as good as anyone could've reasonably expected him to look after his shaky September, the Yankees blew two bases loaded opportunities, Giancarlo Stanton stunk, and the Red Sox still only barely held on. This series is far from over. Here are some thoughts.
1. The Aaron Hicks injury is potentially very bad news. He left last night's game with a tight hamstring and is going for an MRI today. It's not the hamstring that caused him to miss the final three games of the series in Tampa last week. It's the other hamstring. Hicks said he thinks it's just a cramp and he's hopeful he can play today, but a hamstring tight enough to require an MRI usually doesn't land a player back in the lineup the next day. Maybe the Yankees will catch a break and it will truly be nothing more than a cramp, and Hicks can play tonight. Or at least return to the lineup Monday following tomorrow's travel day. That'd be okay. If the injury is serious enough that the Yankees have to replace Hicks on the roster, he would be ineligible to play in the ALCS. (I guess Tyler Wade would replace him?) The larger problem is not having Hicks. He's really good! He had by far the best at-bats against Chris Sale last night (six-pitch walk and eleven-pitch single) and he's a switch-hitter with power and on-base ability. Plus he plays very good defense and runs the bases well. Hicks brings a lot to the table. I love Brett Gardner, he's forever cool with me, but the drop off from Hicks to Gardner is pretty huge right now. Hopefully today's MRI brings good news.
2. So, Luke Voit. He had that triple in the Wild Card Game and then had two hard-hit singles last night. I keep waiting for the other shoe to drop and it just isn't happening. Voit will swing through premium fastballs from right-handers, though he's hardly alone there, plus his at-bats tend to be very good. He works the count, spoils good pitches, and hits the ball hard more often than not. I don't know about you, but right now, Voit is absolutely someone I want at the plate in an important situation. I think I'd slide him into the No. 3 lineup spot should Hicks miss time. I know the Yankees like to split up the two big righties in Aaron Judge and Stanton, but can they just stack the best hitters together regardless of handedness? Pretty please? Could be cool. Voit looks more and more legit by the day. I know he turns 28 in February and I know the righty hitting/righty throwing first base profile is historically awful, but look what this dude is doing. It's good at-bat after good at-bat with plenty of good results.
3. Against the Athletics, using Chad Green as the mid-inning fireman would've made perfect sense. He wasn't needed in the Wild Card Game, but the A's struggled against good fastballs this year, and Green has a great fastball. The Red Sox crush fastballs. They're pretty much the exact opposite of the A's. Green inherited runners on the corners with no outs last night and gave up three very loud batted balls (102.4 mph, 106.5 mph, 101.9 mph) to score both runners. Going forward the rest of the series, the Yankees are probably better off going to someone who can miss bats — or at least miss the barrel — with something that moves when they need to escape a jam. Asking Green to throw fastballs by the Red Sox isn't a great idea. David Robertson or Dellin Betances or even Jonathan Holder may be a better bet in that mid-inning fireman role the rest of the series. That isn't to say Green shouldn't be used at all. He obviously should. But have him start an inning fresh. Let someone else clean up the messes.
4. The Yankees have to take their scouting report on Steve Pearce and throw it right in the trash. How many times in one season can you let a guy beat you? Pearce does way more damage against fastballs (.438 xwOBA) than non-fastballs (.328 xwOBA), and, last night, he saw eight fastballs and four non-fastballs. Dude. Come on. That first inning walk was terrible. J.A. Happ pitched Pearce like he's Barry Bonds. Four fastballs nowhere particularly close to the zone for an easy walk, with a man on base and J.D. Martinez looming on deck to boot. The Yankees have to do better than this. Pearce is a good hitter. He's not this good. The Red Sox have enough really good hitters as it is. Letting a secondary guy like Pearce draw a crucial walk and single in another run is how postseason series are lost. Hopefully he's out of the lineup against the two righties in Games Two and Three, because the Yankees sure as heck haven't figured out how to get him out yet.
5. Needless to say, the Yankees really need a good start from Masahiro Tanaka tonight. Happ stunk yesterday — that was really, really disappointing — and even though the bullpen is in pretty good shape tonight, it would be nice to see Tanaka get the Yankees through at least five innings. Tanaka hasn't pitched since last Wednesday, so he's very well rested. And we know that, when he's on, he can dominate any lineup. We've seen him pitch well against great offenses in the postseason with the team's back up against the wall. We know he can do it. The Yankees need him to do it again. Two games into the postseason, the Yankees have gotten six innings from their starters and 12 from their bullpen. I expect the bullpen to throw more innings than the rotation overall this postseason. I'm not sure a 2-to-1 ratio is sustainable though. However it happens, the Yankees need a win tonight. A strong outing from Tanaka would be preferable.
6. I did't run a thoughts post before the series and I never got a chance to make a prediction. My Wild Card Game prediction was okay. I called the Yankees winning and I called Voit getting a two-run extra-base hit in the sixth inning. The rest of it wasn't so good. Anyway, I'm going to make my ALCS prediction here, because better late than never. I have the Yankees in five, and no, this is not a reaction to last night. I called Yankees in five at CBS before the series. I've got the Yankees in five with each closer blowing a game at some point. Miguel Andujar went 0-for-3 with a walk last night but he's going to have a big series when it's all said and done. No fewer than four extra-base hits will make him the ALDS MVP, which doesn't really exist, but you know what I mean. There you have it. The Yankees are winning three of the next four games.