The ALDS is now a best-of-three series with the next two games at Yankee Stadium. I can't shake the feeling that the Yankees should be taking a 2-0 series lead back to New York, but there's nothing anyone can do about that now. Splitting the first two games at Fenway Park is a-okay with me. The Yankees picked up a 6-2 win in ALDS Game Two on Saturday.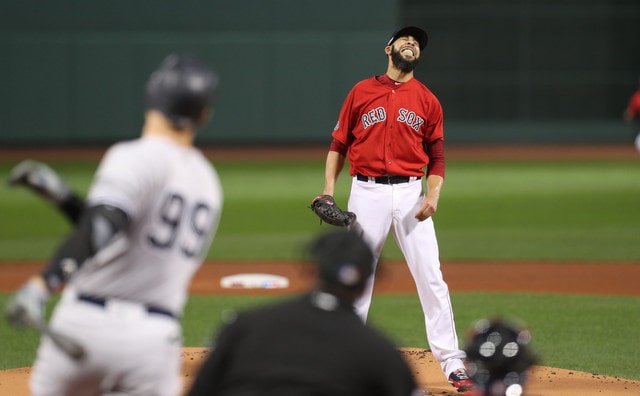 The Price is Right
For the Yankees, that is. Including ALDS Game Two, David Price has made five starts against the Yankees this season, and in those five starts he allowed 23 runs and eleven home runs in 17.1 innings. That includes a six-inning, two-run start back in August! Goodness. Price didn't make it out of the second inning Saturday. It's a damn shame Alex Cora is a smart manager with a quick hook.
The Yankees got on the board quickly thanks to Aaron Judge's third home run in three postseason games. He hit a two-run home run against Liam Hendriks in the Wild Card Game and a solo home run against Craig Kimbrel in ALDS Game One. In Game Two, it was another solo shot, clear over the Green Monster to center-ish field. Look at that photo above. It is perfect. It is David Price's entire career against the Yankees in one photo.
The Judge home run gave the Yankees a 1-0 lead. In the second, it was Gary Sanchez's turn to take Price deep, which he did for a solo home run. Sanchez vs. Price in his career: 7-for-14 (.500) with six home runs. Good gravy. Then, with two outs in the second, Price walked Gleyber Torres and Brett Gardner, and gave up a loud Fenway Park single to Andrew McCutchen. This is a single in one (1) ballpark:
Statcast had the exit velocity at 100.8 mph and the projected distance at 355 feet. That's a home run in pretty much every other ballpark in the big leagues. Instead, it was a one-run single. Blah. Price got the hook after that. Judge smoked a line drive right at Mookie Betts for the third out of the inning with runners on the corners. Statcast had the hit probability at 82% based on the exit velocity and launch angle. Betts barely had to move. Lame.
Price's line: 1.2 IP, 3 H, 3 R, 3 ER, 2 BB, 0 K, 2 HR on 42 pitches. Between the regular season and the postseason, this was the 299th start of Price's undeniably excellent career. It was his first career start with zero strikeouts. Crazy. Also, Price is up to a 5.28 ERA in 75 career postseason innings. And just when I thought this night couldn't get any better, I saw that Price told Pete Abraham he'll be available for Game Three on Monday. Sweet!
Masterful Masahiro
Okay, masterful is probably pushing it, but Masahiro Tanaka was very good Saturday night. He gave up the #obligatoryhomer to Xander Bogaerts on an ambushed first pitch fastball in the fourth inning, but it was only a solo shot, so not a huge deal. Tanaka retired ten of the first dozen batters he faced before the home run, allowing only a pair of ground ball singles. He then retired five of the six batters he faced after the home run.
In his final two regular season starts Tanaka allowed nine runs in eight innings, largely because his trademark splitter wasn't cooperating. It seemed to be moving side-to-side more than diving down below the zone. A few days ago Tanaka said he figured it out during a bullpen session — "I had that time to make the necessary adjustments," he told Dan Martin — and the split was mostly down Saturday. His misses were wide rather than out over the plate. To wit: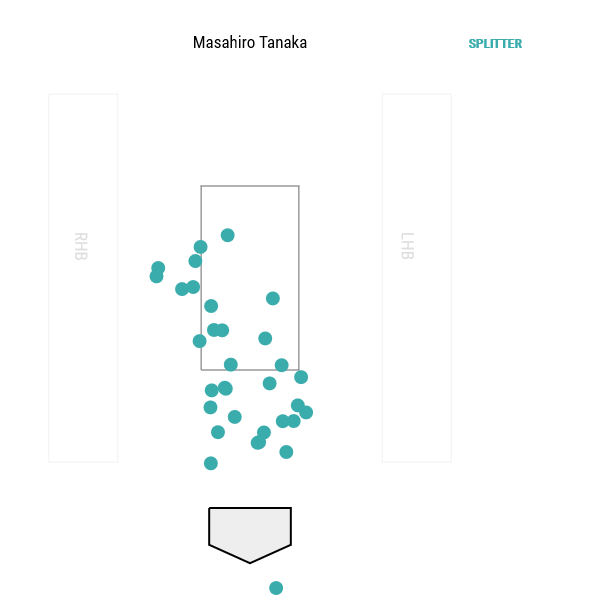 Tanaka is the most extreme anti-fastball pitcher in baseball. It's no secret. He threw only 30.9% fastballs during the regular season. The next lowest was Lance McCullers Jr. at 37.2%. Ross Stripling was the only other guy under 40%. He threw 39.6% fastballs. Yeah, Tanaka's an anti-fastball guy. On Saturday night, he threw 18 fastballs (!) among his 78 pitches, or 23.1%. Geez. It makes sense though. Use the hell out of that splitter and slider.
Tanaka's final line: 5 IP, 3 H, 1 R, 1 ER, 1 BB, 4 K, 1 HR on 78 pitches. There was clearly enough gas left in the tank for another inning, maybe two, but Aaron Boone played it smart and got Tanaka out of there rather than let him face the middle of the order a third time. Tanaka's numbers each time through the order this season:
First Time: .232/.273/.386 (87 OPS+)
Second Time: .217/.276/.376 (78 OPS+)
Third Time: .292/.345/.569 (130 OPS+)
Yup. Two-run lead in a postseason game at Fenway Park with that bullpen behind him? Get Tanaka out of there. Boone did let him face Betts a third time with two outs and the bases empty in the fifth, and he hit a 105 mph line drive to Gardner in center field. Ominous. Good work by Tanaka and good job by Boone getting him out of there when he did.
Back In The Box
In Game One, the Yankees were all over the Red Sox bullpen. Five relievers faced 19 batters and eight reached base. The Yankees had plenty of opportunities but didn't get that one big hit. Game Two was kinda the opposite. After Price was out of the game, Joe Kelly settled things down with 2.1 scoreless innings. Pretty annoying. Felt like a "they're going to regret not adding runs" game.
After Kelly, in came 31-year-old rookie Ryan Brasier, and that clown told Sanchez to get back in the box. Brasier and Sandy Leon were taking their time going through the signs — they were doing that all inning — and Sanchez stepped out a few times, and Brasier told him to get in the box. What the hell is that? Brasier struck Sanchez out and shot him a look as he walked back to the dugout. Clown show. Want Gary Sanchez in the box? Gary Sanchez is in the box mofos:
479 feet. Longest homer by any hitter at Fenway Park since Statcast became a thing in 2015. Second homer of the game for Sanchez and his tenth homer in 20 career games at Fenway Park. Some Quad-A journeyman with like two months in the big leagues is telling a former All-Star and Rookie of the Year runner-up
who already went deep earlier in the game
to get back in the box? As a wise man once said, "that's for you, bitch."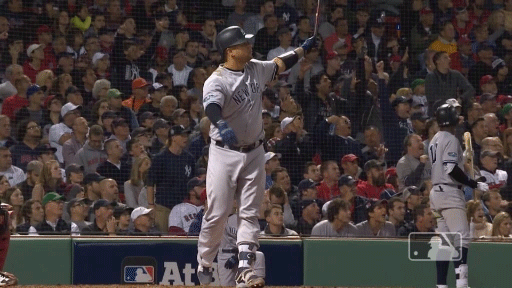 Sanchez's three-run home run against Eduardo Rodriguez stretched the lead to 6-1 and gave the Yankees some much-needed breathing room. They left seven men on base from innings two through six and gosh did it feel like the Yankees were going to regret that. Sanchez wiped that all away. He is 6-for-23 (.261) with four home runs in his last seven games. The at-bats are getting better and the contact is getting louder. I'm not sayin'. I'm just sayin'.
The Bullpen
With the Yankees still nursing a 3-1 lead, Boone went to Dellin Betances in the sixth inning, and he cut through the 2-3-4 hitters on nine pitches. No strikeouts, but three ground balls. Those work just as well. Betances went out for a second inning after the Sanchez homer and did allow the run in the seventh on a Mitch Moreland single and an Ian Kinsler double. McCutchen's inexperience playing left field in Fenway Park played a role there. The ball bounced off the wall and over his head.
Dellin limited the damage to one run in the seventh and Zach Britton got through eighth without an issue. Aroldis Chapman, who has had a lot of trouble against the Red Sox the last few years, walked the first hitter in the ninth. Argh. Fortunately a strikeout and a game-ending double play ball followed. Hooray. Literally the first ground ball double play Chapman has generated all year. Good timing, eh? Three runs in 15 innings for the bullpen through three postseason games. That'll work, gentlemen.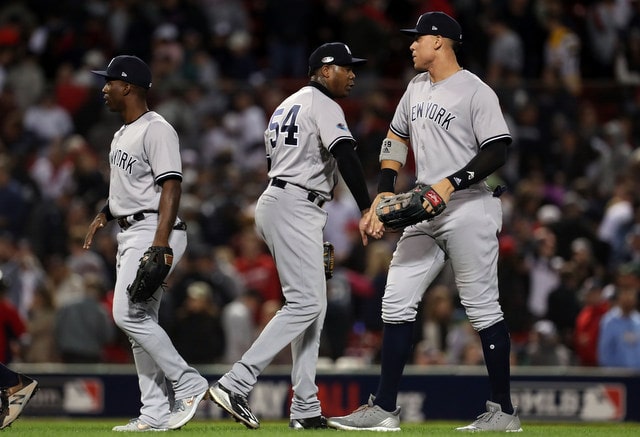 Leftovers
Sanchez was obviously the star of the show at the plate. He went 2-for-5 with the two home runs and is the third Yankees with a two-homer game against the Red Sox in the postseason. Jason Giambi did it in 2003 ALCS Game Seven and Hideki Matsui did it in 2004 ALCS Game Three. Folks, this is why you start Sanchez in the postseason. He can change a game with one swing and he did it twice Saturday. Also, zero passed balls or wild pitches through three postseason games. Go Gary.
So, you think Judge's wrist is feeling strong? He went 2-for-4 with a homer, an infield single, and a walk. Statcast didn't pick up the infield single, but the exit velocities on his other three balls in play: 113.3 mph, 109.8 mph, 109.3 mph. A partial list of players who did not have three 109 mph batted balls all regular season: Anthony Rendon, Freddie Freeman, Jose Ramirez, and Matt Carpenter. Judge had three in five innings Saturday. Swoon.
Beyond Judge and Sanchez, the Yankees also got hits from McCutchen, Giancarlo Stanton, Miguel Andujar, and Torres. Gardner went 0-for-2 with two walks as the fill-in center fielder. Gardi B saw 28 pitches in his four at-bats and helped set up McCutchen's run-scoring with a left-on-left walk against Price. He also ran down everything in center. Go Brett.
Box Score, WPA Graph & Standings
Go to ESPN for the box score and MLB for the video highlights. Here's our Bullpen Workload page and here's the win probability graph:

Source: FanGraphs
Up Next
Game Three back in the Bronx. The Yankees and Red Sox have a travel day Sunday before reconvening at Yankee Stadium for Game Three on Monday night. Luis Severino will be on the mound for the Yankees. It'll be either Rick Porcello or Nathan Eovaldi for the Red Sox. Porcello's relief appearance in Game One changed Boston's pitching plans a bit. Game Three is a 7:40pm ET start.