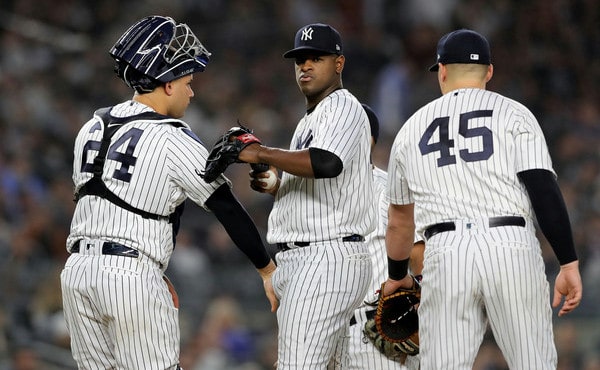 The Yankees have been trying for years — literally more than a decade — to develop a homegrown top of the rotation starter. Chien-Ming Wang was that guy for two seasons. Joba Chamberlain and Phil Hughes had their moments. Now, the Yankees finally have that young top of the rotation arm, and he showed in 2018 that he was no flash in the pan.
Luis Severino, who is still only 24 years old, finished third in the AL Cy Young voting behind Corey Kluber and Chris Sale last season thanks to 193.1 innings of dominance. He finished the season with a 2.98 ERA (3.07 FIP) and 230 strikeouts and became the first Yankees starter in 20 years to post a sub-3.00 ERA. Severino became everything the Yankees hoped he would become as a prospect.
In 2018, Severino followed his breakout year with an overall strong season, a strong season that included a 3.39 ERA (2.95 FIP) with 220 strikeouts 191.1 innings. It was an uneven season, however. Severino was even better in the first half this year than he was last year, though his second half was bad bordering on dreadful. The postseason wasn't much better. Let's review Severino's way up then way down season.
A Cy Young Caliber First Half
On March 17th, Aaron Boone made the announcement everyone knew was coming: Severino would be the Opening Day starter. Masahiro Tanaka had started the last three Opening Days, but, when you have a season like Severino had in 2017, it's tough to pass him up for Game One. At 24 years and 37 days, Severino became the Yankees' youngest Opening Day starter since Lefty Gomez in 1932 (23 years and 138 days).
The Opening Day start went very well — Severino struck out seven Blue Jays and allowed just one hit in 5.2 scoreless innings while on a 90-ish pitch limit — as the Yankees snapped their six-year Opening Day losing streak. Severino had a little hiccup against the Red Sox on April 10th (five runs in five innings) but was otherwise excellent in April. His best start of the season was his first start in May, when he struck out ten in a shutout at Minute Maid Park.
"(Severino) shoved it up our ass," Alex Bregman told
Chandler Rome
after the game. Sounds about right. Six days later Severino struck out eleven across six innings in a win over the Red Sox. Three weeks after that he struck out eleven more Astros in seven innings in another win. Next time out he struck out ten Tigers in eight innings.
The seven-start stretch from May 2nd to June 4th was the most dominant stretch of Severino's young career. He has ten career double-digit strikeout games and four of the ten came during this seven-start stretch. I mean, look at this. Look at the teams he had to face too:
Date
Result
IP
H
R
ER
BB
K
HR
May 2nd
4-0 win at HOU
9
5
0
0
1
10
0
May 8th
3-2 win vs. BOS
6
6
2
2
0
11
0
May 13th
6-2 win vs. OAK
6
5
1
1
2
7
0
May 19th
8-3 win at KC
6
8
3
3
2
6
0
May 25th
2-1 win vs. LAA
6
4
1
1
4
5
1
May 30th
5-3 win vs. HOU
7
4
2
2
1
11
1
June 4th
7-4 win at DET
8
4
2
1
0
10
0
Total
48
36
11
10
10
60
2
Goodness. Yeah, the Royals and Tigers stink, but that's two starts against the Astros, one start against the Red Sox, one start against the Athletics, and one start against an Angels team that, at the time, was 28-23 and one of the highest scoring teams in MLB. Severino held opponents to a .202/.249/.275 line in the seven starts. That was as dominant a stretch as we've seen from a Yankee in a long time.
Severino was not quite that good the rest of the first half but he was very good — he struck out nine Rays in eight shutout innings on June 16th and nine Phillies in seven shutout innings on June 26th — and he was deservedly selected to the All-Star Game for the second straight season. He's the first Yankees pitcher selected to multiple All-Star Games before his 25th birthday since Mel Stottlemyre.
Eighty-seven pitchers had thrown enough innings to qualify for the ERA title as of the day the All-Star Game rosters were announced. Here's where Severino ranked:
ERA: 2.12 (third)
FIP: 2.47 (fourth)
Strikeouts: 29.8% (tenth)
fWAR: +4.3 (third)
bWAR: +5.0 (fourth)
He was a top five pitcher in baseball. Not in the American League, in all of baseball. He was that good. Severino threw a scoreless inning in his All-Star Game debut (he didn't pitch in last year's game) and he also caught Aaron Judge's home run while warming up in the bullpen, which was pretty cool. Twenty starts with a 2.31 ERA (2.75 FIP) in 128.1 innings before the All-Star break. As good as it gets.
"Adversity, experience goes a long way when you can persevere," Boone said in June. "And (Severino) in a lot of ways has persevered through a lot for a young man early in his career. And I think all of that has only made him a better pitcher and now we're seeing in a lot of ways what an elite pitcher in the league looks like. He's a special one."
A Disastrous Second Half
Truth be told, Severino's bad second half started in the first half. The Blue Jays roughed him up three runs in five innings on July 7th, then the Indians tagged him for four runs in five innings on July 12th. Severino allowed two home runs in each of those starts after allowing four homers total in his previous 12 starts.
Because he's a young guy who threw a ton of innings last year and a ton of innings in the first half, the Yankees used the All-Star break to give Severino a nice long breather. He started against the Indians on July 12th and did not start again until July 23rd, with the All-Star Game appearance effectively acting as a between-starts bullpen session. The rest was well-intentioned. It didn't help Severino's performance.
The Rays battered Severino for seven runs (six earned) on eleven hits in five innings on July 23rd. Five days later the Royals — the Royals! — tagged him for six runs in 4.1 innings. Then came four runs in 5.2 innings against the Red Sox, and four runs in four innings against the Mets, and six runs (five earned) in 2.2 innings against the Athletics. The home run rate regression was not pretty: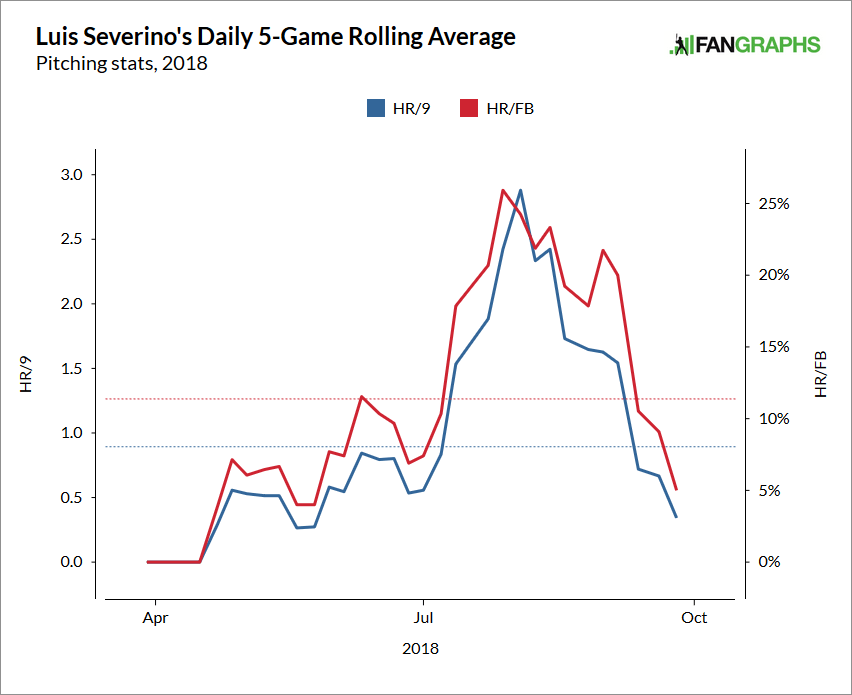 Severino allowed ten home runs in 128.1 innings in the first half (0.70 HR/9 and 9.3% HR/FB). He allowed nine home runs in 63 innings in the second half (1.29 HR/9 and 15.3% HR/FB). The new Yankee Stadium has been open ten years now and only five times in those ten years has a Yankee thrown at least 100 innings in a season with a 0.70 HR/9 or better …
2013 Ivan Nova: 0.58 HR/9
2015 Nathan Eovaldi: 0.58 HR/9
2011 CC Sabathia: 0.64 HR/9
2015 Adam Warren: 0.69 HR/9
2009 CC Sabathia: 0.70 HR/9
… and while Severino has the talent to suppress home runs, doing so at that level at Yankee Stadium isn't easy. Remember, offense was way down around the league from 2013 through the first half of 2016. Only two of those five seasons above fall outside that window and both are peak Sabathia. That's what it takes to post a really good home run rate in Yankee Stadium. Be peak CC Sabathia, basically.
Some home run regression was inevitable but gosh, it was harsh. And it wasn't just the home runs either. Opponents hit .209/.263/.316 (60 OPS+) against Severino in the first half and .291/.331/.490 (123 OPS+) against him in the second half. This year Matt Kemp hit .290/.338/.481 and started the All-Star Game, for comparison. Severino turned everyone he faced in the second half into Matt Kemp. Not great. Some numbers:
| | ERA | FIP | K% | BB% | GB% | Hard % | xwOBA |
| --- | --- | --- | --- | --- | --- | --- | --- |
| First Half | 2.31 | 2.75 | 28.7 | 6.4 | 43.9 | 33.8 | .285 |
| Second Half | 5.57 | 3.37 | 27.3 | 5.0 | 36.2 | 37.6 | .315 |
Severino was on the very short list of the best pitchers in baseball last season and in the first half this season. Then he was one of the worst in the second half. Truly. The strikeout and walk rates were nice, sure, but 118 pitchers threw at least 50 innings after the All-Star break and only ten had a higher ERA than Severino. He was quite bad. It was night and day. It really was.
Despite the miserable second half, the Yankees gave the ball to Severino in the AL Wild Card Game — my hunch was they really wanted to start him the game, and when he closed out his regular season with three straight strong starts (four runs in 17.2 innings), it made it an easy call — and it went okay. He threw four scoreless innings against the Athletics but really had to grind. Four walks and 87 pitches in four innings plus two batters.
Severino's ALDS Game Three start was a disaster. Boone didn't help him out any with his slow hook (or by going to Lance Lynn with the bases loaded and no outs), but still, it was a disaster. The Red Sox tagged him for six runs in three innings plus three batters. Severino has a 6.26 ERA in 23 career postseason innings, which is definitely something people will obsess over even though we just watched David Price become a postseason hero and Justin Verlander had a 5.96 ERA in his first 23 career postseason innings. Whatever.
So Was He Tipping His Pitches Or What?
Every time a very good pitcher struggles, the question gets asked. Is he tipping his pitches? It's become the first line of defense. This very good pitcher is suddenly pitching poorly? Ah well, he must be tipping his pitches! It's become something of a crutch and, to their credit, the Yankees and Severino did not use pitch-tipping an excuse for his second half struggles. He was asked about it start after start and every time everyone said no.
It wasn't until after the season ended that the Yankees finally acknowledged some pitch-tipping issues. Brian Cashman told Brendan Kuty that Severino was "telegraphing" things and was "victimized by pitch-tipping at times." Someone with the Yankees told Jon Heyman the Red Sox "had his pitches" in ALDS Game Three. Ben Harris (subs. req'd) did some fine detective work and found this: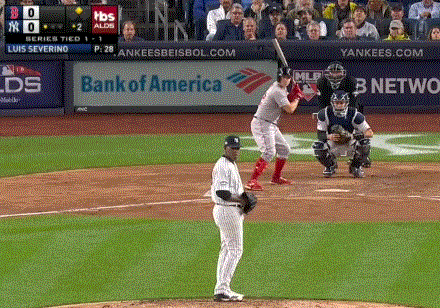 See it? Probably not. I sure as hell didn't. Severino stops for a brief instant to check the runner at third base … with no runner at third base. He did that when throwing fastballs only. For a slider or changeup, he checked the actual runner at second, then whipped his head right around and threw home. That was the tell. Harris also found that Severino would sometimes drop his glove a little lower while in the set position when throwing an offspeed pitch.
So yes, the Yankees acknowledged Severino tipped his pitches and there is some evidence of him actually doing it. Everyone likes to say so and so is tipping his pitches. To actually see it in action is another story. This is something the Yankees and Severino have to fix, obviously, but it is easier said than done. Tipping pitches happens subconsciously (duh) and you're talking about changing muscle memory and things like that. Once a pitcher has to start thinking about his mechanics, he's in trouble. It's not as simple as "hey, stop doing that." I wish it were.
Here's the other thing: Pitch-tipping does not explain all of Severino's second half issues. It would be cool if it did. The Yankees and Severino would have the explanation and could go to work fixing things. But what about his decline in fastball velocity?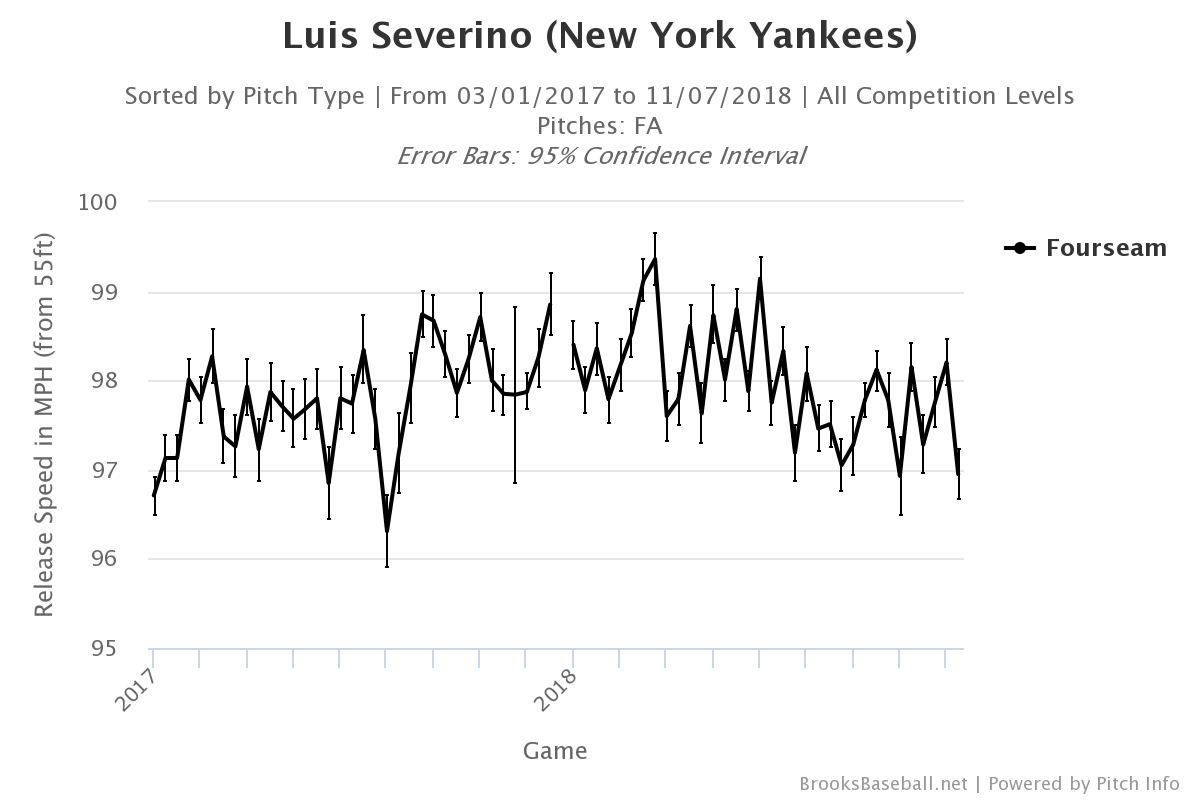 In mid-July, Severino went from routinely sitting 98-99 mph to sitting 96-97 mph, which is still very good, but is down a few ticks from earlier in the season. It's not a scary drop — Severino didn't suddenly start sitting 91-92 mph, you know? — because, if anything, Severino went back to his 2017 first half velocity. It wasn't until the second half last year that his velocity really jumped into the upper-90s and stayed there. That didn't happen in the second half.
Also, what about his slider? Severino's go-to pitch lost a little vertical movement in the second half and the spin rate dipped quite a bit too. His slider has an extraordinary spin rate. At 2,788 rpm, Severino's slider had far and away the highest spin rate among pitchers who threw their slider at least 1,200 times the last two seasons. Marcus Stroman was a distant second at 2,703 rpm. Tyson Ross (2,662 rpm) and Justin Verlander (2,606 rpm) are the only others over 2,600 rpm. And yet, check out Severino's slider spin rate this year: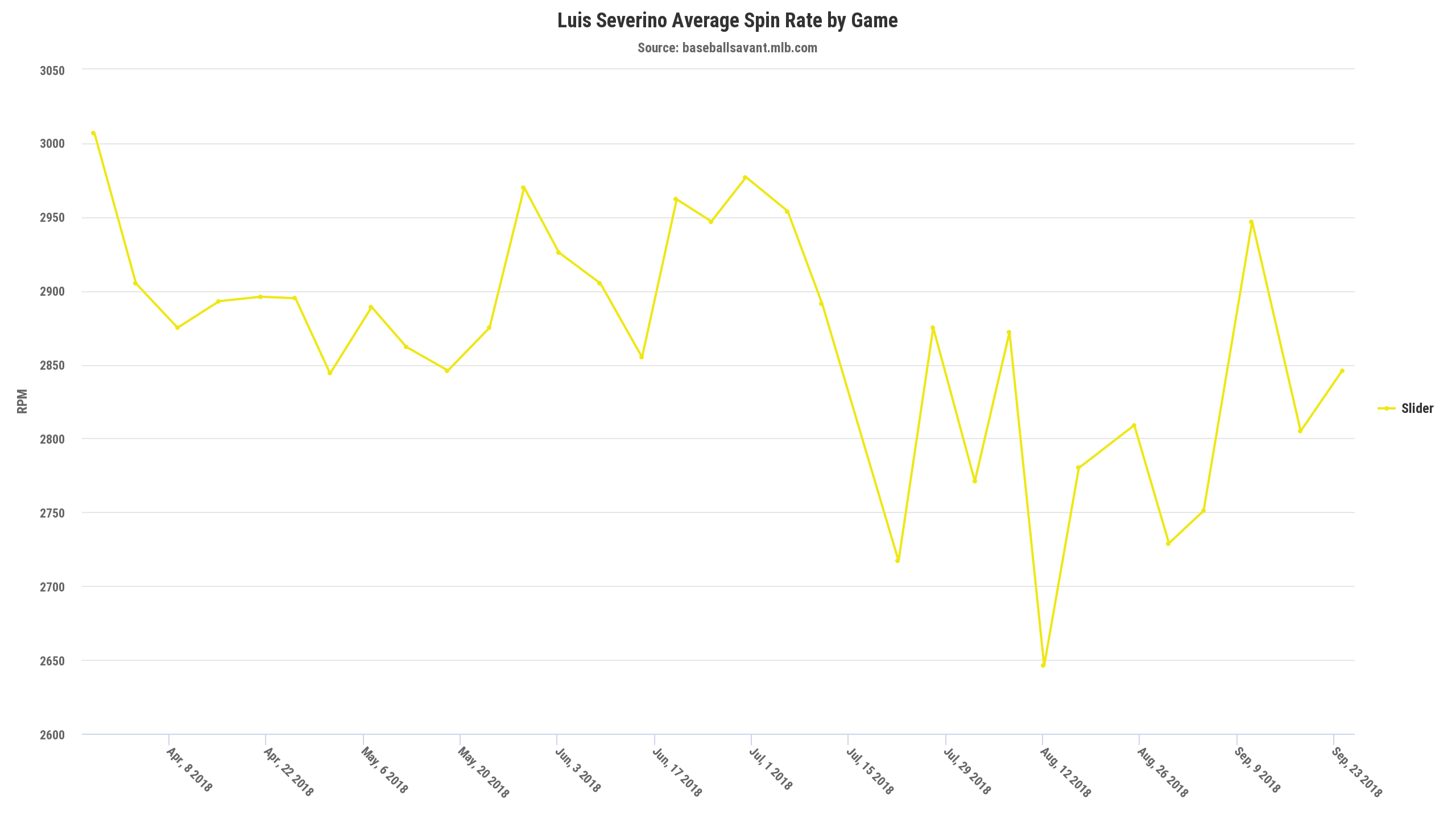 Big dip in the second half. Severino went from averaging 2,913 rpm with his slider in the first half to 2,798 rpm in the second half. Similar to the fastball velocity, the slider still had an elite spin rate in the second half, but it wasn't what we were used to seeing. This is the sorta thing I'm talking about when I say we spend too much time focusing on pitch-tipping. There's more important stuff going on here. Why'd his velocity decline? Why'd his slider lose bite? Those are far more pressing matters to me.
I don't think Severino was injured. Pedro Martinez said during one of his postseason broadcasts that Severino told him he was hurt, but that got shot down. "I don't know where he got that, but I didn't say (anything about being hurt) … I care about my arm and being healthy. So I'm not going to go out there and compete if I'm not healthy," Severino said later than night when asked about Pedro's claim. I've never seen an injured pitcher throwing mid-to-upper-90s with a nasty slider, which Severino still did in the second half. If he was injured, he looked better than any injured pitcher I've ever seen.
Personally, I think Severino just hit a wall and was fatigued. He's a 24-year-old kid who, as of the All-Star break, had thrown 337.2 innings in the previous 16 months, many of them intense innings in a postseason race or the postseason itself. And, because the Yankees went to Game Seven of the ALCS last year, Severino had that much less time to recover in the offseason. Severino's thrown 407.2 innings the last two years. That's an awful lot of work for a young pitcher. He might have just run out of gas. Hopefully an offseason of rest fixes everything.
What's Next?
Severino is entering his money makin' years. He is arbitration-eligible for the first of four times as a Super Two this offseason, and MLBTR projects a $5.1M salary in 2019. When the Yankees sent Severino to Triple-A in 2016, they kept him down juuust long enough to push his free agency back from the 2021-22 offseason to the 2022-23 offseason. He will be arbitration-eligible four times instead of the usual three though, which equals more money.
The Yankees are not aggressive with long-term extensions for players under team control — the last player they extended was Brett Gardner the year before he was due to become a free agent — and that is especially true for pitchers. As best I can tell, these are the last two contract extensions the Yankees have given to pitchers in their pre-arbitration or arbitration years:
Javy Vazquez: Four years, $45M covering one arbitration year (2004) and three free agent years (2005-07).
Andy Pettitte: Three years, $25.5M with a club option covering three arbitration years (2000-02) and one free agent year (2003).
Vazquez was one year away from free agency when the Yankees got him from the Expos and they wanted to make sure they wouldn't lose him after the season, hence the four-year contract before he ever even threw a pitch in pinstripes. Pettitte was Pettitte. He'd already been a key member of multiple World Series championship teams and the Yankees gained cost certainty over his arbitration years plus an option for a free agent year.
I don't think the Yankees will look to sign Severino to an extension this offseason. Not because of his second half. Because it's just not something they do. Granted, they haven't had many young pitchers worth extending over the years — Chien-Ming Wang is the only one who jumps to mind and he had a history of serious shoulder problems in the minors — but they haven't really extended anyone. Gardner, Robinson Cano, that's about it over the last decade.
In all likelihood, the Yankees will sign Severino to a 2019 contract, see how he performs next year, then reevaluate whether to open up long-term contract discussions next offseason. Another season with 200+ strikeouts and an ERA and a FIP in the low-3.00s will probably force the team to think about a long-term deal a little more seriously. Right now, I think they stay year-to-year with Severino, and we'll see him back out there on Opening Day 2019.