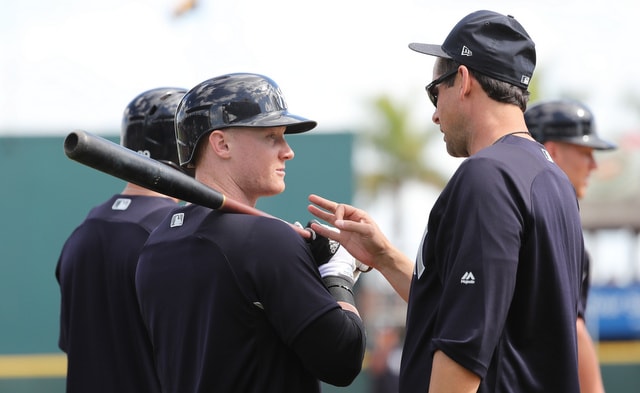 It would be wrong to call Clint Frazier's concussion and post-concussion migraines the most costly injuries of the 2018 season for the Yankees. I mean, this is a team that lost Aaron Judge and Gary Sanchez for roughly two months each, plus Jordan Montgomery was limited to only six starts. Those were some truly devastating injuries.
Frazier's injuries were costly though. No doubt. Aaron Hicks got hurt on Opening Day and, nine games into the season, Jace Peterson was starting in left field. The Yankees went through August with Neil Walker and Shane Robinson playing right field. That was all playing time that could've gone to Frazier had he been healthy.
Instead, the injuries limited Frazier to 283 plate appearances (242 in the minors and 41 in MLB) and basically none after July 19th. For all intents and purposes, Frazier's season started in early May and ended at the All-Star break. The .311/.389/.574 (170 wRC+) batting line in Triple-A was good to see. It's unfortunate he couldn't play more.
Frazier missing so much time was costly and the ramifications of those injuries will continue to be felt this offseason. Rather than get a chance to prove himself at the MLB level this year, Clint missed all that time, which meant the Yankees headed into the winter with:
Uncertainty as to whether Frazier could hold down the left field job next year.
A trade chip with diminished value. Who's paying full price for Frazier now?
To be clear, I'm not blaming Frazier for his injuries. I'd never blame a player for an injury unless it was a dumb and avoidable off-the-field injury, like falling asleep in a tanning bed. Clint originally got hurt crashing into the outfield wall in Spring Training. It happens. Outfielders crash into walls. Most make it out okay. Some get hurt. That's baseball.
I'm just saying Frazier's injuries hurt the Yankees during the regular season and they've already thrown a wrench into the offseason. As I mentioned earlier, Brett Gardner might not have been re-signed had Frazier been healthy this year. The left field job could've been his. Instead, the Yankees couldn't pencil Clint into an outfield spot next year, so they needed a stopgap, hence Gardner's return.
Also, with Frazier not 100% physically and teams having not seen him on the field in several months now, it's hard to see him being the centerpiece in a trade for a pitcher. Clint's awesome, but if I were another team I sure as heck wouldn't take him as the headliner in a trade for someone like, say, Jon Gray. Would I try to buy low on him? Hell yes. Would I pay full price for him? Nope.
The best course of action — maybe the only course of action — is letting Frazier get healthy this winter and planning as if he'll be a non-factor next year. Anything he gives you in 2019 is a bonus. If he contributes and takes over left field full-time at some point, great! The Yankees have to plan for the worst though, right? That's why Gardner was re-signed. It's easier to find an outfielder now in the offseason than during the season.
"(Frazier is) home recovering," Brian Cashman said to Randy Miller a few weeks ago. "He's still under the care of Dr. Mickey Collins (in Pittsburgh). But onward and upward. Doing better. According to Dr. Collins, he'll be fully recovered well before Spring Training."
Given the nature of the injury, the priority here is Clint's health. Concussions can have a lasting impact on quality of life. There is also a baseball angle the Yankees have to consider, and with Gardner back in the fold, that refers to Frazier's trade value. Getting an impact pitcher could be that much more difficult without him healthy. The Yankees didn't have Frazier when they needed him during the season. Now they basically have to plan their offseason without him.