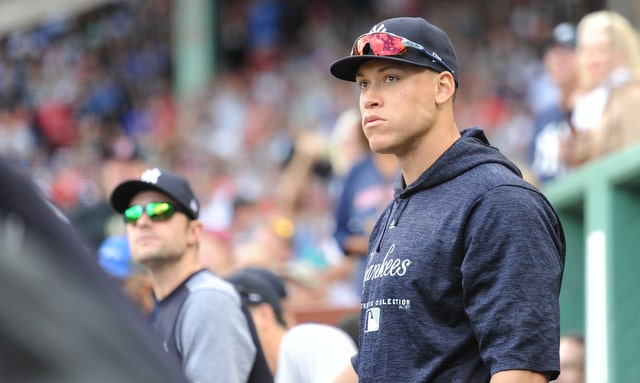 As expected, Red Sox outfielder Mookie Betts was named the 2018 AL MVP earlier tonight. He received 28 of 30 first place votes. Mike Trout finished second in the voting and Jose Ramirez finished third. Trout has two MVPs, four second place finishes, and one fourth place finish in his seven big league seasons. That is pretty nuts.
Betts of course had a marvelous season, hitting .346/.438/.640 (185 wRC+) with 32 homers and 30 steals. He led all players with +10.4 fWAR and +10.9 bWAR. That's position players and pitchers, AL and NL. Betts led them all. Trout was right behind him though. Trout hit .312/.460/.628 (191 wRC+) with 39 homers in addition his defensive and baserunning excellence.
Aaron Judge received two seventh place and two tenth place votes to finish 12th in the overall AL MVP voting. He was the runner-up to Jose Altuve for last year's AL MVP, as I'm sure you remember. Judge would've been a more serious MVP candidate this year had he not missed seven weeks with a fractured wrist. The injury put an end to his MVP chances.
Also receiving votes were Giancarlo Stanton (one eighth place, one tenth place), Didi Gregorius (one ninth place, one tenth place), and Aaron Hicks (one tenth place). This is the first time four different Yankees received MVP votes in the same season since 2012, when Robinson Cano, Derek Jeter, Rafael Soriano, and Raul Ibanez drew votes. The full voting results are at the BBWAA's site.
No Yankees won an award this year. Miguel Andujar and Gleyber Torres finished second and third in the Rookie of the Year voting, respectively, and Aaron Boone finished fifth in the Manager of the Year voting. Luis Severino received a token fifth place in the Cy Young voting. Now, back to the offseason.