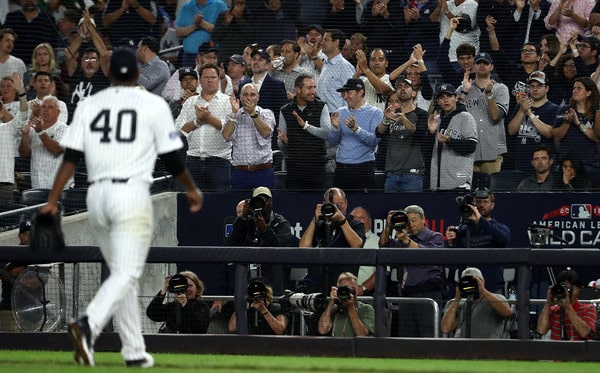 Earlier tonight, MLB and the BBWAA announced Rays southpaw Blake Snell is the 2018 AL Cy Young award winner. The Yankees hit him pretty well this year. Nine runs and four homers in 13.1 innings across three starts. Justin Verlander finished a close second in the voting and trade target Corey Kluber finished third.
Luis Severino received one fifth place vote and finished ninth in the voting in his second full big league season. He finished third behind Kluber and Chris Sale last year. Severino is the first Yankee to get Cy Young votes in back-to-back years since (who else?) CC Sabathia, who had three straight top four finishes in the voting from 2009-11. The full voting results are at the BBWAA's site.
Severino of course had an uneven season this year, pitching incredibly well in the first half and pretty terribly in the second half. The end result was 3.39 ERA (2.95 FIP) with 220 strikeouts in 191.1 innings, which is obviously quite good. Only 26 AL pitchers threw enough innings to qualify for the ERA title this year. Severino's ranks:
ERA: 3.39 (ninth)
ERA+: 129 (seventh)
FIP: 2.95 (fifth, tied with Snell)
Strikeout Rate: 28.2% (seventh)
K/BB Ratio: 4.78 (fourth)
WAR: +4.8 (eighth)
Miguel Andujar and Gleyber Torres finished second and third in the AL Rookie of the Year voting, respectively, and Aaron Boone finished fifth in the AL Manager of the Year race. The MVPs will be announced tomorrow. The Yankees do not have a finalist but I would expect some of their players to get down ballot votes, most notably Aaron Judge.