There are 12 questions and eleven answers in this week's mailbag. Remember to send all your mailbag related correspondence to RABmailbag (at) gmail (dot) com.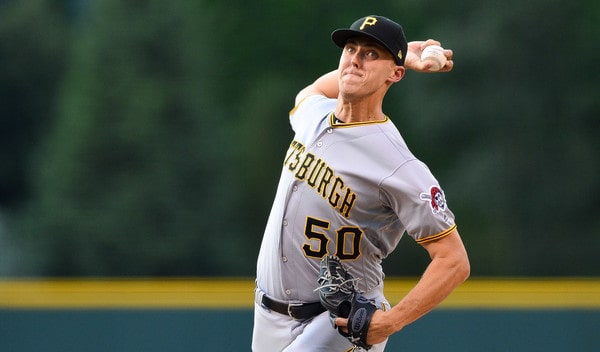 Chuck asks: Don't hear much about Jameson Taillon. Any chance we could pry him away from the Pirates?
I don't get the sense the Pirates are willing to trade Taillon, who is very good and under team control through 2022, but that is the kind of pitcher the Yankees should be targeting. Taillon, 26, had a 3.20 ERA (3.46 FIP) with good strikeout (22.8%), walk (5.9%), and ground ball (46.2%) rates in 191 innings this year. His four-seam fastball spin rate is comfortably above-average and he seems like a good candidate for the "hey, stop throwing so many sinkers" plan the Astros implemented with ex-Pirates Gerrit Cole and Charlie Morton.
Pittsburgh traded (a lot) for Chris Archer at the deadline and they have Taillon and the sneaky good Trevor Williams under control for a while, so they have the makings of a good rotation front three. They traded Cole last year because he was getting expensive and they knew they wouldn't be able to re-sign him long-term. The Pirates aren't at that point with Taillon yet. They're probably two years away from that point, really. I love the idea though. Taillon seems like a great target and, if the Pirates did make him available, I think you put Miguel Andujar on the table. Love the kid, but you have to give to get. I just don't think Pittsburgh is ready to move Taillon yet.
Ryan asks: Who is this year's Headley/Castro candidate of contract you'd like to shed without concerns of return? Or was that a rare case of AAA bursting at the seams?
I wouldn't say I was eager to dump Starlin Castro's contract last year. He's an average player and useful, but also pretty replaceable, and if they could use him to get someone better, they should. And they did. Starlin wasn't an albatross though. Anyway, the Yankees don't really have that moveable bad contract player this year. The Yankees have six contracts on the books at the moment:
Giancarlo Stanton: Nine years, $240M remaining
Aroldis Chapman: Three years, $51.6M remaining
Jacoby Ellsbury: Two years, $47.3M remaining
Masahiro Tanaka: Two years, $45M remaining
CC Sabathia: One year, $8M
Brett Gardner: One year, $7.5M
Everyone wants the Yankees to move Ellsbury but I can't see that happening at this point. Move Tanaka or Chapman? Eh. The Yankees need starters. Trade Tanaka and you wind up reinvesting that money in another starter who might not be as good as Tanaka. I suppose the Yankees could trade Chapman for a young pitcher, then sign a pricey closer to replace him. Can't see it though. Chapman has a no-trade clause. Aside from Ellsbury, the Yankees don't have any real bad contracts on the books. Perhaps that'll change next year after they sign some free agents this winter.
Dan asks: Is it time to go full Evil Empire and sign both Harper and Machado? Then trade for deGrom. I think an offer that starts with Andujar, Frazier and Sheffield gets the Mets to listen. What do you think?
Man, the Yankees really should. How often do you get a chance to acquire a 26-year-old star like Bryce Harper or Manny Machado for nothing but cash (and a draft pick and international bonus money)? Basically never. This offseason there's a chance to get two guys like that. It'll never ever ever happen, but, if you were ever going to make a case for the Yankees going full Evil Empire and signing everyone, this is the offseason to do it. Sign Harper and sign Machado. And, if you do that, doesn't it at least create the option of an Aaron Judge for pitching trade? Maybe build a package for both Corey Kluber and Carlos Carrasco around Judge? Not saying I'd do it! I'm just saying it'd open up the possibility.
Dan asks: What are your thoughts on a reunion with Brian McCann? Great clubhouse influence, lefty with power. Still a good defender. He could be a nice, cheap get.
This question was sent in before the news of Gary Sanchez's shoulder surgery broke. I had McCann on my radar for my offseason plan, but, ultimately, I think he's going to wind up with a starting job elsewhere. Even after a down season in which he hit .212/.301/.339 (82 wRC+) in 216 plate appearances around knee surgery, McCann's track record is long enough that I think some team signs him to start. The Braves are supposedly looking for someone to share time with the right-handed hitting Tyler Flowers. McCann is from the area and he still lives there. Seems like a perfect for him, no? I love the idea of signing McCann. He'd give the team a nice safety net should Sanchez not be ready for Opening Day and he'd be a quality backup once Sanchez is healthy. I am all for it. I just think another team is going to give him starter money and starting catcher playing time.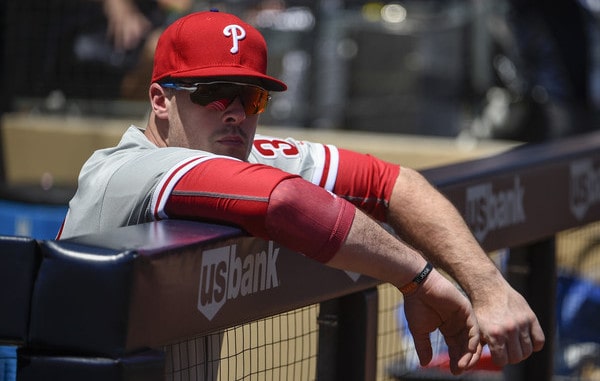 Douglas asks (short version): What about Justin Bour? I know Bour wasn't good last season with the Phillies but he was good as recently as 2017, would add left handed power to the line-up, would be a pick-up for 2 seasons and is projected to get around $5 million in arbitration, leaving plenty of money to chase Machado, Corbin, Harper, etc.
Hard pass on trading for Bour. Know why? Because the Phillies are almost certainly going to non-tender him at the end of the month. MLBTR projects a $5.2M salary next year and that is way too much for a first base only bench bat. If anything, the Phillies will non-tender him and re-sign him at a lower salary. Matt Adams was projected to made $4.6M last year and he can play ("play") the outfield in addition to first base. If he got non-tendered, Bour is getting non-tendered. That's why the Phillies got him so cheap in the first place. Everyone knew he was getting non-tendered after the season. The Marlins had no leverage. Bour would be fine as a first base pickup. Not great, not terrible. Just fine. If the Yankees can sign him and have him compete for the job with Greg Bird and Luke Voit, great. Do it. But don't trade for him. Just wait a few weeks and he'll be available for nothing but money.
Dom asks: One reason, to many, to not hand out mega-contracts to Harper/Machado is because it will leave less money to pay homegrown players when they are FAs. But, doesn't it make more sense to pay Harper/Machado now, resulting in having more prime players under control for this window of contention, than eventually signing the homegrown guys when they're older and not in their prime anymore?
Yuuup. Isn't this one of the benefits of having productive young players? In addition to what they give you on the field, they're also cheap and allow you to spend elsewhere. That's one reason I despise the luxury tax plan. Aaron Judge, Gary Sanchez, and Luis Severino were all in their pre-arbitration years this past season. You only get so many years of those guys making six figures! Rather than take advantage, the Yankees capped their spending. Now Severino is arbitration-eligible and Judge and Sanchez will be in 2020. They're still going to make far below what they're worth, but the savings aren't as great. This is the Yankees' best chance to win a World Series. Right now. In 2018, 2019, and maybe 2020. Not four or five years from now. Right now, when their core guys are in their primes and cheap, like Derek Jeter and Andy Pettitte and Jorge Posada were in the late-1990s. Windows close. Fast. At a time when the Yankees should be putting every last resource into winning a championship, they're holding back.
Steve asks: So thoughts on Kipnis for fill in 2B? I know he had a down offensive season but he'd be a lefty who wouldn't close much in lux tax, plays decent defense and think the Indians would be more open about moving his contract then say Kluber, etc.
Jason Kipnis has been really bad the last two years. Like, sneaky bad. I knew he didn't put up numbers like he did in his prime, but he's been even worse than I realized. Kipnis hit .232/.291/.414 (81 wRC+) last year and .230/.315/.389 (89 wRC+) this year. Yeesh. And he has $17M coming to him next season (his luxury tax hit is only $8.75M) assuming his 2020 option is bought out. I know Kipnis is a left-handed hitter and he might benefit from the short porch (plus the Yankees need left-handed hitters), and I know he can play the outfield too, but he's been pretty bad two years running now. Can't you sign Jed Lowrie at a similar luxury tax number and expect more production? Kipnis is a maybe, if anything. There's no reason to think he's gong anywhere right now. If some things fall through in free agency, the Yankees could think more seriously about Kipnis later in the offseason.
Juan asks: It certainly feels to me like there's a personality element to Cashman's Sonny Gray comments. Greg Bird was equally awful this season after being not good the previous year, but the Yankees still speak of him with a positive outlook. What do you think happened with Gray? Why can't it be repaired?
Jonathan asks: What do you think is the benefit of Cashman being so candid about wanting to trade Gray? Don't you think this diminishes his value, considering he's giving no option to hold on to him if he doesn't get enough in return? I don't get why any GM would ever say this, really. What gives?
Going to lump these two questions together. It is pretty weird, isn't it? It seems like Brian Cashman is going above and beyond to make it known not only that Sonny Gray is available, but also that he's not wanted. "I don't think it is going to work out in The Bronx. I don't feel like we can go through the same exercise and expect different results," he said the other day. That's pretty harsh! Cashman is always quick to admit some players can play in New York and other can't, but very rarely does he single someone out like this. I can't ever remember it happening.
I sensed a lot of frustration with Gray this year. More than the usual "he's not pitching well" frustration because we go that with guys every year. Aaron Boone, Larry Rothschild, and Cashman all seemed frustrated with Gray. Maybe it was his preparation? His attitude? Whatever. Cashman has chosen to express that frustration this offseason and, honestly, I think everyone knew it existed. Instead of lying about it, he's being honest. I don't think Cashman would do it until he was certain he could get a good deal for Gray. He wouldn't go out there and crush the guy if his market was non-existent. Supposedly there's a good amount of interest. Teams still want Sonny despite this year's performance and despite the GM taking the guy's head off every chance he gets.
Neil asks: Any trades headlining Gleyber for a young controllable pitcher that you would consider and might make sense for both teams? (Yeah, I know, pitchers break….)
The one that immediately jumped to mind is Walker Buehler. Unless the Dodgers think Max Muncy at second base is a viable long-term strategy (nah), they need a second baseman. Hell, they might need a shortstop. Corey Seager is coming back from Tommy John surgery and it's always been a bit unclear how long he'll stay at short anyway because he's so big (6-foot-4 and 220 lbs.). The Dodgers have a need for a middle infielder.
Buehler was the most impressive young pitcher I saw this past season and it's not even close. It was Buehler (big gap) Jack Flaherty (enormous gap) everyone else. Buehler threw 137.1 innings with a 2.62 ERA (3.04 FIP) with excellent strikeout (27.9%), walk (6.8%), and ground ball (50.0%) numbers this year, and he was real good in the postseason too. The stuff is electric.
I feel like both teams would say no to Gleyber-for-Buehler. The Yankees will want to keep their budding star middle infielder and the Dodgers will want to keep their homegrown budding ace. But that's the idea. If you're going to trade Torres, you have to get a Buehler type (or a Flaherty type) back. The Mets wouldn't be unreasonable to ask for Torres in a Jacob deGrom or Noah Syndergaard trade, and of course the Phillies wouldn't give up Aaron Nola without getting Gleyber. There are a few pitchers out there I'd part with Torres to acquire. Not many though.
Jon asks: Schwarber seems to be a perpetual trade rumor. What would it realistically take to get him and would he improve the team, assuming no Bryce Harper? Could a package centered around Sonny Gray and Jonathan Loaisiga work, since they're both traded in your offseason plan?
Schwarber makes more sense for the Yankees now than he did back in 2016, when they apparently tried to get him at the deadline. He's never played first base but he's going to wind up there eventually, so the Yankees could move him there and have him split time at first and DH, and be the emergency third catcher. They also need a left-handed bat and Schwarber's pull heavy left-handed swing would fit well in Yankee Stadium.
This past season Schwarber hit .238/.356/.467 (115 wRC+) with 26 homers, and over the last two years he has a .225/.336/.467 (109 wRC+) line in nearly 1,000 plate appearances. That … kinda sucks? For a bat only guy, yeah, it kinda sucks. After all that hype and all those rejected trades, that's it? Schwarber is young (26 in March) and cheap (projected $3.1M in 2019) and there's always a chance he'll improve, for sure. I don't know that Gray and Loaisiga will get it done — Theo Epstein is said to love Schwarber — but I don't know how much higher I'd go either.
Michael asks: Read recently that MLB will eventually expand, with places like Portland, Charlotte and a location in Mexico as possibilities. But is MLB ignoring the lack of enthusiasm for baseball in Tampa and Miami? What's the possibility of those two franchises moving to one of the locations being considered for expansion?
I worry about this. MLB is stuck in Miami because that $600M ballpark is only seven years old. Tampa is a different story. The Rays have been trying to get a new ballpark for years now — the most recent chatter has them moving to a park on the other side of the bay in Ybor City — but can baseball work there? Doesn't MLB have to answer that question before building a new park? Florida would seem to be the perfect place for baseball. It's warm all year and there are a ton of players from the state, plus there are people from all over Latin America as well. It seems like it should work. It hasn't. There are other baseball hungry markets out there. I would hope MLB would at least consider relocation before breaking ground another new park that will sit half empty 81 times a year.