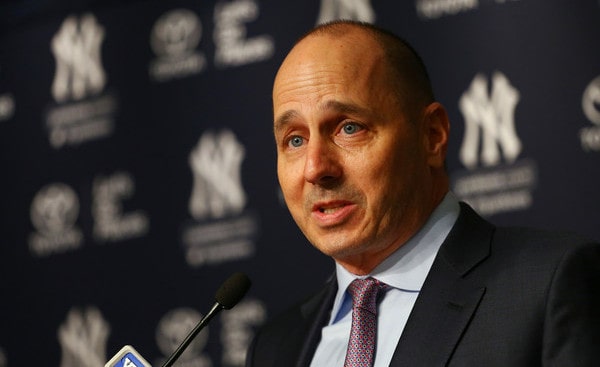 A little less than two weeks ago the Red Sox won the 2018 World Series and sent us all into the offseason. There are now more than three months to go before pitchers and catchers report to Spring Training and nearly five months to go before Opening Day. The offseason is fun in its own way, sure, but actual baseball is a long ways away. Sucks.
Anyway, now that the offseason is underway, it's time again to put together my annual offseason plan. My 2016-17 plan and 2017-18 plan were so bad! Among my moves were trading Luis Severino (and more!) for Sonny Gray, signing Mark Melancon instead of Aroldis Chapman, and giving Michael Pineda a $65M extension. Thank goodness I just run a blog and not anything important, huh?
Last offseason we didn't have to make any assumptions about payroll. We knew the Yankees would stick to the $197M luxury tax threshold and they did exactly that. The Yankees reset their tax rate. Will they spend lavishly this offseason? Brian Cashman hedged a bit, but that is not surprising. Even if the Yanks are planning a spending spree, they wouldn't announce it to the world. That does them no good.
Cashman indicated he can go to Hal Steinbrenner for approval to go over the luxury tax threshold next year. I can't do that. I'm going to stick to the $206M luxury tax threshold for my offseason plan. I'm not comfortable assuming I can spend more. Hopefully Cashman and the Yankees exceed the threshold in real life because there are some great free agents out there. Let's get into the offseason plan.
Option Decisions
The Yankees only had one option decision this offseason: Brett Gardner's club option. It's a $12.5M salary with a $2M buyout. Last week the Yankees declined the option and re-signed Gardner to a new one-year deal worth $7.5M. Add in the buyout and he gets $9.5M total. In my fantasy offseason plan, I am declining the option and walking away. I love Gardner. He's been a very productive player the last decade or so and emerged as a heart and soul guy in recent years, but I'm going in another direction.
As far as the luxury tax is concerned, buying out the option has no impact in 2018 or 2019. I do have to pay Gardner his $2M, but that money was lumped in with the average annual value of his contract the last few years. It's already been taxed and everything. It's a clean break. Hopefully Gardner catches on with another contender (the Indians would seem like a fit). I'm cutting ties and moving forward with a plan for a younger outfielder. Brett will be back for Old Timers' Day at some point though, don't worry.
Qualifying Offers
Despite all their free agents, Gardner and CC Sabathia are the only Yankees eligible for the $17.9M qualifying offer. I am giving it to neither. (The Yankees didn't give it to Sabathia.) I mean, duh. I didn't pass on Gardner's $12.5M option only to turn around and give him the $17.9M qualifying offer. Sabathia played on a one-year, $10M contract this past season and he can be re-signed as a similar rate for next year. Gardner and Sabathia would both accept the qualifying offer in a heartbeat, so I'm not giving it to them. No extra draft picks next year, folks.
Rule 5 Draft Protection
Getting all the busy work out of the way early. Just going chronologically, the Rule 5 Draft protection deadline is the next deadline anyway. The Yankees already made their major Rule 5 Draft protection decisions a few weeks ago when they called up Chance Adams, Justus Sheffield, and Stephen Tarpley during the season. Here are this offseason's Rule 5 Draft eligible prospects. Here are my decisions:
Add to 40-man roster: Nick Green, Kyle Holder, Erik Swanson
Notables left exposed: Trey Amburgey, Diego Castillo, Dermis Garcia, Pablo Olivares, Hoy Jun Park, James Reeves, Brandon Wagner
The Yankees catch a bit of a break this offseason. Estevan Florial and Freicer Perez both signed during the 2014-15 international signing period like Castillo and Garcia and Park, but they are not Rule 5 Draft eligible this winter because they signed late in the signing period. The Yankees get to wait an extra year with those two and that saves two 40-man spots. Well, at least one spot with Florial. I'm not sure Perez would've been protected coming off shoulder surgery.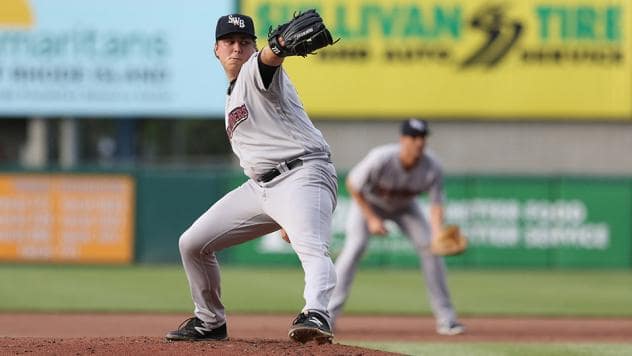 As for my protection decisions, Swanson and Holder are easy calls. Swanson had a 2.66 ERA (2.91 FIP) with 29.2% strikeouts and 6.2% walks in 121.2 innings at Double-A and Triple-A this year. The stuff is good and the results are good, and he's knocking on the big league door. That's a guy you add to the 40-man. Holder hasn't hit much in his pro career but he can play the hell out of shortstop, and I'm pretty sure some team would take a shot on him as a utility infielder if he's left exposed. Great defensive shortstops are worth keeping.
Green is my dude. Maybe adding him to the 40-man is irrational after a season in which he had a 3.28 ERA (4.15 FIP) with an 11.2% walk rate in 115.1 High-A innings, but his funky cutter/sinker fastball fascinates me, and it helped him post the highest ground ball rate in the minors (66.4%) among pitchers with at least 130 innings. Green might only be a reliever long-term, but what if he's a turbosinker guy like Blake Treinen or even just Jared Hughes? That's pretty valuable! I don't want to risk losing him to a rebuilding team willing to stash him in long relief all year.
I was on the fence about Wagner because he hasn't done much above Single-A ball yet, but he has natural left-handed power and became a launch angle guy this year — Wagner went from 45.5% grounders last year to 35.6% this year — and the result was 21 homers in 124 games. Wagner plays both corner infield spots and the Yankees even had him dabble at second this season. I just don't see him sticking in the show next year. And it's not like he plays a premium position like Luis Torrens, you know? Corner infield bats with limited time above Single-A usually aren't a hot Rule 5 Draft commodity. I'm rolling the dice and leaving Wagner unprotected.
I didn't have to think too hard about any of the other guys I'm leaving exposed. Amburgey has some tools and had an okay year in Double-A, but it's not the most difficult profile to find in free agency. Reeves could get taken in the Rule 5 Draft because he is left-handed and breathing, though LOOGYs are going the way of the dodo bird, and I don't see enough utility here. Some random arms will inevitably get popped (Tyler Jones, Evan Rutckyj, and Anyelo Gomez were taken from the Yankees in the Rule 5 Draft in recent years) and my guess is the Triple-A Scranton setup man/closer combo of Raynel Espinal and Joe Harvey have a chance to go. We'll see.
Including my decision to decline Gardner's option, we had nine players become free agents at the outset of the offseason (Gardner, Sabathia, Zach Britton, J.A. Happ, Adeiny Hechavarria, Lance Lynn, Andrew McCutchen, David Robertson, Neil Walker) and seven of those nine 40-man roster spots went to my three Rule 5 Draft players and the four guys who had to be activated off the 60-day DL (Jacoby Ellsbury, Clint Frazier, Ben Heller, Jordan Montgomery). I have two open 40-man spots. Onward.
Arbitration
The Yankees have their largest arbitration class in a very long time this offseason. Not necessarily in terms of the number of arbitration-eligible players, but in terms of projected salary. It's a pricey class. Here are my arbitration payouts:
Didi Gregorius: Two years, $20M
Sonny Gray: $9.1M
Dellin Betances: $6.4M
Aaron Hicks: $6.2M
Luis Severino: $5.1M
Austin Romine: $2.0M
Tommy Kahnle: $1.5M
Greg Bird: $1.5M
Ronald Torreyes: $900,000
The smartest thing I ever did in these offseason plan posts was sign Gregorius to a five-year extension worth $42.5M with a club option for a sixth year back during the 2016-17 offseason. He would've been two years into that contract right now, and yeah, he would've missed most of the third season with his Tommy John surgery rehab, but at least the Yankees would have him for another two years beyond that plus potentially a third year on the option. Alas.
Didi's injury really complicates things. I love the guy. I think we all love the guy. But he's projected for $12.4M next season. Is it really smart to commit that much money to a player rehabbing a major injury when he can become a free agent next winter? That's a lot of money to sink into not many at-bats. I don't want to non-tender Gregorius and just walk away either. After all, he could return in June or July and play half a season. My compromise two-year, $20M contract is broken down like so:
2019: $8M salary
2020: $12M salary (can opt out with 300 plate appearances in 2019)
For the Yankees, they get Gregorius at a reduced rate (both in terms of actual salary and luxury tax hit) next year while he rehabs, and also don't have to worry about losing him to free agency if he misses most of the season. It won't be rehab money for nothing. For Gregorius, he gets a good salary while rehabbing in 2019, and if rehab goes well and he plays half-a-season, he still gets to test free agency. And if rehab doesn't go well, he has peace of mind knowing there's still $12M coming his way in 2020.
I get that there may be some concern on Didi's part that the Yankees would manipulate his playing time to ensure the opt-out doesn't kick in ("how unfortunate, you finished at 296 plate appearances, sorry"), and I'm not sure how to assuage those concerns. My goal is to win now. Right now. And the more Gregorius is on the field, the better. Maybe the magic number is 200 plate appearances instead of 300? The idea here is reducing the 2019 payroll hit while Didi rehabs and still giving him some control over his future. There's some give and some take here, you know?
All of the other arbitration-eligible players are at their MLBTR projected salaries. MLBTR's model is quite accurate and I see no reason to deviate. I thought about extensions for Hicks and Betances but decided to pass. Dellin is the man but he is quite unpredictable, and I am totally cool with playing out next season and figuring out his future next winter, when he's on the cusp of free agency. Hicks? We'll get back to him in a bit. Stay tuned.
Also, I'm not really sure where to mention this, so I'll do it here. I'm non-tendering Heller and re-signing him to a minor league contract to open another 40-man roster spot. He had Tommy John surgery in April and the typical rehab schedule puts him on track to return sometime in May or June. The Yankees have done the non-tender/re-sign thing with a few other Tommy John surgery guys (Domingo German, Vicente Campos) and I'm doing it with Heller. I thought about doing it with Thairo Estrada too, but he is a shortstop capable infielder with some offensive potential and two minor league options remaining. Plus he's playing in the Arizona Fall League right now, so he's healthy. I'm sure another team would give him a Major League contract in free agency. Thairo stays on the 40-man. Heller does not. I now have three open 40-man spots.
Trades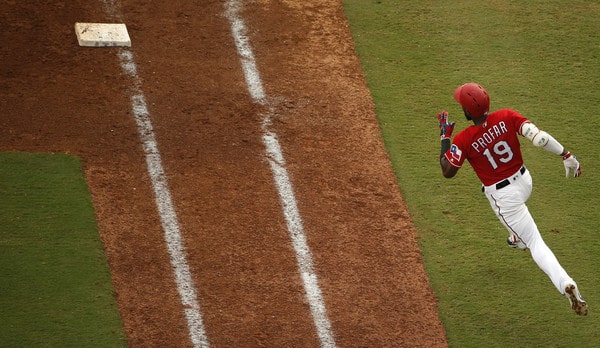 Okay, now it's time for the fun stuff. I love trades so much. They are a million times more fun than boring old free agent signings. I love the challenge aspect — I'm betting the guys you give me are better than the guys I give you — and the fact there are so many roster ramifications. As a guy who blogs a lot about baseball, trades are a goldmine. Anyway, here are my trades listed in order of sentence length:
Sonny Gray to the Brewers and Mike King to the Rangers; Chase Anderson to the Rangers; Jurickson Profar to the Yankees.
Jacoby Ellsbury and Luis Cessa to the Marlins for Wei-Yin Chen.
Jonathan Loaisiga to the Rockies for Raimel Tapia.
(Reminder: My trade proposals suck.)
I can feel the angst radiating through the screen. Because I trade Gray and Cessa, right? Yeah, that's probably it. I know you're all sad to see them go. Anyway, let's break these trades down.
1. Sonny's gotta go. We all know Sonny Gray is getting traded at some point. Brian Cashman couldn't have made it more clear. The Brewers, even with pitching coach Derek Johnson (Gray's former pitching coach at Vanderbilt) jumping ship to the Reds last week, still stand out as the most logical landing spot to me. They need a starter and GM David Stearns has focused on upside plays since arriving. Gray fits.
The Yankees, meanwhile, need an infielder to help replace Gregorius. And the Rangers need pitching. Lots and lots of pitching. As much as they can get. The three-team trade breaks down like so:
Brewers get: Sonny Gray
Rangers get: Chase Anderson and Mike King
Yankees get: Jurickson Profar
Anderson was very good last year (2.74 ERA and 3.58 FIP) and good but not great this year (3.93 ERA and 5.22 FIP), and he's signed affordably, with $24.5M coming his way the next three years if his 2020 and 2021 options are exercised. My knowledgeable Brewers fan friends have been pushing Anderson for Gray for weeks, so I feel somewhat confident this is in the ballpark. I don't love Anderson though, so I'm flipping him to Texas.
The Rangers, very clearly, need pitching. Their starters ranked 29th in ERA (5.37) and 29th in FIP (5.18) this past season. When the only team to get worse rotation work than you is the 115-loss Orioles, yeah, you need starters. This is Texas' rotation depth chart on their official site (with 2018 stats):
LHP Mike Minor: 4.18 ERA (4.43 FIP) in 157 innings
RHP Ariel Jurado: 5.93 ERA (5.01 FIP) in 54.2 innings
LHP Yohander Mendez: 5.53 ERA (5.36 FIP) in 27.2 innings
RHP Adrian Sampson: 4.30 ERA (6.03 FIP) in 23 innings
LHP Drew Smyly: Hasn't pitched since 2016 due to Tommy John surgery and setbacks
In Anderson, the Rangers get three years of a legitimate MLB starter who is one year removed from a comfortably above-average season. In King, they get a soon-to-be MLB ready pitching prospect who may crack their Opening Day rotation. It is not unreasonable to look at Texas' end of this deal as Profar for two starters with multiple years of control who will be in their rotation by the end of 2019.
The Yankees get Profar, who was the top prospect in baseball before a pair of shoulder surgeries derailed him from 2014-17. He steps in to replace Gregorius in the short-term before (potentially) moving back into a supersub role long-term. Profar's played all four infield positions and left field. He's best at second base — the two shoulder surgeries have robbed him of arm strength — but he can play first, short, third, and left. That's pretty cool.
This season the 25-year-old switch-hitting Profar hit .254/.335/.458 (108 wRC+) with 20 homers and promising strikeout (14.8%) and walk (9.1%) rates. It was far and away his best MLB season. Why would Texas trade him? Well, there have been rumblings about a trade for years (the Yankees checked in) and he's two years from free agency. After all the injuries, Profar's trade value might not ever again be as high as it is right now.
Also, Texas declined to give Profar a September call-up last year, which delayed his free agency and reportedly had him considering a grievance. I'm not sure the Rangers and Profar are on the best of terms. Re-signing him in two years may not be on the table. King's a good prospect but I am more than happy to part with him to bet on Profar's upside. Getting the Brewers and Gray involved gets Texas two starters they so clearly need.
2. Salary dumping Ellsbury. I wrote about the Ellsbury-for-Chen idea last week, so I'm going to keep this brief. Since the Padres ate $13M in 2018 to get their hands on Bryan Mitchell, I'm assuming the Marlins will take on the $5.28M difference in salaries spread across 2019 and 2020 to acquire Cessa. They can either pay Chen $40-something-million, or pay Ellsbury $40-something-million and get a young-ish pitcher out of it. The bad contract (and Cessa) for bad contract swap saves the Yankees $5.86M against the luxury tax in 2019 and 2020.
3. The next buy-low guy. The Yankees struck gold when they acquired Gregorius (for Shane Greene!) and Hicks (for John Ryan Murphy!). We're due for another one of those trades. Tapia is a former top 100 prospect who, like Hicks at the time of his trade, is out of minor league options with no real place to play. The Rockies have David Dahl and Charlie Blackmon in the outfield, plus, given their history, they're bound to either re-sign Carlos Gonzalez or sign another free agent outfielder to a contract that makes everyone go "huh." Nick Markakis is my guess. They could also put Ian Desmond back in the outfield and (finally) give Ryan McMahon a shot at first base.
Anyway, Tapia is only 24 and he's a career .274/.315/.404 (72 wRC+) hitter in 239 big league plate appearances spread across three seasons, and a career .330/.367/.506 (126 wRC+) hitter in nearly 900 career Triple-A plate appearances. Here's what Baseball America (subs. req'd) had to say about Tapia last year, the last time he was prospect eligible:
Tapia is an offensive threat and run-creator who plays with confidence and backs it up. Don't get caught up in the way he crouches in two-strike situations. He does not have that typical rise before he swings in that situation, instead staying low and maintaining the ability to drive the ball into gaps despite the unique approach. It helps him become more focused on the strike zone in those situations. Tapia has the speed and range to play center field–he earns average grades–and his above-average arm will play on an outfield corner.
I've seen Tapia's two-strike crouch in person and it is too funny. It's a pretty standard upright batting stance to start the at-bat, then, with two strikes, Tapia goes into this deep crouch and into battle mode. This video is a few years old but it works just as well. Tapia steps in the box, falls behind 0-2, then goes into his crouch and grinds away.
The crouch is a fun baseball thing but that's not the reason for the trade. Read the scouting report again. Tapia has two-way potential and plenty of tools. He just hasn't put it all together yet. A left-handed hitter with a line-to-line approach and good outfield defense is a worthy add in my opinion. Even if Tapia spends 2019 as the fourth outfielder and has a 2016 Hicks year, he's worth a shot. There's definitely some "buy low on this kid who hasn't figured it out and reap the rewards" potential here a la Hicks and Gregorius.
As for Loaisiga, man I don't want to trade him, but you have to give to get. I liked Greene at the time of the Gregorius trade and I really liked Murphy at the time of the Hicks trade, and those deals worked out pretty well. Johnny Lasagna, as talented and promising as he is, has a long and scary injury history. It wouldn't surprise me if he throws 150 innings with a mid-3.00s ERA next year and it wouldn't surprise me if he blows out his arm and never pitches again. The Rockies have some outfield depth and are always in the market for arms. Loaisiga for Tapia is this year's Greene-for-Didi and Murphy-for-Hicks.
For housekeeping purposes, I am trading four 40-man roster players (Cessa, Ellsbury, Gray, Loaisiga) for three 40-man roster players (Chen, Profar, Tapia), so I now have four open 40-man spots. Also, I shed Gray's salary ($9.1M projected) and took on Profar's ($3.4M projected), which equals $5.7M in luxury tax savings. The Ellsbury-for-Chen swap saves another $5.86M against the luxury tax. All told, the trades free up $11.56M in luxury tax payroll space.
Free Agents
The Yankees need pitching this offseason, obviously. Pitchers are risky, they tend to break, so my plan is to attack that weakness using money, the club's greatest resource. If you blow money on a pitcher, so what? The Yankees print money. If you trade three prospects and get Sonny Grayed, well, that sucks. You can't get those prospects back. So my free agency plan is all about pitching. My signings in order of contract size:
Patrick Corbin: Six years, $120M (opt-out after 2020)
Hyun-Jin Ryu: Three years, $45M
David Robertson: Two years, $25M
Garrett Richards: Three years, $12M (plus incentives with an opt-out after 2020)
CC Sabathia: One year, $8M
Neil Walker: One year, $3M
Five pitchers, including three left-handed starters, plus a utility guy to round out the bench. Hoarding lefty starters was not intentional. I looked at quality over handedness. It just so happened the three 2019 starters I grabbed were all lefties, and hey, lefties are good to have in Yankee Stadium. Let's talk about the free agent signings.
1. Breaking the bank for Corbin. Well, $20M a year is not really breaking the bank these days. Nine active pitchers have a higher average annual value. Only one of those nine signed his contract after having Tommy John surgery, and that one (Jordan Zimmermann) hasn't really worked out. Corbin carries more risk than the typical top free agent pitcher because he has had surgery, and because his track record as an elite pitcher is short.
Corbin is now four years removed from Tommy John surgery though, and while I worry about all the hard contact allowed, a 29-year-old who misses this many bats (30.8% strikeouts) and gets this many grounders (48.5%) is hard to pass up. He already throws a ton of sliders (41.5%), so Corbin will fit right in with the anti-fastball Yankees as well. I don't think he'll ever post a 3.15 ERA (2.47 FIP) like he did this year again. The tools are there to turn in several more above-average seasons though, and that's what I'm buying with this signing.
As for the contract, I'm guessing Corbin will get a few five-year offers at $20M or so annually. Tacking on that sixth year may be what it takes to get him — six years and $120M is touch less than Johnny Cueto's contract with the Giants — and the opt-out gives him some flexibility. If Corbin truly is this good, he can test the market again for one last big payday in two years. Besides, opt-outs are the norm now. All the best free agents get one (or more). Jon Heyman (five years, $100M), FanGraphs (five years, $102.4M), and MLBTR (six years, $129M) project contracts in this ballpark for Corbin.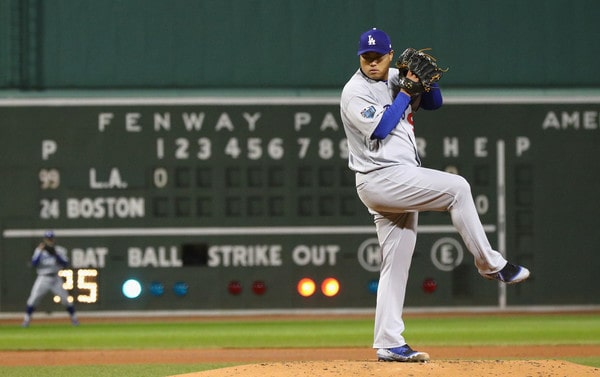 2. The personal favorite. Man I love Ryu. Have for a while. Back in the day I read a scouting report that called him the "Korean David Wells" and it is too perfect. He's a hefty lefty and he's unflappable. "I think you see guys who are a lot more emotional, vocal, but don't have the same compete as Hyun-Jin. A lot of it is that inner drive and fire and compete. And so many teammates have told me that this guy has ice in his veins, and he's a big-game pitcher. And the more I've gotten to see him execute pitches in big spots, it's kind of come to fruition," said Dodgers manager Dave Roberts during the postseason.
That isn't to say Ryu is without risk. He missed all of 2015 and nearly all of 2016 with major shoulder surgery, and this season a torn groin cost him several months. Ryu turns 32 in March, so potential age-related decline is a thing too. That said, his velocity returned after shoulder surgery, and he's a deep arsenal (four-seamer, sinker, cutter, changeup, slider, curveball) command guy who I am comfortable expecting to "figure it out" as he ages. Ryu has the pitchability to continue getting outs as he ages.
Around the groin injury this year Ryu had a 1.97 ERA (3.00 FIP) in 82.1 innings and there's no way I'd expect that next year. He's a career 3.20 ERA (3.40 FIP) guy and, at his age and with his injury history and with the move into the AL East, penciling him in as a 3.70 ERA (4.00 FIP) guy who throws 160-ish innings each year is a more reasonable expectation. There is definitely some Hiroki Kuroda here. Ryu is that kind of dogged competitor. He doesn't have Kuroda's stuff or durability, but the competitiveness and pitching know-how is there.
It's important to note the Dodgers gave Ryu the $17.9M qualifying offer and, unlike Corbin, it is not certain he will decline it. Ryu is said to love Los Angeles. Heyman (three years, $37.5M), FanGraphs (three years, $35.5M), and MLBTR (three years, $33M) come in with contract estimates below what I'm offering. That's because I'm assuming I have to buy Ryu away from the Dodgers. Come in with the offer early and convince him to pass on the qualifying offer and come to New York, where he still has a chance to win a title. Besides, a non-stop flight home to South Korea isn't that much longer from New York as it is from Los Angeles (because they fly over the North Pole).
3. Looking ahead with Richards. The Yankees are a spin rate organization and Richards is the spin rate king. This year he had the third highest four-seamer spin rate, highest slider spin rate, and highest curveball spin rate. No one can make the ball spin like Richards. He also had Tommy John surgery in July, so he's probably not going to pitch next year. Signing him is a move for 2020 and 2021.
These contracts for Tommy John surgery guys are getting more expensive. Nathan Eovaldi's deal with the Rays was one year at $2M with a club option for a second year. (Eovaldi's deal maxed out at $7.5M.) Michael Pineda got two years and $10M from the Twins. Richards has an ugly injury history (138.2 innings from 2016-18) and adding the third year is a way to keep the average annual salary down, in theory. I'm thinking this is the breakdown:
2019: $2M while rehabbing
2020: $5M (plus $3M in incentives, can opt-out after 2020)
2021: $5M (plus $3M in incentives)
The $2M base salary during the Tommy John surgery rehab year is standard. That's what Eovaldi and Pineda got. The second and third years are $5M base salaries with another $3M in bonuses based on starts ($250,000 each for 10, 15, 20, 25, 30 starts) and innings ($250,000 each for 100, 110, 120, 130, 140, 150, 160 innings). The opt-out allows Richards to go out and get more money if he comes back strong in 2020. And, if things go south post-elbow reconstruction, he knows he has that $5M coming to him in 2021.
The contract comes with a $4M luxury tax hit and that's dead money for next season. We'll sit on that and hopefully be rewarded in 2020. Richards was quite good before his elbow gave out this year (3.66 ERA and 4.13 FIP) and he's only 30, and a long Tommy John surgery rehab (June 2018 to March 2020) could have him ready to contribute right away come Opening Day 2020. He's good and he's worth a roll of the dice.
4. Welcoming back Robertson, Sabathia, and Walker. Robertson is still excellent and bringing him back is a no-brainer to me. Easiest call in free agency this offseason. Sabathia threw 153 innings with a 3.65 ERA (4.16 FIP) and a ton of soft contact last year and I'm penciling him in for 140-ish league average innings next year. As the fifth starter behind Corbin and Ryu and the two incumbents (Luis Severino and Masahiro Tanaka), that is more than fine. Don't count on him to eat innings or even start a postseason game. Just be a good fifth starter and police the clubhouse.
As for Walker, I'm hopeful Year Two as a utility guy will go better than Year One now that he has some experience in that role. This season was the first time in his career he wasn't a full-time player. It's an adjustment. Walker's a pro's pro who had good at-bats and a couple big hits this year, and he really seemed to enjoy being a Yankee. He can play three infield spots and even volunteered to play right field when Aaron Judge got hurt. Being a bench guy isn't easy. I think Walker can be better in 2019 than he was in 2018 now that he's more familiar with the role.
5. What about Harper or Machado? Believe me, I tried to make it work. I thought about splurging for one of them and going cheap on pretty much everything else, which meant gutting the farm system to trade for low cost pitching, and that just leads to a mid-2000s style top heavy roster. I don't think you can win like that these days. You need that 1-25 (1-40, really) depth. There's not enough room under the luxury tax threshold for a huge contract like the one needed to land Harper or Machado.
I'm a Harper over Machado guy, have been for years (you know that if you frequent our weekly chats), and I really wanted to make it work. I think Harper is a generational talent who is about to entire his prime years, which means some history-making seasons may be on the horizon. I hope Hal Steinbrenner okays a big signing that takes the Yankees over the $206M luxury tax threshold because talent like this, you can't pass up. In my fantasy offseason plan, I have little choice but to look elsewhere. Sucks, but what can you do?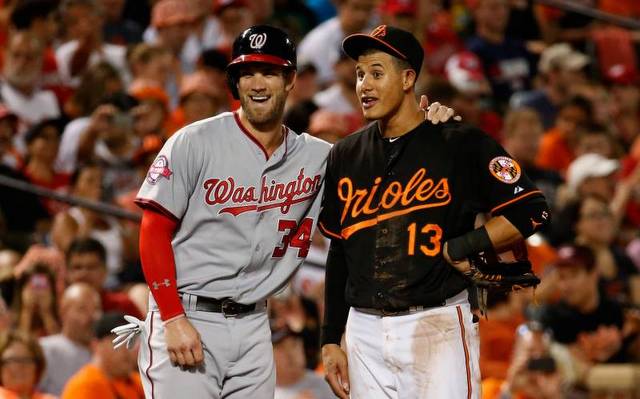 Now for the roster housekeeping. I had four open 40-man roster spots before signing six free agents, so I have to clear two spots. (Richards, Gregorius, and Jordan Montgomery are 60-day DL candidates, but there is no disabled list in the offseason, so they're dead spots for now.) To clear those two spots, I am designating A.J. Cole and Kyle Higashioka for assignment. If they clear waivers and remain in the organization as non-40-man roster players, great. If not, I'll survive.
Also, I have to note that we're giving up some draft picks to sign Corbin and Ryu, both of whom received the qualifying offer. We're giving up draft picks and international bonus money. The Yankees have to give up their second highest draft pick and $500,000 in bonus money for the 2019-20 international signing period each time they sign a qualified free agent. So we're giving up our second and third round picks, as well as $1M in international bonus money next signing period, to sign the two lefties. Not a big deal in my opinion.
Minor League Contracts
I am pretty confident Higashioka will clear outright waivers. Already this month catchers like Jesus Sucre and Carlos Perez have cleared waivers, and if those guys didn't get claimed, I don't think Higashioka will. Assuming Higashioka does clear, this is the tentative Triple-A Scranton lineup:
Catcher: Higashioka
First Base: Mike Ford
Second Base: Thairo Estrada
Shortstop: Tyler Wade
Third Base: ???
Outfield: Clint Frazier, Ryan McBroom, Mark Payton, Zack Zehner
Kyle Holder played only 32 Double-A games last year around injuries, so he's not really a Triple-A option come Opening Day 2019. So we need an everyday infielder and a center field capable outfielder at the very least. Plus pitching. Every team grabs pitching depth on minor league contracts in the offseason. Those David Hale types don't sign themselves, you know. My minor league contracts:
IF Christian Colon: Former fourth overall pick has been a good Triple-A player in recent years. He can play wherever the RailRiders need him. Also, he has a World Series winning hit to his credit.
RHP Drew Hutchison: The one-time Blue Jays' Opening Day starter is now a Triple-A journeyman. He's kinda the perfect "go eat innings so we don't overwork the actual prospects" depth arm.
C Rene Rivera: Veteran backup backstop missed most of this season with knee trouble. I'd let him compete for the backup job in Spring Training and stash him in Triple-A if he doesn't win it.
RHP Carson Smith: The Red Sox cut ties with Smith last week. Injuries, including shoulder surgery to repair damage caused when he threw his glove in frustration, have limited him to 23.2 innings from 2016-18. Smith just turned 29 and he was a strikeout/ground ball machine when healthy. Worth a shot on a minor league deal.
OF Matt Szczur: Szczur (pronounced See-zur) had a nice little run as a platoon bat with the Cubs before moving on to the Padres. He can run, play defense, get on base against lefties, etc.
Given their status as big league quasi-veterans, I have to think Hutchison, Rivera, and Smith will want opt-out clauses in their minor league contracts so they could go somewhere else should they not be called up by a certain date. That's fine. Give them the opt-outs. I'm just looking for depth pieces here. Guys to plug the holes in Triple-A Scranton's roster.
The Last Second Extension
One last big move to close out the offseason. After signing him to a one-year, $6.2M contract to avoid arbitration, I'm giving Hicks a five-year extension worth $80M that begins in 2020. It is effectively a six-year contract worth $86.2M. Hicks turns 30 next October. He'll spend the entire first year of the extension at that age. Dexter Fowler was 31 for the first season of his five-year, $82.5M deal with the Cardinals. Lorenzo Cain was 32 for the first season of his five-year, $80M deal with the Brewers. Hicks is younger but he also doesn't have as long a track record. Five years and $80M or so is the going rate for an above-average two-way center fielder.
As for the timing of the extension, it's all about the luxury tax. I wrote about this earlier this year. Sign a player to an extension that begins the season after next and his luxury tax number for next season is unchanged. So, for our purposes, Hicks counts as $6.2M for 2019 and then $16M annually from 2020-24. He'll end that contract as a corner outfielder, that's usually how these deals go, but center field long-term is kinda where I hope Tapia fits in. That's a problem for the future. Point is, I've got Hicks at $6.2M next year and locked up long-term as well.
Final Product
After all that, I have my luxury tax payroll at $204.84M going into 2019. Here's my spreadsheet. That $204.84 already includes money set aside for injury call-ups and September call-ups. The $1.16M remaining under the $206M luxury tax threshold is for midseason trade pickups, which isn't much, but we can make it work. Give the other team an extra prospect in exchange for eating money. That sorta thing. Anyway, here is my projected 25-man 2019 Opening Day roster.
| Catchers | Infielders | Outfielders | Rotation | Bullpen |
| --- | --- | --- | --- | --- |
| Gary Sanchez | 1B Luke Voit | LF Raimel Tapia | Luis Severino | Aroldis Chapman |
| Austin Romine | 2B Jurickson Profar | CF Aaron Hicks | Patrick Corbin | Dellin Betances |
| | SS Gleyber Torres | RF Aaron Judge | Masahiro Tanaka | David Robertson |
| | 3B Miguel Andujar | OF Giancarlo Stanton | Hyun-Jin Ryu | Chad Green |
| DISABLED LIST | IF Ronald Torreyes | | CC Sabathia | Jonathan Holder |
| Didi Gregorius | UTIL Neil Walker | | | Domingo German |
| Jordan Montgomery | | | | Wei-Yin Chen |
| Garrett Richards | | | | Revolving Door |
On the 40-man roster and in the minors: RHP Albert Abreu, RHP Domingo Acevedo, RHP Chance Adams, 1B Greg Bird, IF Thairo Estrada, OF Clint Frazier, RHP Nick Green, IF Kyle Holder, LHP Justus Sheffield, RHP Erik Swanson, LHP Stephen Tarpley, RHP Tommy Kahnle, UTIL Tyler Wade.
Wholesale changes were not needed. After all, this is a mostly young team that won 100 games this year even with Judge, Montgomery, and Sanchez missing all that time. The core is in place. We just needed to solidify the rotation and supplement the roster. Let's talk out a few other things.
1. What happens at first base? Voit was so good late last year that, at the very least, he's earned a shot to compete for a job in Spring Training. I mean, the dude hit .333/.405/.689 (194 wRC+) with 14 homers in 39 games. He had a .448 wOBA and a .441 xwOBA. Voit made loud contact and was rewarded appropriately. I'm not sure I expect him to do that again, but I'm giving him a chance to show he belongs. What if he's the next Nelson Cruz or Jesus Aguilar, the Triple-A masher who just needs an extended big league opportunity?
As for Bird, he was just so terrible this year. The numbers were ugly and he looked bad at the plate. After these last few seasons, I am not giving Bird the first base job or even a big league roster spot, nor am I giving him a chance to earn a spot in Spring Training. Go to Triple-A, stay healthy and rake, and show you belong in the show. No more gifting Bird anything. Time to make him earn it. Voit gets the first base job on Opening Day and we'll reevaluate the situation as the season progresses.
2. About the revolving door bullpen spot. An eight-man bullpen and a three-man bench is the norm now. I don't love it but that's just the way it is. Chapman, Betances, Robertson, Green, and Holder are bullpen locks. Chen came over in a salary shuffle move and we might as well use him as the long man for the time being. Who knows, maybe he'll prove useful. German's stuff is good — very good, in fact — and I want to see what he looks like in short relief. His command isn't very good but let's see if he can out-stuff guys the way Betances does.
There's no sense in picking someone for the revolving door spot. Guys cycle in and out of that final bullpen spot all year. I'd give Kahnle a leg up on the revolving door spot because he is out of minor league options and was very good last year, and it's worth seeing if he can do it again. That said, I'd give the spot to whoever looks best in Spring Training. Sheffield is the only one I'd hedge against because he's the organization's top prospect and his development is a priority, and I think he needs more Triple-A. Adams? Swanson? Tarpley? All revolving door candidates.
With Kahnle, keep in mind he'll be on a non-guaranteed contract as an arbitration-eligible player. (All pre-arbitration and arbitration-eligible players are on non-guaranteed deals.) That means that, if Kahnle doesn't look good in camp, the Yankees can release him and only owe him a fraction of his salary (either 30 days or 45 days termination pay depending on the date). That would save some luxury tax space. I'd much rather Kahnle be good and stick in the bullpen, but if things don't work out, releasing him in March is an option.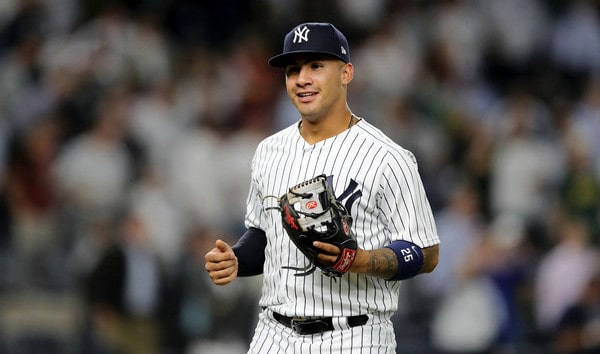 3. So what's the lineup? I do not intend for Tapia to be the everyday left fielder. I want him to play and play a lot — I didn't trade for him not to play, after all — but Stanton will see time out there, as will Profar. Profar in left frees up second base time for Walker and possibly DH time for, well, everyone. Judge, Andujar, so on and so forth. Profar's flexibility gives us some options. Don't forget about Frazier either. He could force his way into the outfield picture.
Anyway, how's this for the basic day-to-day lineup?
SS Gleyber Torres
RF Aaron Judge
DH Giancarlo Stanton
CF Aaron Hicks
3B Miguel Andujar
C Gary Sanchez
1B Luke Voit
2B Jurickson Profar
LF Raimel Tapia
Too early to trust Gleyber in the leadoff spot? I don't think so. Hicks is the most qualified leadoff hitter on the roster, but, if he bats leadoff, that means you've got five or six right-handed hitters in a row in the middle of the lineup. I don't mind that. Aaron Boone does though, based on this season. As long as Judge, Stanton, and Hicks bat in the top four spots somewhere with Andujar and Sanchez not too far behind, the lineup works for me.
4. Andujar still at third base? Really? Yeah, really. I'm cool with giving the 23-year-old another year at the position. As poorly as he played defensively this year, Andujar was a rookie experiencing big league life for the first time. Now that he's got his feet under him a bit and knows what to expect in his second season in MLB, hopefully he shows some improvement. Walker can still be Sabathia's personal third baseman and we can continue to remove Andujar in the late innings with small leads. I'm sticking with him as my starting third baseman right now.
5. What happens when Gregorius returns? Worry about it when the time comes. Unless he loses a bunch of arm strength following surgery, he's the shortstop when he comes back. I know that much. That could mean Gleyber to second and Profar into a supersub role, or Gleyber to third and Andujar to DH, or Gleyber to Triple-A because he's struggling. Who knows? I'm not planning anything around Gregorius. Let him complete his rehab and get game ready. We'll see where we're at once he's ready to return to the Yankees and rearrange things accordingly.
6. What did we accomplish, exactly? The goal each offseason is to strengthen the organization, both for the upcoming season in beyond. In the short-term, we've added a Gregorius replacement and rotation reinforcements. In the long-term, we've added a potential center fielder as well as five average-or-better players (Corbin, Profar, Richards, Robertson, Ryu) with control beyond 2019. The rotation is in better shape and both Profar and Tapia are two talented up-the-middle guys who are still in their mid-20s. Without really sacrificing anything off the MLB roster, I think we've done a nice job adding short and long-term impact to the organization.