The Yankees acquisition of Lance Lynn was initially met with a bit of puzzlement. The issue wasn't the trade itself, as few were upset about the loss of Tyler Austin and Luis Rijo; rather, folks were concerned about the perceived downgrade from Adam Warren (dealt that same day for international bonus money), as well as Lynn's generally poor performance through the trade deadline. I counted myself among the people focused on the latter:
Lynn has a 7.08 ERA away from Minnesota this year, and a 6.28 ERA in his last six starts. He was awful in April, good in May and June, and awful in July. Make of that what you will. https://t.co/DyUlKpxjrB

— Domenic Lanza (@DomenicLanza) July 30, 2018
There was also a question of approach with Lynn, who had thrown more fastballs than any pitcher this side of Bartolo Colon prior to the trade. Put that all together and the Yankees had acquired a pitcher with a 5.10 ERA (4.72 FIP) and hideous 5.5 BB/9 in 102.1 IP, who also didn't quite jibe with the team's approach. How'd that work out?
Mostly well, I would say. Though, his tenure with the Yankees does break down into four distinct stages.
Strong Early Returns
Lynn made his pinstriped debut on August 1, coming in to relieve a struggling Sonny Gray in the third inning. He promptly allowed an inherited run to score, but he settled down in short order, and gave the rest of the Yankees bullpen some desperately-needed rest. He ended up pitching 4.1 otherwise scoreless innings, allowing 5 hits and no walks, striking out 5.
The 31-year-old shifted to the rotation after that, and made Brian Cashman look like a genius in his first two turns. He tossed 7.1 scoreless innings against the White Sox (along with 9 strikeouts), and followed that up with a 5 IP, 1 run effort against the Rangers (with 8 strikeouts). And he did that without changing his fastball-heavy approach: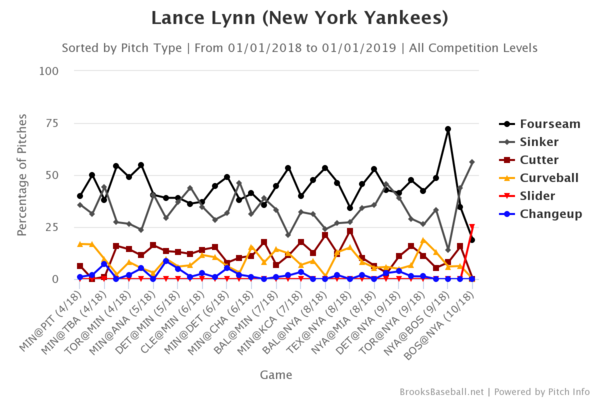 In his last start with the Twins, he threw over 90% fastballs (as in his four-seamer, sinker, and cutter); in his first three times out for the Yankees, he averaged 89.5% fastballs. This is who he is, and the coaching staff clearly had no interest in changing it – and why would they, when it's working?
And then it stopped working.
Four Bad Starts
Okay, maybe it's unfair to say that it stopped working entirely. Four starts is only four starts, after all. But when a pitcher that had a 5.10 ERA through 20 starts looks good for three games and then posts a 9.16 ERA in those four starts, it might be cause for concern.
Though, to be fair to Lynn, his underlying numbers did suggest that there was a ton of bad luck here. In 18.2 IP, Lynn racked up 22 strikeouts against 6 walks, allowed just one home run, and had a solid 47.7 GB%. And he allowed a league-average amount of hard contact in three of the four starts, so it isn't as though the opposing teams were hitting rockets all over the field, either. He nevertheless had a .469 BABIP in those starts, which led to 31 hits and a bunch of runs. Such is the life of a pitcher.
Four Good Outings
Lynn sorted himself out down the stretch, though, and closed out the season strong. He made four more appearances (three starts), pitching to the following line: 19.0 IP, 15 H, 4 BB, 17 K, 49.1 GB%, 2.37 ERA, 2.69 FIP.
All told, Lynn was solid with the Yankees. He posted a 4.14 ERA (2.17 FIP) in 54.1 IP, with strong strikeout (10.1 K/9), walk (2.3 BB/9), and groundball (47.4%) rates. And with Luke Voit tearing the cover off of the ball, the loss of Austin didn't mean much of anything. It was a good deal for the Yankees that played a very real role in them winning homefield advantage for the Wild Card game.
So what about that fourth stage?
The ALDS
Lynn did his part to keep the Yankees in game one, pitching two scoreless innings of relief. That was huge. His next outing … not so much.
It's difficult to lay blame at the feet of anyone in particular for the 16-1 drubbing in game three (though most fans blame Aaron Boone), but Lynn played as big a role as any pitcher (to say the least). He came in to relieve Luis Severino with the bases loaded and none out, and promptly walked in a run, and then allowed a bases-clearing double. A groundout and a single later, and Lynn was back on the bench; Chad Green allowed both of his inherited runners to score, as well.
It's not worth reliving this any further but, for many – myself included – this is the lasting memory of Lynn as a Yankee.
What's Next?
Lynn is a free agent and, as was the case last off-season, I expect him to sign yet another one-year 'prove it' sort of contract. The free agent climate may be more favorable to players this year, but he was also much better in 2017 (3.43 ERA in 186.1 IP) than he was in 2018 (4.77 ERA in 156.2 IP).
Will that contract be with the Yankees? I don't see it, but it wouldn't quite shock me, either. Do I want Lynn back in pinstripes? No – but it wouldn't be the worst thing in the world.