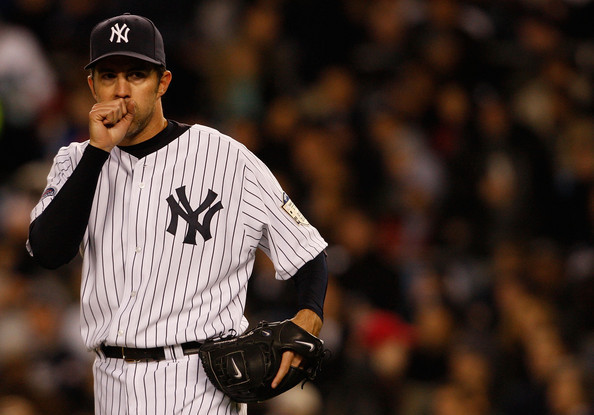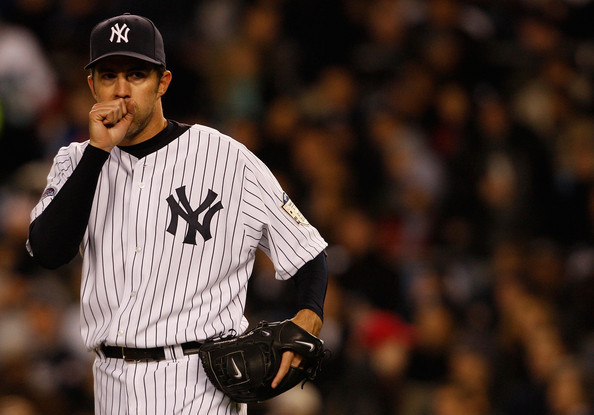 Aside from a few scattered trade rumors, new comments from Hal Steinbrenner and the usual free agent speculation, it's a been a quiet week in Yankeeland—exactly what we'd expect at this time in the offseason. That relative tranquility means it as good a time as ever to revive the annual argument that former Yankee Mike Mussina belongs in the Hall of Fame.
Mussina was an excellent Yankee, sporting a 3.88 ERA (114 ERA+) across 1,553 innings and eight seasons. He was a 5 win pitcher in four of those eight seasons. He is one of the best pitchers to don the pinstripes in recent history and is among the very best free agent signings the Yankees have ever made—a fact that would come up more were his tenure, like Jason Giambi's, not sandwiched in between championships. Also like Giambi, he played a pivotal role in keeping the Yankees alive in Game 7 of the 2003 ALCS and paved the way for Aaron Boone's heroism.
Mussina will enter 2019 in his 6th year as a potential Hall of Fame inductee with the odds in his favor: players need to be named on 75 percent of the ballots and Mussina's share has grown steadily each year he's been eligible. He came closest last year when he was named on 268 ballots (63.5 percent of the vote) and if you scan this year's cast, it becomes clear that many of his SP peers have candidacies riddled with controversy over either steroids or more grotesque reasons.
In other words, Mussina has a good chance to finally be enshrined in 2019.
His candidacy is a bit of a strange one because his numbers and accolades don't immediately stand out: he never won a Cy Young or World Series, never led the league in strikeouts and only once led the league in ERA and wins (in separate years, nonetheless). Moreover, he was never truly the best pitcher in a league he shared with Pedro Martinez, Roger Clemens and Randy Johnson. But a deeper dive does reveal that Moose is indeed deserving of Cooperstown.
Mussina was a consistently excellent pitcher for 18 seasons, pitched entirely in the steroid-era AL East, compiling 270 wins, 2,813 strikeouts, a 3.68 ERA (123 ERA+) and 83 career WAR. The latter number ranks higher than Nolan Ryan, Tom Glavine and Curt Schilling, for what it is worth. He was just shy of reaching the 300-win, 3,000 strikeout club, but he retired after a 20-win 2008 season.
In addition to his trademark knuckle-curve and competitive spirit, Mussina boasted a deep arsenal—including a 4 seam fastball, cutter, changeup and splitter—that he could locate with ease, walking only 5.4 percent of the 14,593 batters he faced (2 per 9 innings pitched). He struck out nearly 20 percent of those batters and conceded less than one home run per 9 innings pitched in the heart of the steroid era. His repertoire was unique and it was filthy, the engine beneath a long and dominant career as a pitcher in the most offense-heavy era in league history.
There is something to be said for consistent excellence, and for a 12-season stretch from 1992-2003, that's exactly what he was. Mussina averaged 215 IP a year with a 3.55 ERA (128 ERA+) over that stretch. For good measure, he sprinkled in remarkably similar seasons to that standard in both 2006 and 2008, rounding out a career worthy of Cooperstown by finally winning 20 games in a season at age 39 in his final season.
Baseball-Reference's Hall of Fame Scores highlight the disconnect between the fact that Moose was never the league's best pitcher but was consistently excellent and among the best. The Black Ink score assigns a score for each category in which a player led the league in a particular year. The average Hall of Famer has a score of 40; Mussina 15. But its Gray Ink score, which does the same for each category in which a player was among the top 10 in a particular year, is much more favorable: Moose scores a 250 while the average Hall of Famer scores 185. Jay Jaffe's JAWs method, another Baseball-Reference tool, ranks him 29th all-time among starters.
In other words, Mussina was always among the best but never the best himself. Falling just short, unfortunately, was a trait that plagued his entire career. Dominant postseasons with the Orioles went to waste, as they did with the Yankees—Mussina started Game 5 of the 2001 World Series to help give the Yankees a 3-2 lead and won Game 3 of the 2003 World Series to give the Yankees a 2-1 lead, but they didn't win another game in either series. And he famously gave up a 9th inning, two out, two strike base hit to Carl Everett to blow a perfect game in Fenway Park.
Enshrining Mike Mussina in the Hall of Fame will do more than make those near misses and close calls sting (just a little) less. It would also ensure that he is permanently recognized for what he absolutely was: one of baseball's very best pitchers.