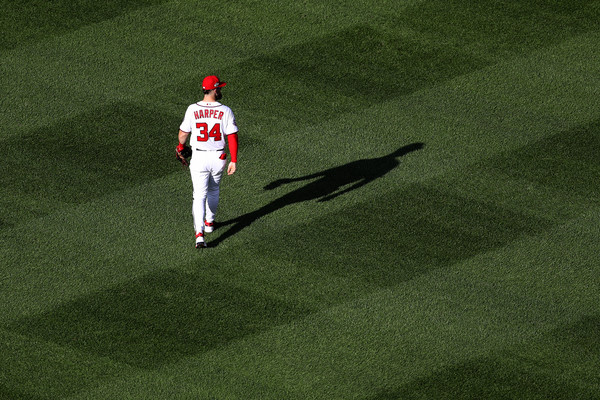 As of this writing, the Yankees seemingly do not have a demonstrative need for an outfielder. Last year's regulars Aaron Judge, Aaron Hicks, Giancarlo Stanton, and the re-signed Brett Gardner are all under team control, as are injury question marks Clint Frazier and Jacoby Ellsbury. And, with the possibility of another year of budgetary constraints appearing likelier with each press conference, the very real needs in the infield and the rotation are much more pressing.
But does any of that matter when discussing a generational talent?
Background
Bryce Harper's road to professional baseball was big-time news as early as 2009, when he graced the cover of Sports Illustrated with a headline reading 'Baseball's Chosen One:'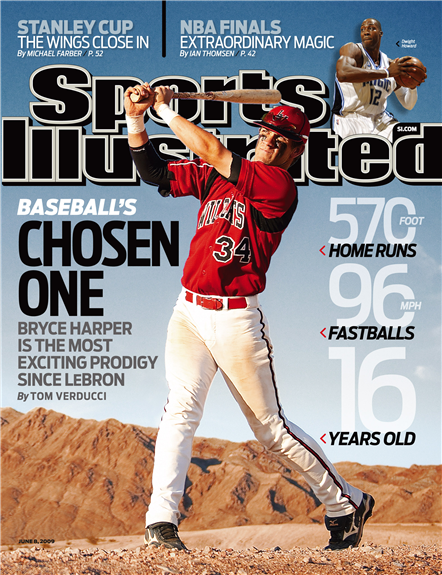 The 16-year-old prodigy earned his GED two years early in order to be eligible for the 2010 draft. He attended the College of Southern Nevada in the interim – a school chosen due to both its proximity to his home and the division's use of wooden bats – and was absolutely dominant. Harper, who spent the entirety of the season at 17, hit .443/.526/.987 with 31 home runs and 20 steals in 228 AB, and took home the Scenic West Athletic Conference Player of the Year award, as well as the prestigious Golden Spikes Award.
And, as most everyone reading this knows, he went first overall to the Washington Nationals in the 2010 draft – and he was in the show less than two years later.
Offensive Performance
To say that Harper has lived up to his hype would probably be a bit untrue. It's difficult to argue against his Rookie of the Year, MVP, or six All-Star appearances in seven seasons; at the same time, however, there is a sense that he has been a disappointment relative to expectations. Let's take a look:
| | AVG/OBP/SLG | wRC+ | HR | SB | K% | BB% | PA |
| --- | --- | --- | --- | --- | --- | --- | --- |
| 2012 | .270/.340/.477 | 121 | 22 | 18 | 20.1% | 9.4% | 597 |
| 2013 | .274/.368/.486 | 137 | 20 | 11 | 18.9% | 12.3% | 497 |
| 2014 | .273/.344/.423 | 115 | 13 | 2 | 26.3% | 9.6% | 395 |
| 2015 | .330/.460/.649 | 197 | 42 | 6 | 20.0% | 19.0% | 654 |
| 2016 | .243/.373/.441 | 111 | 24 | 21 | 18.7% | 17.2% | 627 |
| 2017 | .319/.413/.595 | 155 | 29 | 4 | 20.1% | 13.8% | 492 |
| 2018 | .249/.393/.496 | 135 | 34 | 13 | 24.3% | 18.7% | 695 |
Put that all together, and you have a career norm of .279/.388/.512 (140 wRC+), with an average of 30 home runs per 650 plate appearances. That's great! The issue to many, however, is that his year-to-year production is kind of all over the place. His 10-win 2016 season is sandwiched between two middling seasons, and his last four years have alternated batting title contention and sub-.250 marks – and that's frustrating, to say the least.
What we do know, however, is that he has always hit for big-time power, and his discerning eye at the plate has never really slipped. Sure, both with shift between great and elite – but having a baseline of 'great power' and/or 'great discipline' is tough to argue against. And, even in a year with an ugly looking batting average, Harper still sported a 135 wRC+, which was good for 15th in all of baseball.
Focusing specifically on last season, we can see that Harper's overall line was sort of done in by a terrible June, when he hit .188/.333/.341 (86 wRC+). Here it is in graph form: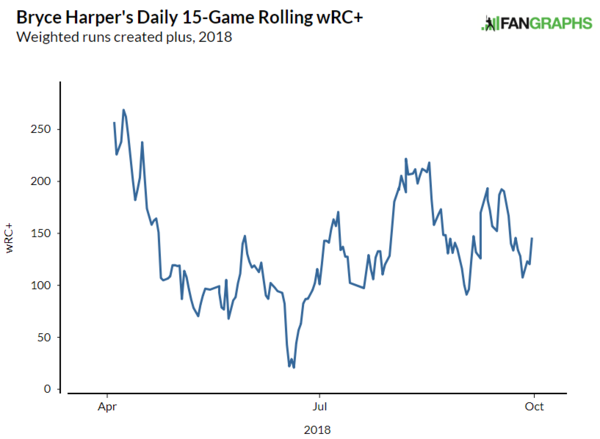 Harper posted a 138 wRC+ through May 31, and a 148 wRC+ from July 1 through the end of the season. You can't just ignore a bad month, to be sure – but his bottom line was dragged down significantly by that month, and he still ended up as one of the best hitters in all of baseball. And that is who he has been more often than not since debuting as a teenager in 2012.
Defensive Performance
Harper has played all three outfield positions throughout his career, but has primarily served as a right-fielder since 2015. And for his career, he's roughly an average defender in right, posting -0.6 UZR/150, -2.1 DRS/150, and/or +3 total zone per 1200 innings. Those numbers universally agree that he was awful this year, though, checking in at -15.4, -16, and -22. Ouch.
He played a fair amount of center this year, too, logging 477.1 innings. The numbers, as you can imagine, are far worse there. Though, in a career of small sample sizes in center, Harper also grades out as average-ish there. That doesn't mean that a team should sign him as their center-fielder – but it is representative of his athleticism and skill.
A great deal has been made of this drop-off, with some suggesting that it was a problem of focus (or effort). And that's not something that you want to hear, especially for a player that is purportedly hoping to shatter some contract records. It may also have something to do with Harper making a conscious effort to stay healthy (more on that in a bit), as he has injured himself more than once due to some all-out effort in the field and on the bases. Either way, it's something to watch.
Injury History
This is where things get dicey.
Harper played a career-high 159 games this year, and logged a career-high 695 PA and 1338 innings in the field as a result. It was only his third time playing over 140 games or locking more than 600 PA, though. And that's because Harper has been hurt over and over again throughout his career. Here's are the big ones:
2013 – knee bursitis stemming from a collision with the outfield wall (31 games)
2014 – left thumb surgery as the result of sliding into third base (57 games)
2017 – hyper-extended left knee and bone bruise suffered from slipping off of a wet base (45 games)
And there have been nagging injuries most every year, to boot. He has hurt both shoulders running into the wall, jammed multiple fingers on the base paths, and has required stitches from lacerations from both (as well as a broken bat). All of these injuries stem from his style of play, though; that is, he plays all-out at all times.
Or, that is, he used to. The questionable outfield effort and his career-highs in time on the field may stem from Harper's conscious effort to stay healthy as he entered free agency, and it's difficult to blame him for that. If that is the reason why his defense slipped, though, the hope is that he can find a happy medium between not trying on defense, and breaking his body in his 20s by going at 100 MPH from wire to wire.
Contract Estimates
Defenders of ownership's checkbooks may want to look away:
Jim Bowden (subscription req.) – 10 years, $320 MM ($32 MM AAV)
FanGraphs – 10 years, $330 MM ($33 MM AAV)
MLBTR – 14 years, $420 MM ($30 MM AAV)
Harper turned 26 a few weeks ago, and has been one of the best hitters in baseball throughout his career – were you expecting anything else? Players of his caliber and age simply do not reach free agency all that often, so any team with a hope of signing him has to be ready, willing, and able to pony up the dough.
Does He Make Sense for the Yankees?
The Yankees may not have clear-cut room in the outfield for Harper, but they do have a need at first base – and Scott Boras has already made it clear that his client is more than willing to make the move. Harper has taken grounders there on and off for years, so the transition may not be as difficult as it would in normal circumstances. Moreover, with the new norm of shortening benches, the ability to play first and the outfield would be a boon.
And, while I wouldn't endorse Harper playing center, it's worth noting that the aforementioned Hicks might be one of the Yankees best trade chips, and he's just a year from entering free agency. It might be worth exploring dealing Hicks for an arm, starting Harper in center, and using Gardner as a defensive replacement. It's not a perfect idea – but the notion of having an outfield of Stanton, Harper, and Judge is drool-worthy.
It's also worth remembering just how young Harper is. He's six months younger than Aaron Judge, but comes with a much longer track record. Again, those sorts of players almost never hit the market. And he'll cost nothing but cold, hard cash (and the Yankees second-highest 2019 pick and $500,000 in IFA bonus money, but still).
The need might not be entirely there, but the fit is unquestionable. A patient, powerful left-handed hitter in that lineup (and in that park) is ideal, and Harper is the best option available by a long shot. And I believe that he is the sort of talent that you make moves for – even if it's only handing him a first baseman's mitt and hoping for the best.