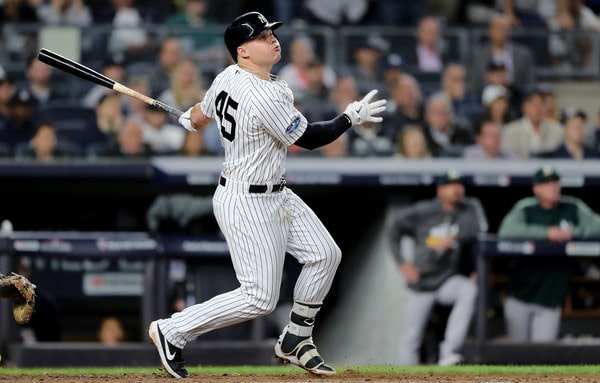 All offseason long the focus for the Yankees has been pitching, pitching, and more pitching. Starters, primarily, but also bullpen help as well. And they need a Didi Gregorius replacement too. Almost everything we've seen and heard this winter has revolved around pitching and a middle infielder to replace Gregorius. That's pretty much it.
Despite positional uncertainty, we've heard basically nothing about the Yankees looking for first base help this winter. Nothing other than Brian Cashman essentially shooting down speculation the Yankees could sign Bryce Harper to play first base. That has been the extent of the team's first base rumors this offseason. Cashman saying Harper is a non-option at the position.
At the moment the Yankees are slated to go into next season with Luke Voit at first base and Greg Bird trying to reclaim the position. Cashman and Aaron Boone both kinda sorta indicated Voit will be the starter next year during their end-of-season press conferences, but stopped short of calling him the starter outright.
"(Voit) certainly came over here and was given that opportunity and took it and kicked the door in," said Boone. "I'm sure there will continue to be competition on all kinds of levels. The one thing with Greg that I never lost is we've seen him be an impact player at times in his career … This year, in a lot of ways, was a little bit of a lost season for him."
At the very least, Voit's late season performance has earned him a long look in Spring Training. I am forever skeptical when it comes to 27-year-old rookies, especially when they're right-handed hitting first basemen, but the Yankees owe it to themselves to find out whether Voit is a late bloomer a la Nelson Cruz and Jesus Aguilar, you know?
As for Bird, who knows? He's now into his arbitration years and the idea that he'll be a left-handed hitting complement to the right-handed Aaron Judge and Gary Sanchez is fading with each injury. That said, it wouldn't surprise me to see him wrestle the first base job way from Voit at some point next year. We've seen Bird do some great things. Not often enough, but we've seen flashes.
Given the lack of rumors to date, the Yankees seem to believe they're set at first base with Voit and Bird. Mike Ford and Ryan McBroom are the Triple-A first base depth and both were just passed over in the Rule 5 Draft, so the rest of MLB doesn't view them highly. Voit and Bird it is. Three things about this.
1. There's only room on the roster for one of these guys. A Voit/Bird platoon isn't going to happen. I mean, it might, but probably not. The Yankees have fully embraced the eight-man bullpen/three-man bench lifestyle and using two of those three bench spots on a backup catcher and a first base only guy doesn't make much sense, especially since the other first baseman is another first base only guy. It really limits roster flexibility.
2. Adding a first baseman at the deadline should be easy. There are always more first base types than roster spots. Last offseason we saw Lucas Duda, Logan Morrison, and others wait until Spring Training started to sign. I'm sure others are facing the same fate this offseason. Here's a quick list of potential first base trade deadline targets on rebuilding teams:
Blue Jays: Justin Smoak
Orioles: Mark Trumbo
White Sox: Jose Abreu and Yonder Alonso
The Brewers aren't rebuilding but we should include Eric Thames in here seeing how he's stuck behind Aguilar and also Ryan Braun, who's started playing first base. Thames as well as everyone listed above would be a rental pickup. No contract obligations beyond 2019. If necessary, the Yankees shouldn't have much trouble finding a first baseman at the deadline, at least in theory.
3. The Yankees have offense to spare. Even with the relatively unproven Voit at first base and Tyler Wade penciled in as Sir Didi's replacement, FanGraphs projects the 2019 Yankees as the second highest scoring team in baseball. The run prevention is expected to improve next year with J.A. Happ and James Paxton replacing Sonny Gray and the fifth starter parade, so, in theory, the Yankees can roll the dice at first base.
I don't love this line of thinking, but the Yankees are in position to try Voit and Bird at first base, and see what happens. Maybe Voit is actually the next Cruz or Aguilar. Or maybe Bird manages to stay healthy and hit. If it happens, great. If not, well, the Yankees have enough offense to get by, and there should be plenty of first base options available in July. Point is, the Yankees can afford to be patient.
* * *
This current free agent class is really thin on first base help and that probably helped convince the Yankees to commit to Voit and Bird. The best free agent first baseman on the market this winter was probably Steve Pearce. Had Abreu or Paul Goldschmidt or Matt Carpenter or someone like that been a free agent this offseason, I imagine we would've heard much more about the Yankees looking for an upgrade at first base.
Instead, the free agent market is mostly barren, and Voit hit well enough (more than well enough, really) this past season to buy himself another look next year. The Yankees were in this same spot with Bird a few years ago, right? He performed well late in 2015 and it was enough to convince the Yankees they didn't need to import first base and DH depth behind Mark Teixeira and Alex Rodriguez. Bird was the guy. That didn't work out, unfortunately.
First base has been a black hole in the Bronx since 2015. From 2016-18, the Yankees received a .230/.306/.426 (95 wRC+) line from their first basemen. Among the 30 teams that ranks 28th/26th/25th (26th). First base has been a real problem since Teixeira's (and Bird's) last good season in 2015. And yet, the Yankees seem content to go into next season with Voit and Bird at the position. There have been very few first base rumors this winter.
Sitting out the first base market this offseason could very well — and very quickly — prove to be a mistake. I would stop short of calling it a potential colossal mistake because there is always first base help available, but the Yankees are taking a bit of a risk here. They're using their resources (payroll space, trade chips, etc.) to address other needs and winging it at first base. There's still plenty of time to make a move, but right now, Voit and Bird are the answer.