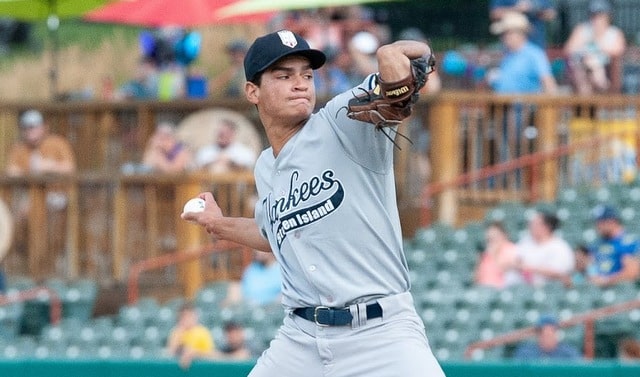 Frank German | RHP
Background
German, 21, was born in Queens and he grew up about a half hour north of Tampa in Spring Hills, Florida. He was not a significant pro prospect coming out of Bishop McLaughlin Catholic High School — Baseball America (subs. req'd) didn't rank him among the top 500 prospects for the 2016 draft — so he went undrafted and followed through on his commitment to the University of North Florida.
As a freshman with the Ospreys, German split time between the rotation and bullpen, and finished the season with a 4.91 ERA and 22/13 K/BB in 33 innings. He pitched for the Madison Mallards of the wood bat Northwoods League that summer and threw 45 innings with a 2.60 ERA and 38/22 K/BB. Baseball America (subs. req'd) did not rank him among the top ten prospects in the circuit after the season.
German moved into the rotation full-time as a sophomore and was dominant, posting a 2.43 ERA with 76/26 K/BB in 81 innings. That earned him a spot on the All-Conference First Team and put him on the 2018 draft map. So did his stint with the Wareham Gateman of the Cop Cod League that summer. German struck out 17 in 12.2 relief innings, though Baseball America (subs. req'd) didn't rank him among the league's top 30 prospects.
As a junior this past spring German emerged as one of the best college pitchers in the country. He threw 91.1 innings with a 1.58 ERA and 108/14 K/BB, and was again named to the All-Conference First Team. German was also a semifinalist for the Golden Spikes Award, which is given annually to the best amateur player in the country. It's not quite the equivalent of the Heisman Trophy (high schoolers can win it, technically), but it's close.
Baseball America (subs. req'd) ranked German as the 157th best prospect in the 2018 draft class while MLB.com ranked him 191st. The Yankees selected him with their fourth round pick, the 127th overall selection, and signed him within a week of the draft to a below-slot $347,500 bonus. Slot money for the 127th overall pick was $430,400. German is the highest draft pitcher (and third highest drafted player overall) in North Florida history.
Pro Debut
The Yankees took it easy on German after his big college workload, plus the fact he pitched spring and summer ball the previous two years. He made one tune-up appearance in the rookie Gulf Coast League before moving up to Short Season Staten Island, where he made six starts and five relief appearances. All told, German threw 28.1 innings with a 2.22 ERA (1.44 FIP) and 38/6 K/BB for Staten Island. That works out to a 33.3% strikeout rate and a 5.3% walk rate. German did not participate in Instructional League after the season for workload reasons.
Scouting Report
The Yankees have already worked their arm strength magic with German. He saw his fastball jump into the 94-96 mph range with a few 98s in pro ball after sitting mostly 90-94 mph in college. The Yankees have a knack for getting their pitching prospects to add velocity and German is the latest example. He was 94-96 mph with Staten Island and we'll see whether he holds it across a full season in 2019.
German's breaking ball sat somewhere between a curveball and a slider in college and the Yankees are working with him to firm it up into a true slider. It's a hard low-to-mid-80s offering that has flashed swing-and-miss potential throughout his career. He also has a sneaky good mid-80s changeup that tumbles down and away from left-handed batters. German has the makings of three quality pitches and he's not shy about pitching in the strike zone.
German has good size (6-foot-2 and 195 lbs.) and good athleticism, and he repeats his delivery fairly effortlessly. Going forward, the question is whether he can develop that slurvy breaking ball into a legitimate out pitch. If he does, he has enough fastball and enough command and enough of a third pitch to start long-term. If not, German will probably settle into a relief role, and there's nothing wrong with that nowadays.
2019 Outlook
The Yankees have a ton of good lower level pitching prospects and the numbers crunch may determine German's ultimate 2019 assignment. Normally an Opening Day assignment to High-A Tampa would be the likely outcome for a prospect like this. Albert Abreu, Freicer Perez, and the Garcias (Deivi and Rony) may already be ticketed for Tampa though, leaving just one available rotation spot. Even if he gets pushed down to Low-A Charleston to begin the season, I don't expect German to stay there long. My money's on him finishing 2019 with Double-A Trenton no matter what path he takes to get there.
My Take
I like German. Probably more than I should. I like that he's already added some velocity (again, we'll see if it sticks) and I like that he already has a pretty good changeup. Yeah, he does have to figure out his breaking ball, but what do you expect from a fourth round bonus pool saving pick? (Some of the $82,900 the Yankees saved with German went to second rounder Josh Breaux.) You're not getting three MLB ready pitches and command in the fourth round.
I'm not sure the numbers will tell us a whole lot about German next season. As successful as he was in the Atlantic Sun Conference the last two years (ASUN is an MLB pitcher factory), I'm not sure Low-A and High-A hitters will challenge him much. Throw enough strikes with the fastball and flash a good secondary pitch and you'll do okay in Single-A ball. We might not learn much about German until he reaches Double-A, which of course could be as soon as next year. I don't see a future star or anything, but I think the tools are there for German to be a useful big leaguer in the future.