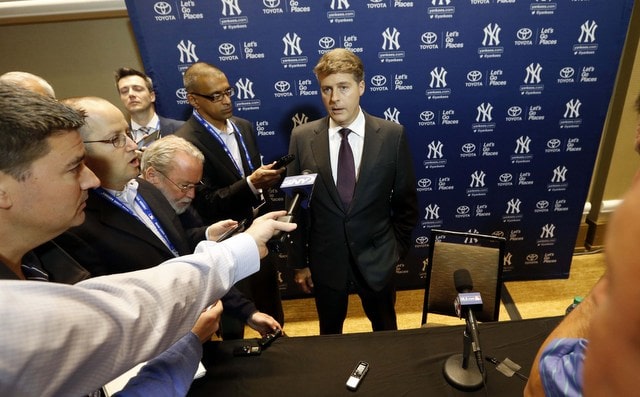 With little sizzle to the Yankees' stove since the James Paxton trade, I find myself thinking more about the Yankee organization more than the Yankee roster lately. Over the last few weeks of the offseason, I've expressed frustration at the Yankees for not going out and spending to bring in Bryce Harper and Manny Machado. I'm not alone in that feeling and from their point of view, neither are the Yankees.
Once again, free agent spending is down league-wide and we've heard of only two other teams–the White Sox and Phillies–as being in on Machado. Considering his talent and his age, that's patently absurd. He would help literally every team and literally every team could afford him; they just choose not to. But as I reflect on baseball's current situation, I can't help but feel a twinge of responsibility.
I don't bear any real responsibility for what's going on; my ego may be big, but I'm not delusional. What I mean is that the analytical way I've come to think about the game–as many of you have–is now the norm across baseball. With so many front offices thinking and operating in the same general way, of course the hot stove is going to be slower, especially since that thinking is driven by the pursuit of efficiency.
This new way of thinking, however old it may be now, won out over the actual old ways of thinking (or co-opted those ways), which is essentially what "we" wanted. Years later, we're reaping what we sowed and its led to this cold hot stove season. At its core, this way of thinking is about finding value and exploiting it using whatever resources you have. And that's why it's so frustrating that the Yankees seem to be hoarding their myriad resources.
The way George Steinbrenner wanted to run things–throwing money at whomever and whatever player came by–was not always a good thing. When Hal Steinbrenner took over, after Brian Cashman had already straightened things out on the baseball operations side of things, I thought we were going to get the best of both worlds: an analytical juggernaut, armed with the best quality data and the money to back it up. That's what we were set up for with Plan 189 or 197 or whatever it was that led to punting 2013-2014 and selling off pieces in 2016 (which was totally the right move at the time).
Regardless of how frustrating it may have seen at times, the plan more or less worked out and the Yankees have the flexibility to spend right now and have two generational talents on the market in Machado and Harper. They have the room to fit them on the roster. They have a team with a wide-open window that will never be more wide open than it is now. And that's what makes their apparent reluctance to engage with these high-end players so maddening. It's right there for them, but they're not taking the prize. No player–or two players–can guarantee a championship, but they can sure go a long way towards helping. The Yankees have sowed some opportune seeds; it's time to reap them before it's too late. Otherwise, it'll appear that the Yankees are just going to reap what analytics have sowed: a concern with efficiency and cost control placed before a concern with winning.