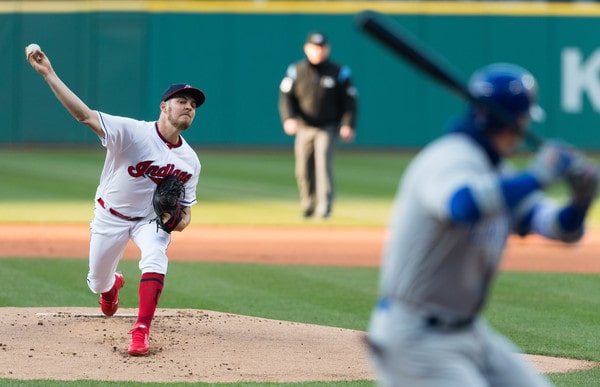 When Patrick Corbin agreed to his six-year contract with the Nationals last week, the Yankees missed out on the best chance to add a pitcher who's demonstrated top of the rotation ability for nothing but cash this offseason. Dallas Keuchel has a Cy Young to his credit but it's been a few years since he pitched at that level. Charlie Morton had ace moments this year before finishing the season hurt. J.A. Happ? He's fine. That's about it. Fine.
The Yankees have already added one starter with top of the rotation ability in James Paxton and, to make it happen, they had to trade prospects. They'll have to trade prospects (or big league players) to get another pitcher of that caliber. They'll have to trade players and find a willing trade partner, which isn't always easy because high-end starters rarely hit the market. Those guys are crazy valuable and teams try to keep them as long as possible.
Fortunately, one such trade partner exists, and they have two top of the rotation starters to peddle. Earlier this offseason the Indians indicated they're willing to entertain trade offers for their starters and, in the wake of Carlos Carrasco's incredibly team-friendly extension, Ken Rosenthal reports Cleveland will trade either Corey Kluber or Trevor Bauer. Not may trade, will trade. The Indians need to get their payroll in order and the rotation will be the casualty.
Kluber is excellent and has been for years now. Bauer really came into his own this past season before a comebacker broke a bone in his leg in August and forced him to return as a reliever late in the year simply because there wasn't enough time to get him stretched back out as a starter. An unfortunate fluke injury through and through. Kluber is the big name here but is Bauer the better trade target? Let's compare the pros and cons.
Reason to trade for Bauer: He's younger
Five years younger, in fact, and that's significant. Bauer turns 28 next month and Kluber will turn 33 in April. Kluber, as good as he is, has started to show some signs of decline, specifically in his fastball velocity and his slider whiffs-per-swing rate. Bauer is trending in the other direction. He's on the way up. And, even if you think 2018 was Bauer's peak, his age theoretically makes him a better bet to maintain that level of performance going forward than Kluber. I'm not sure either guy offers more upside than the other, but Bauer does have age on his side.
Reason to trade for Kluber: He's more luxury tax friendly
Not only is it two years of control (Bauer) vs. three years of control (Kluber), the luxury tax calculation favors Kluber the next two (and likely three) years, albeit slightly. Here's the salary comparison:
| | Bauer | Kluber |
| --- | --- | --- |
| 2019 | $11.6M arbitration projection (via MLBTR) | $17M ($11.7M luxury tax hit) |
| 2020 | $18M arbitration guesstimate | $17.5M club option ($16.5M luxury tax hit) |
| 2021 | Free agent | $18M club option ($18M luxury tax hit) |
Bauer is arbitration-eligible the next two years and that creates some cost uncertainty. If he repeats his 2018 numbers in 2019, he could easily end up with $20M+ in 2020. Kluber's salaries and luxury tax hits are locked in. His take home salary will exceed Bauer's next year but his luxury tax hit will be about the same, and he'll almost certainly that the lower luxury tax number in 2020, and the Yankees seem more concerned with the luxury tax payroll than actual money spent.
Reason to trade for Bauer: He's on the upswing
Prior to the leg injury this year Bauer made 25 starts and threw 166 innings with a 2.22 ERA (2.38 FIP) with average ground ball (44.2%) and walk (8.2%) rates and an excellent strikeout rate (31.5%). In the second half last season Bauer threw 83.2 innings with a 3.01 ERA (3.68 FIP) and very good strikeout (26.7%) and walk (7.5%) rates. That's after a 5.24 ERA (4.06 FIP) in the first half. Look at this: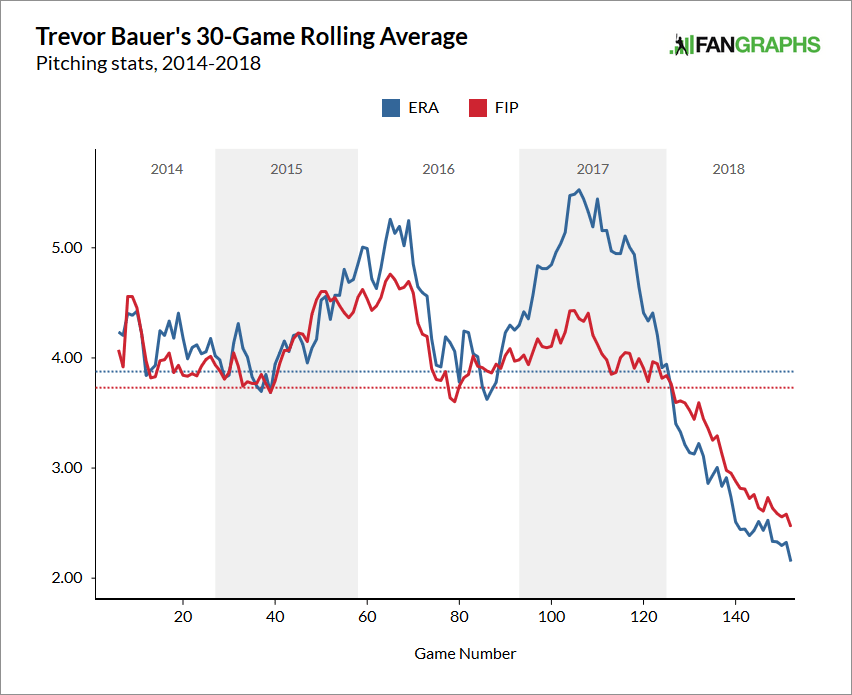 We've seen a lot of random one-year aces. Esteban Loaiza in 2003 is the gold standard for random one-year aces and, in recent years, others like Ubaldo Jimenez and Ricky Romero had their moments as one of those "oh wow he's an ace now … nevermind" guys. The fact Bauer's breakout dates back to last year suggests this is more than a fluky one-year blip. He's a soon-to-be 28-year-old former top prospect entering his prime. That's a good time to get a guy, you know?
Reason to trade for Kluber: Bauer has some home run regression coming
The single biggest reason for Bauer's improvement this past season was his sudden ability to limit home runs. From 2014-17, he ran a 1.09 HR/9 (11.9% HR/FB) rate. That is more or less league average. This past season Bauer managed a 0.46 HR/9 (6.2% HR/FB). Hmmm. Put him in Yankee Stadium and the AL East and his home run rate will inevitably climb because that's the environment.
It's also likely Bauer will experience some natural homer regression because almost no one is a true talent 6.2% HR/FB pitcher. Batted ball data goes back to 2002 and, among the 444 pitchers to throw at least 500 innings since then, Mariano Rivera has the lowest homer rate at 6.5% HR/FB. The lowest by a starter belongs to Jason Schmidt (7.6% HR/FB). The lowest by an American League starter belongs to Justin Verlander (8.6% HR/FB). So either Bauer's true talent is suddenly the best home run suppressor of the last 16 years or he's in for some home run rate correction next year. My money's on the latter.
Reason to trade for Bauer: He'll probably come cheaper
An additional year of control combined with a much longer track record of excellence suggests it should cost more to acquire Kluber. That said, Kluber is older, and the market will be driven by supply and demand more than anything. Also, Bauer will be cheaper in 2019. The luxury tax hit will be similar, but in terms of actual salary, Bauer will be cheaper. I still think the extra year of control and track record points to Kluber fetching a greater return. I guess we'll find out.
Reason to trade for Kluber: He's not insufferable
My gosh is Bauer a sophomoric turd. A sophomoric turd who's full of himself. He spent an afternoon last week tweeting pictures of middle fingers at people who made fun of him for his latest drone injury. There's the Gerrit Cole/Alex Bregman feud (in which he keeps taking Ls). And last month Bauer said he only wants to sign one-year contracts because he's such a pitching savant that he wants to go to many different teams and help as many young pitchers as possible. Tom Ley called Bauer a "stupid person's idea of a smart person" earlier this year and it is perfect.
Bauer is very outspoken and he has a knack for saying dumb things. It is part of the Trevor Bauer experience. You don't get to pick and choose the pieces you want. You get the whole package. MLB has suspended Bauer's Twitter account on at least one occasion, likely because he told a fan to "quit life," and every few weeks he says something dumb and controversial. About baseball, about politics, about whatever. In Cleveland, those things blow over quickly. In New York? Nah. Bauer's a very talented pitcher but also an obvious headache. Kluber is anything but. He is business-like to the point of being boring, and the Yankees like boring. Any team that pursues Bauer will ask themselves "how much nonsense are we willing to live with to get a great pitcher?"
* * *
Rosenthal says the Indians are not interested in attaching a bad contract (like Jason Kipnis) to one of their starters to unload salary. Whichever starter they deal, the Indians want to maximize that starter's trade value and get as much young talent as possible. They want to make a baseball trade, not a payroll trade. Good for them. I mean, it sucks they have to trade a starter for payroll reasons in the first place, but at least they're going to focus on talent.
The fact Bauer is younger and entering what should be his prime makes him a more attractive trade target than Kluber, who's almost certainly already had his best years and is theoretically about to enter his decline phase. That Bauer might not cost as much to acquire is icing on the cake. Kluber will be more luxury tax friendly going forward, albeit slightly, and he undoubtedly would not be as much of a distraction, and those are points in his favor. The New York media would have a field day with Bauer.
With the Yankees having missed out Corbin, they'll have to trade players to get an impact pitcher now, because that clear-cut high-end starter does not exist in free agency. Happ is fine, Keuchel lost a lot of strikeouts and ground balls this year, and Morton ended the season hurt. Kluber and Bauer are on the short list of the best pitchers in the game and both are available, apparently. The Yankees should of course check in on both guys, and Bauer just might be the better option at this point.