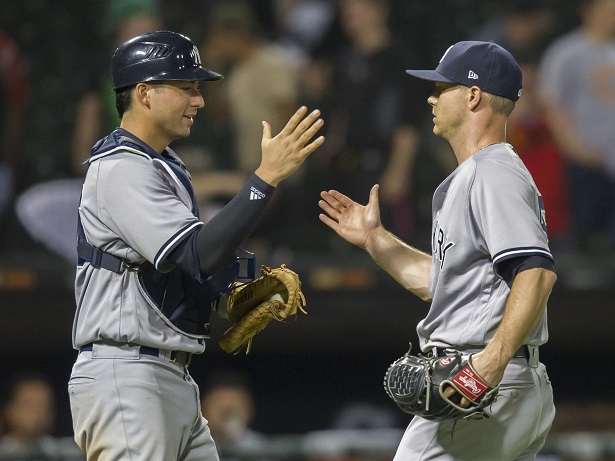 In a season four episode of "Mad Men," the principal characters' firm is about to go under thanks to the exit of a big account. When confronted with this, they have to put up a personal stake as collateral for the bank. Upon telling this to his wife, Pete (played by Vincent Kartheiser) gets the following response from his wife, Trudy (played by Alison Brie), "You bet big and lose, you don't double down." It's likely sound advice, but, just for today, I'm proposing the Yankees go against it and making a case for keeping Sonny Gray around.
The Yankees bet (fairly) big to bring Gray to the Bronx at the trade deadline in 2017, trading away prospects Dustin Fowler, Jorge Mateo, and James Kaprielian to the A's. Gray was good down the stretch in 2017, but was an absolute disaster in 2018. He was such a disaster that Brian Cashman has publicly stated the team's desire to trade him and done so rather bluntly. The only thing offsetting just how bad 2018 was for Gray is the fact that the players for whom he was acquired didn't fare too well either. Fowler was inconsistent with the As; Mateo is floundering in the minors; and Kaprielian hasn't pitched in two years.
For full disclosure's sake, I'm not totally into the idea I'm pitching here (pardon the pun). But with the Yankees missing out on Patrick Corbin and Nathan Eovaldi (on whom I wasn't too high anyway) and me not being enamored with the other options, I'm just spitballing here. Cost-wise, keeping Gray is a fine move. He's cheap as a third year arbitration guy, his $9.1M projected salary lower than the price of a free agent's AAV. And since he's already on the team, he obviously doesn't cost any prospects like a trade would. Given how (annoyingly) cost-conscious the Yankees have been lately, this might appeal to them. There's also room for improvement on Gray's part.
In his career, Gray has been good more often than he's been bad. And last year, he was way more bad than he had been before, enough that it might be fluky and there's some rebound potential. His BABIP in 2018 was .326, the highest he's ever given up and 42 points higher than his career norm. His home run numbers were also off from his career trends, but that's likely a product of being in Yankee Stadium full time instead of the Coliseum in Oakland.
On a pitch-by-pitch basis, his slider in 2018 was not the pitch it's been for his career, generating fewer ground balls than normal. This gets fleshed out in his pitch values as well, with even the pitches that were positive for him this year being worse than normal per 100 pitches.
On more of a surface level, Gray's ERA was 4.90 (113 ERA-…ERA+ but in reverse), but his FIP–4.17–was better than average (94 FIP-). Granted, his DRA at Baseball Prospectus was a 5.00, signalling he may have been closer to the 4.90 than the 4.17.
Again, I'll admit to all of this being mostly a stretch. It's likely best for the Yankees and Gray if they're parted by a trade. But part of me thinks there's no way Gray could be as bad as he was in 2018 again. Part of me thinks that his true talent level is too good and, paired with the talents of Luis Severino, Masahiro Tanaka, and James Paxton, that could make one hell of a rotation, especially with CC Sabathia anchoring the back. The likelihood of that, though, is near infinitesimal.