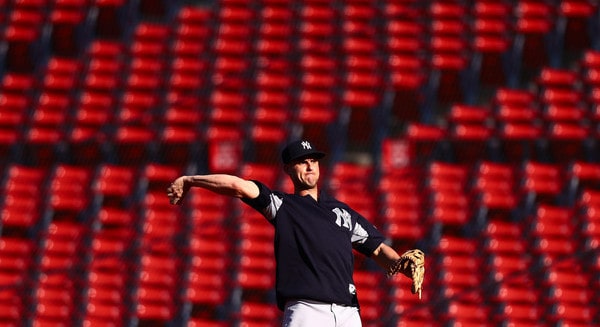 At the moment the Yankees are a little more than halfway through their offseason. It has been 68 days since their ALDS Game Four loss and there are 58 days to go until pitchers and catchers report to Spring Training. Hooray for being closer to Spring Training than the ALDS. Baseball is approaching.
The Yankees have been fairly busy this offseason, most notably adding James Paxton and re-signing several players (Brett Gardner, J.A. Happ, CC Sabathia). They also added some depth pieces through waiver claims and minor trades. Still on the offseason to-do list is find a Didi Gregorius replacement and also bolster the bullpen. That's the short version. There are still other needs as well.
With the Winter Meetings over and the Yankees slightly more than halfway through their offseason, I figured this was as good a time as any to take a step back and examine the current state of the roster. The projected 25-man Opening Day roster, that is. Here's what we know right now:
| Catcher | Infielders | Outfielders | Rotation | Bullpen |
| --- | --- | --- | --- | --- |
| Gary Sanchez | 1B Luke Voit | LF Brett Gardner | J.A. Happ | Dellin Betances |
| | 2B G. Torres/OPEN | CF Aaron Hicks | James Paxton | Aroldis Chapman |
| | SS G. Torres/OPEN | RF Aaron Judge | CC Sabathia | Chad Green |
| | 3B Miguel Andujar | OF Giancarlo Stanton | Luis Severino | Jonathan Holder |
| | | | Masahiro Tanaka | OPEN |
| BENCH | DISABLED LIST | | | OPEN |
| Austin Romine | Didi Gregorius | LIMBO | | OPEN |
| OPEN | Ben Heller | Jacoby Ellsbury | | OPEN |
| OPEN | Jordan Montgomery | Sonny Gray | | |
Also on the 40-man roster: RHP Albert Abreu, RHP Domingo Acevedo, RHP Chance Adams, RHP Parker Bridwell, RHP Luis Cessa, RHP A.J. Cole, RHP Domingo German, RHP Joe Harvey, RHP Tommy Kahnle, RHP Jonathan Loaisiga, LHP Stephen Tarpley, C Kyle Higashioka, IF Hanser Alberto, 1B Greg Bird, IF Thairo Estrada, UTIL Tyler Wade, UTIL Tim Locastro, OF Clint Frazier.
That is a sneaky number of OPEN spots! I count seven. Four in the bullpen, two on the bench, and one at either second base or shortstop. The Yankees of course have in-house options for those seven OPEN spots and, in some cases, the in-house options are preferable to spending on a back of the roster player(s). Why spend money on a utility infielder who is no lock to perform better than Wade or Albert or Locastro, you know?
There are 18 healthy players on the 40-man roster who are not part of my projected big league roster in that table. We can drop those 18 players into one of five buckets. Let's do exactly that.
1. Going to the minors (4). I think we can safely assume Abreu, Acevedo, Higashioka, and Estrada are going to begin 2019 in the minors. Higashioka is the third catcher and both Abreu and Acevedo have development remaining. They're not MLB ready. Estrada missed basically the entire 2018 season with various injuries and needs to catch up on lost at-bats. The Yankees have plenty of other infield options.
2. Out of options (6). Six of those 18 players can not be sent to the minors next year without passing through waivers: Alberto, Bridwell, Cessa, Cole, German, and Kahnle. Chances are a few of these guys will be gone before Spring Training begins — the Yankees still have to open a 40-man spot for Happ, for example — but they're on the roster right now, so they get dropped in this bucket.
Being out of options does not guarantee a player an MLB roster spot but it can be a tiebreaker. If, for example, the final bench spot comes down to Alberto or Wade, it could go to Alberto because he can't be sent down and Wade can. Give the Yankees a truth serum and I think they'd tell you they want German (long man/spot starter) and Kahnle (middle reliever) to shove in Spring Training and grab bullpen spots. But, if Bridwell or Cessa or Cole appear to be better options, then they'll get the Opening Day bullpen assignments.
3. Other bullpen candidates (4). Adams, Harvey, Loaisiga, and Tarpley are bullpen candidates in addition to those out-of-options arms. Tarpley strikes me as most likely to win an Opening Day roster spot simply based on the fact he impressed enough in September to get an ALDS roster spot. Also, he and Chapman are the only lefty relievers on the 40-man roster, and Chapman's the closer. He's not going to be brought into a sixth inning matchup situation. Left-on-left relievers are largely disappearing from baseball, but Tarpley could crack the Opening Day roster.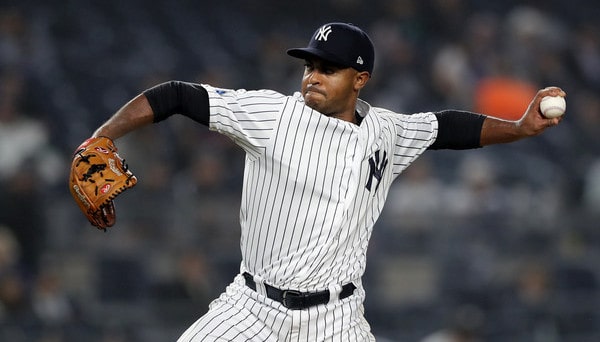 My hunch is the Yankees want Loaisiga to go to Triple-A to begin next year. He impressed in his four-start cameo this summer (not so much in September) but the kid has never pitched in Triple-A and he has 196 career innings to his credit. I don't think the Yankees would hesitate to carry Loaisiga in their bullpen next year if he's one of their best options — he has a scary injury history and you might as well get whatever you can out of him before he gets hurt again — but, in a perfect world, they'd be able to send him to Triple-A for more tune-up work.
Adams and Harvey are straight up bullpen candidates. Surely the Yankees hope to have better options come Spring Training, but, if they don't, Adams and especially Harvey could win bullpen jobs. Adams might be at a disadvantage given his ability to start. The Yankees could send him to Triple-A to remain stretched out as the sixth starter and go with someone else in the bullpen. Adams wouldn't be the first guy to lose out on a big league bullpen gig because the team wants stash him in Triple-A as a starter.
4. Second base/shortstop options (2). Assuming Estrada is indeed ticketed for Triple-A, the top in-house second base/shortstop candidates aside from Alberto are Locastro and Wade. I expect the Yankees to add a middle infielder at some point between now and Spring Training, but, if they don't, those are the internal options. Locastro and Wade (and Alberto). Seeing how Wade was the Opening Day second basemen this year, and Locastro is more of an outfielder who can play second base than the other way around, I think Wade would be the guy right now. If the season started today, Wade and Gleyber Torres would be the starting middle infielders. That's what I think.
5. Other bench candidates (2). We're down to two names: Bird and Frazier. Two former top prospects who have lost a lot of time to injuries in recent years. We know all about Bird's problems. Last year's oblique injury and this year's concussion issues have limited Frazier to 745 plate appearances and 182 total games the last two years. That's a real bummer. Had he been healthy this past season, Clint could've filled in for Judge in August and who knows, perhaps he plays well enough to win the 2019 left field job outright and convince the Yankees to move on from Gardner.
As for Bird, gosh, I don't know what the Yankees will do with him. Voit has clearly jumped him on the first base depth chart, but the Yankees do love Bird, and would it really shock anyone if they carried him on the bench next year? I mean, they did this year, right? It's one thing to do it in August and just buy time until rosters expand on September 1st. It's another to do it on Opening Day. The Yankees are an eight-man bullpen/three-man bench team and using two of those three bench spots on a backup catcher and a backup first baseman seems … unwise.
The x-factor here is Ellsbury. He's coming back from major hip surgery and Brian Cashman is already hedging against Ellsbury being ready for Opening Day, but, if he is ready, he might get a bench spot by default. I think it is far more likely the Yankees will release Ellsbury than carry him on the roster next year, but what do I know? If he's healthy and Frazier needs Triple-A time after all the injuries, carrying Ellsbury as the reserve outfielder could very well be in the cards. As for Gray, the other guy in limbo, he's a goner. He'll be traded at some point.
* * *
To me, Locastro is the under-the-radar guy to watch. He can play almost anywhere, he's a .307/.402/.443 (128 wRC+) hitter in 471 career Triple-A plate appearances, he's a great runner (169-for-208 career stealing bases, an 81% success rate), and he doesn't strike out much (career 11.5% strikeouts). I'm not saying I want Locastro on the Opening Day roster. I'm just saying he's currently the odds on favorite to be this year's "no one expected him to make the team but he did" guy.
Anyway, we had seven OPEN spots in our original table and this is how I think the Yankees would fill them if the season started today, which thankfully it does not.
| Catcher | Infielders | Outfielders | Rotation | Bullpen |
| --- | --- | --- | --- | --- |
| Gary Sanchez | 1B Voit | LF Gardner | Happ | CL Chapman |
| | 2B Torres/Wade | CF Hicks | Paxton | SU Betances |
| | SS Torres/Wade | RF Judge | Sabathia | SU Green |
| | 3B Andujar | OF Stanton | Severino | MR Holder |
| BENCH | | | Tanaka | MR Kahnle |
| C Romine | DISABLED LIST | | | MR Tarpley |
| IF Alberto | Ellsbury | Heller | | LG Cessa |
| UTIL Locastro | Gregorius | Montgomery | | LG German |
That leaves the out-of-options Bridwell and Cole out in the cold — the Yankees really seems to like Cessa — Loaisiga and Frazier getting regular playing time in Triple-A, and Bird in Scranton. As much as the Yankees like (or liked, once upon a time) Bird, I think they're at the point where they need to see health and production before giving him a roster spot. That Voit is around as a viable first base alternative makes this even more likely.
Would the Yankees play Wade at second base and Torres at shortstop, or the other way around? Either way works, really. I think I'd prefer Wade at short and Torres at second because second base is Gleyber's likely long-term position and he still has only 132 career games worth of experience at the position. My preference, whether the Yankees go internal with Wade (nah) or bring in a middle infielder from outside the organization (yup), is to keep Torres at second base. I'd have no problem with him at short. Second would be my preference though.
Anyway, this is all a very long way of me saying the Yankees still have some unresolved roster spots, maybe more than anyone realized. The middle infield is unsettled, two bench spots are unclaimed, and there are four open bullpen spots. It's easy to see why the Yankees want two relievers, right? Yes, they can fill some of those spots internally and I'm sure they will. Filling all of them internally seems like a non-option though. The good news is there's lots of offseason remaining. The bad news is the Yankees still have a sneaky large amount of work to do this winter.