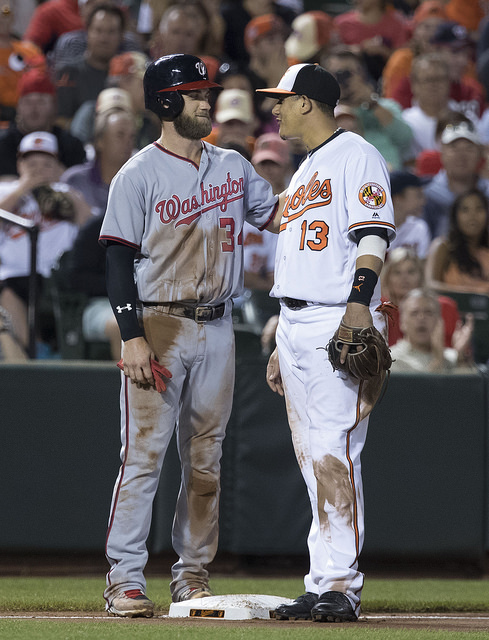 When Brian Cashman called the Yankees a "fully operational Death Star" during the Winter Meetings, he wasn't lying: the team's talented young roster is fresh off of a 100-win season and back-to-back postseason appearances. If you factor in the acquisition of the often-dominant James Paxton and the rumor that the Yankees are believed to be the frontrunners for 26-year old superstar Manny Machado, you'd be excused if you believe him. But a closer look makes it clear that the Yankees have operated at less than full financial capacity, their biggest competitive advantage, for quite some time—and that they can add both Bryce Harper and Manny Machado and still reinvest less revenue into player salaries than they did in the last decade.
Brett Borzelli of Pinstripe Alley wrote up a very astute analysis of the team's financial situation and its league-wide implications a few days ago based on some newly-released data. You should read the entire piece and the underlying data yourself, but I think it's important to pull out three key points:
1. Team payroll has decreased: The Yankees paid their players $226.2 million in 2004, and it remained relatively steady (in real numbers, not those adjusted for inflation) around that figure until last year, when it plummeted to $193 million.
2. Team revenue has increased: In 2004, the Yankees took in $264 million in revenue. That number climbed to $375 million in 2008 and reached about $620 million in 2017. Based on league revenue figures, attendance/ratings and overall team performance, it's a safe bet that revenue increased again last year.
3. Therefore, the Yankees are investing less in the team than at any point in the last two decades: The best way to consider team spending is as a percentage of overall revenue, and by that standard, the Yankees are clearly failing. The 2004 team reinvested roughly 85 percent of its revenue into player salaries while the 2018 version, based on some crude calculations, reinvested less than 30 percent, less even than the Tampa Bay Rays.
To put this in context, consider this: had the Yankees simply maintained the 2004 salary as a baseline and stayed constant, their 2017 payroll would have been $300 million. Had they maintained the same ratio of revenue to payroll as that year (85 percent), their 2018 payroll would have been $526 million, more than double what it is now. Viewed in this context, the Jacoby Ellsbury albatross and the Alex Rodriguez extension have been far less financially inhibiting than we often think.
But instead, after the 2017 Yankees emerged out of nowhere to reach Game 7 of the ALCS, the Yankees cut $50 million in salary from 2017 to 2018 when factoring in the team's luxury tax penalty. The high-profile acquisition of Giancarlo Stanton and his 10-year, $325 million contract—which, by the way, is less than he is worth and will likely prove to be a financial asset to the Yankees over the course of the deal—obscured this in the eyes of many fans and analysts, but the fact remains the same: the Yankees cut $50 million in player salary last year.
A well-coordinated PR campaign by Hal Steinbrenner and other team executives have helped shape a narrative that the Yankees are "still the Yankees" and will "spend when they need to" but that they "don't need a $200 million payroll to win." Some variation of that austerity platform has been deployed for at least the last five years, even as the team has suffered by letting some generational talents pass by.
Consider the 2014-15 offseason, when the Yankees didn't even consider adding Max Scherzer—the type of pitcher we always hear the Yankees "need"—because his contract demands weren't "realistic" under the team's financial framework. Team President Randy Levine was characteristically blunt at the time: "The chances of us bringing in a guy for six [years] and $25 million or over, in my opinion, is virtually none." That philosophy, to varying degrees, has applied to other top-of-the-rotation talents including Jon Lester, David Price, Yu Darvish and Jake Arrieta. (It even applied to the decision not to sign Yoan Moncada back when the farm system was starved for talent.)
The decision not to pursue Scherzer—who, by the way, has a  2.71 ERA (156 ERA+) and 11 K/9 in 878.1 innings pitched since signing with Washington—is clearly the most egregious, but it's far from the only notable decision. In August 2017, the Yankees reportedly discussed Justin Verlander with the Tigers, but not in a serious manner because, according to Buster Olney (subs req'd), they "wanted [him] but had to let him pass by on waivers because they didn't have the payroll flexibility to spend." Verlander, of course, virtually eliminated the Yankees singlehandedly that October and sported a 2.52 ERA in 214 innings last season.
It is clear by now that the Yankees do in fact have the "payroll flexibility" to do whatever they want and that they have actively chosen to inhibit themselves. There is no indication that this offseason will be any different: the Yankees are still beating the austerity drum. They passed on Patrick Corbin, not even extending an offer because the two parties were so far apart financially. And in the Manny Machado sweepstakes, it's long been reported that the Yankees will not offer him a contract worth $300 million or more—if Machado, who is believed to prefer (subs req'd) the Bronx, really wants to be a Yankee, he'll need to accept less guaranteed money. His superstar free agent counterpart in Bryce Harper, also believed to prefer the Bronx, is likely in the same boat.
But the Yankees can afford to pay both. Assume both of them receive $35m per year, the high end of what they're expected to get. That would add $70m to the payroll, bringing it to about $260 million before adding supporting pieces and another bullpen arm. If we assume the final payroll ends up around $280-90 million, they'd pay about $35 million in luxury tax—bringing the payroll to a total of $320 million, right around the 2004 payroll adjusted for inflation (and a fraction of the team's revenue, which has soared since then). There is even enough flexibility here to account for future pay raises for the Yankees homegrown stars.
Much can change in the course of a few weeks (here is the part of the article where I am supposed to bring up Bubba Crosby and Mark Teixeira), but it remains highly unlikely that they make a move to sign both superstars, even though there isn't a single compelling baseball reason not to do so. But there is no excuse, financial or otherwise, not to add at least one of the two superstars, who have yet to hit their prime. In other words, the next few weeks serve as a litmus test for the new-age New York Yankees: is the organization more concerned with its bottom line than it is with producing the best possible on-field product? I still think that Manny Machado ends up in pinstripes, but that may just be wishful thinking: a survey of the team's financial data and recent actions does not exactly inspire confidence.