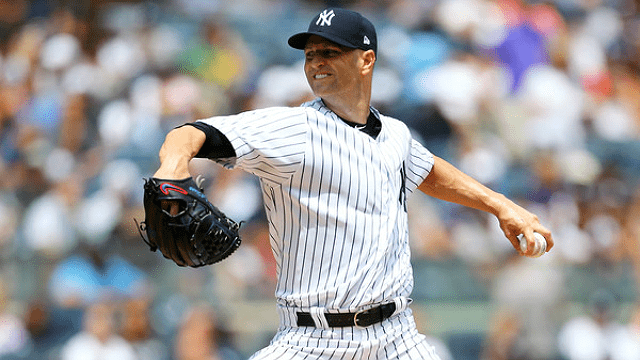 With Patrick Corbin and Nathan Eovaldi having signed with the Nationals and Red Sox, respectively, a strong case can be made J.A. Happ is the best free agent starter still on the market. It's either Happ, Dallas Keuchel, or Charlie Morton. Morton was dogged by shoulder trouble late this year and Keuchel saw significant drops in his strikeout and ground ball rates in 2018. Maybe they're better than Happ. He's right there with them though.
Earlier today it was reported Happ and the Yankees agreed to a three-year contract, though that was incorrect — a rare Ken Rosenthal miss, that was — and Happ remains a free agent. Happ is said to have multiple two-year offers in hand, and the first team to offer that third guaranteed year will get him. He pitched well in pinstripes this past season and seemed to enjoy his time in New York, and the Yankees liked having him, so a reunion makes sense.
Happ turned 36 in October and he'll pitch all of next season at that age. Asking for a three-year deal at 36 may seem to like a stretch, and perhaps it is, but it would not be unprecedented. The Dodgers gave Rich Hill a three-year contract a few weeks before his 37th birthday two years ago. Bartolo Colon got two years at age 39 and John Lackey got two years at 37. Happ seeking three years isn't unreasonable. There's some precedent here.
For the Yankees though, I believe they should hold their ground and stick to two years, or maybe compromise and have that third year be a vesting option based on innings pitched. Don't guarantee that third year though. That third year covers Happ's age 38 season and I think the Yankees should try to avoid that year for two main reasons.
1. His fastball is starting to lose a little something. And Happ sure does throw a lot of fastballs. More than seven out of every ten pitches Happ threw this past season were fastballs, the fifth highest rate in baseball, and that was not unusual. He's been doing the fastball heavy thing for a few years now and it's worked wonderfully. Can't complain about the results. Happ did see a noticeable dip in velocity late this past season …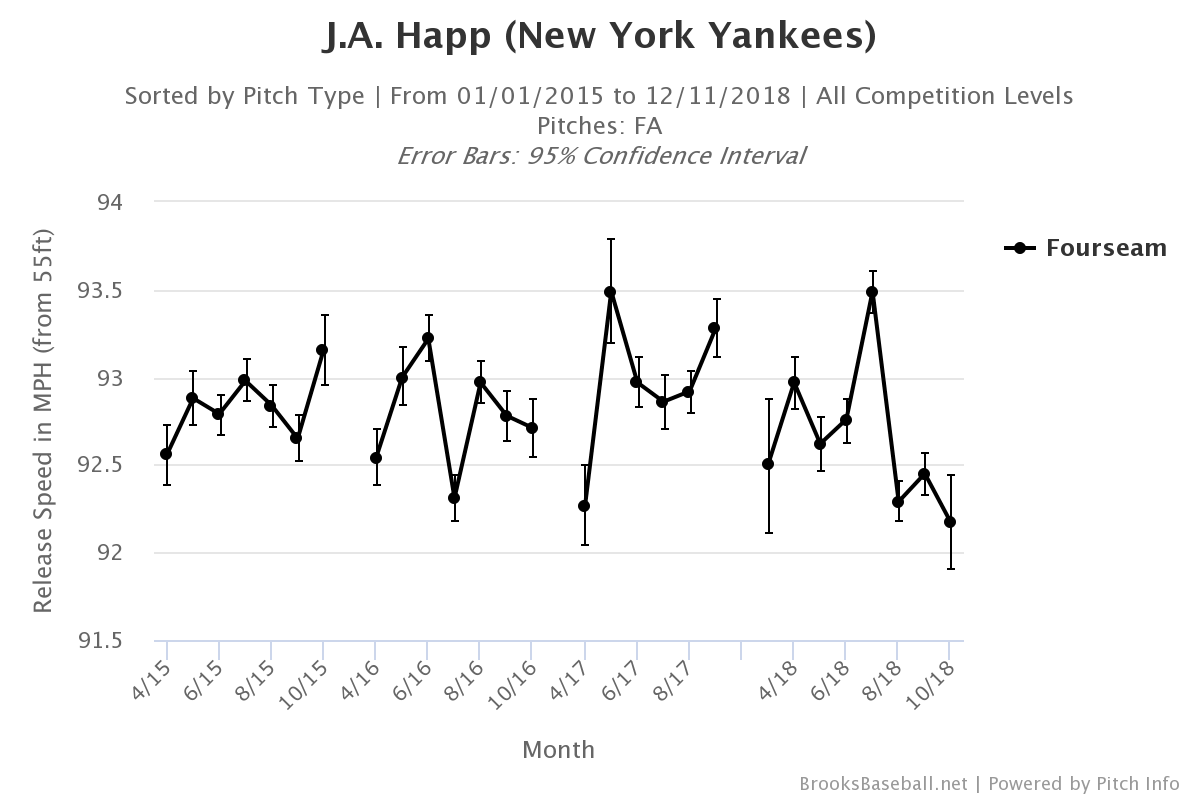 … so much so that his two lowest and three of his four lowest average fastball velocity months since Opening Day 2015 came in the final three months of 2018. Happ went from consistently sitting 92-94 mph from 2015-17 to sitting closer to 90-92 mph at the end of the 2018, and while that's not a huge difference, this is likely just the start of the velocity loss. Pitchers lose velocity. That's baseball. And once they start losing velocity, then tend to keep losing it.
Also, Happ's fastball spin rate and whiffs-per-swing rate slipped this season — he went from getting no contact on roughly 30% of the swings against his fastball in recent years down into the low teens this year — and that's a pretty big deal. A fastball heavy pitcher losing velocity and spin, and getting fewer empty swings, is a big deal. It is. The thing that makes the guy successful is not doing what it once did. That can happen to a pitcher this age.
2. Ground balls are coming down and home runs are going up. As Happ's fastball lost effectiveness this season — and it happened gradually as the season progressed — the result was fewer ground balls and more home runs. Moving to Yankee Stadium contributed to the in-season home run rate increase but that's kind of a problem, right? Because he would be calling Yankee Stadium home going forward. A graph: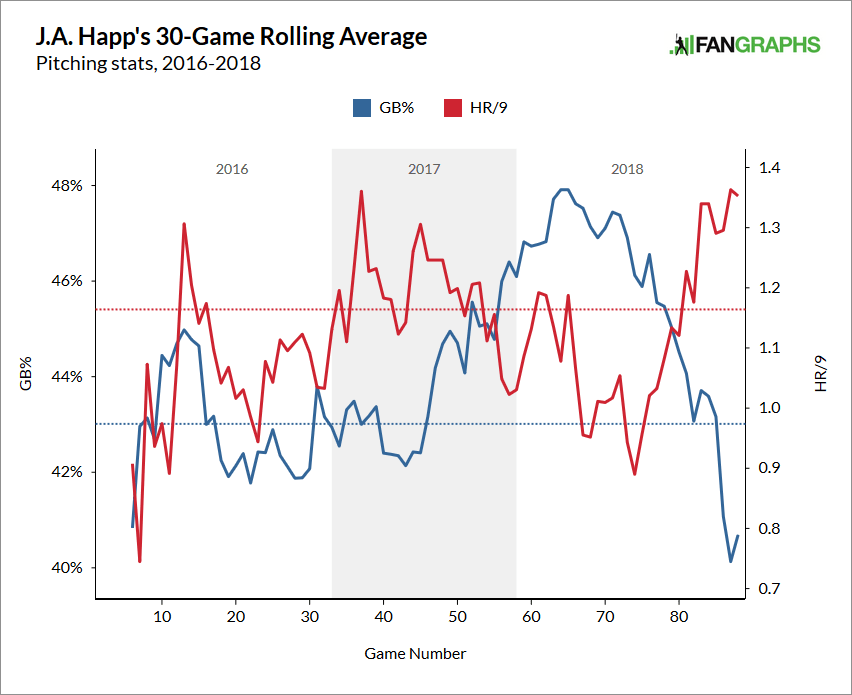 This is all a long way of me saying there are some indicators in Happ's underlying skills, particularly with his trademark fastball, that suggest his performance will start heading south. That doesn't mean he will be unplayable next year or that I don't want the Yankees to sign him. It just means there are some red flags. You're not signing a guy for what he's done, remember. You sign him for what he can do going forward, and Happ may not be able to do the things he was able to do as recently as last year. It happens with pitchers of a certain age.
For better or worse, the Yankees stuck to their guns with Corbin and Eovaldi. They reportedly capped their offer at five years for Corbin and he signed a six-year deal. They didn't want to go beyond three years for Eovaldi and he wound up with four years. Perhaps the Yankees will only offer Happ two years and he'll get that third year from the Phillies or the Braves or whoever. That one extra year has been a sticking point for the Yankees this offseason.
For a just turned 36-year-old pitcher, one year would be ideal. That won't happen. It'll take at least two years to get Happ and I can live with that. Three? That's pushing it but that will (probably) be what it takes. Happ exhibited some worrisome trends in his age 35 season and now we're talking about guaranteeing his age 38 season? After not wanting to pay Corbin in his age 35 season? Happ right now is older than Corbin will be when his six-year contract expires. Just think about that for a second.
With Corbin, I thought he was worth that extra year because he demonstrated top of the rotation (or close to it) skills this year, and a lefty who misses bats and gets grounders both at a comfortably above-average rate is a great fit for Yankee Stadium. Happ is going the other way, those missed bats and grounders are becoming harder to come by, and he's also six years older. A sixth year for Corbin made sense to me to get that immediate upside on a win now team. I don't believe Happ offers that same potential impact at this point. He's solid and that's not nothing, but I'm not sure it's enough either.
Barring a surprise trade for Noah Syndergaard or Madison Bumgarner or someone like that, Happ is very likely the best starter the Yankees could add between now and Opening Day. That doesn't mean they should go all out to acquire him. Signs point to some downside risk here, and although we didn't see that downside this past season, it still exists. The Yankees stood their ground and didn't give that one extra year to Corbin and Eovaldi. They should do the same with Happ, otherwise he might have them looking for a replacement in a year or two.