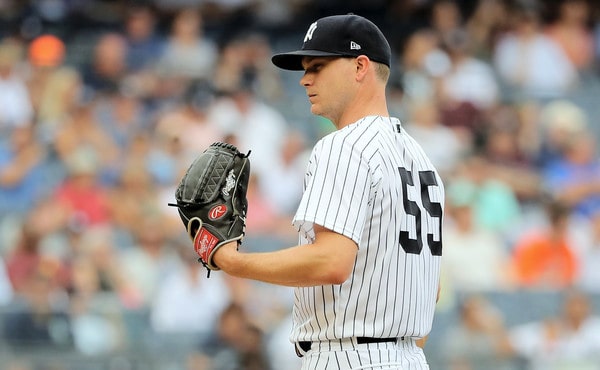 In the course of our lives, there are many pills we'll need to swallow. Some are easy, some are hard, and some have to do with baseball. It might be time for the Yankees to swallow a pill I (mildly, tepidly) prescribed last month: the Yankees should keep Sonny Gray.
Given what GM Brian Cashman said about Gray after the end of the season, there will certainly need to be some fence-mending between the two. But if all that really matters is baseball and winning baseball games, it likely best serves the Bombers to keep the embattled righty. In fact, it's easy to argue that Cashman's comments have affected the market for Gray.
There have been fairly steady reports of interest in Gray for a while, but there doesn't seem to be any fire paired with this apparent smoke. Maybe teams are still waiting for the big dominoes to fall, but the teams connected to Gray are not likely in on the Manny Machado and/or Bryce Harper sweepstakes. Additionally, if the Yankees wanted so badly to move on from Gray, it's doubtful that their pursuit of Machado would delay jettisoning Gray (unless their plan is to trade Miguel Andujar for a starter after signing Machado, which doesn't seem likely right now).
Cashman, though, like all GMs, isn't going to take a trade at a price he doesn't want, so we could say he's just being patient and waiting until he gets the package he thinks he deserves for Gray. But in retrospect, maybe trashing Gray publicly at season's end was a bad idea for building his trade value. That might make it easier to get lowballed. After all, if Cashman values him so lowly, why should teams pretend to do the opposite and, thus, offer a stronger package to the Yankees? Given this odd market for Gray, he may be worth more to the Yankees on their roster than he would as a trade chip.
While the Yankee starters are certainly talented, each one comes with a degree of a question mark. CC Sabathia just had heart surgery, has a bad knee, and is old. James Paxton has been oft-injured. Masahiro Tanaka has missed his fair share of time while in the Majors. Luis Severino may have suffered from fatigue last year, which could be a precursor to injury (I'm not really worried about Severino). J.A. Happ is plain old.
Without Gray, the depth behind those five consists of Domingo German, Luis Cessa, Jonathan Loaisiga, Chance Adams, Mike King (not on the 40 man), Domingo Acevedo, Albert Abreu, and a rehabbing Jordan Montgomery. While there's plenty of upside in there, I still trust Gray more than I do these pitchers, even Montgomery, especially for a prolonged stretch.
This isn't where we expected to be with Gray back in October, but here we are. Despite all the bumps and bruises and perhaps because of the accidental suppression of his trade value, it is best for the Yankees to keep, rather than trade, Sonny Gray.