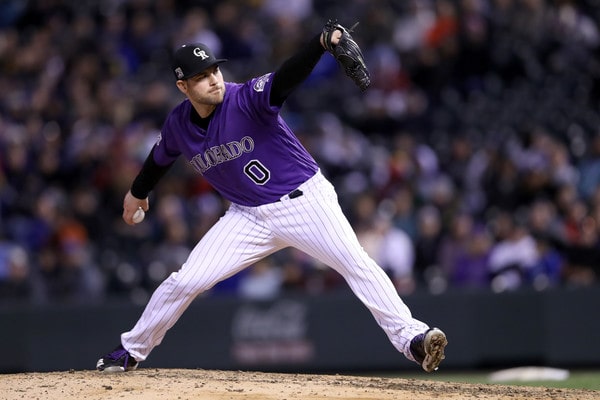 January 24th: The Yankees announced the Ottavino signing this afternoon, so it is official. No other move is required because the Sonny Gray trade cleared a 40-man roster spot earlier this week. The press release says Ottavino will indeed wear No. 0. Pretty cool. He'll be the first player in franchise history to wear No. 0, the last unretired single digit.
January 17th: Two weeks after re-signing Zach Britton, the Yankees have their second reliever addition. According to multiple reports the Yankees have agreed to a three-year contract worth $27M with free agent righty Adam Ottavino. That is exactly what the Rockies, Ottavino's former team, gave Jake McGee and Bryan Shaw last year. The Yankees have not yet confirmed the deal.
"When he called me two nights ago and told me, he had the sound of happiness in his voice I haven't heard in a very long time. He could not possibly be happier," said Ottavino's father to Zach Braziller. "I'm happy whenever anybody gets what they want, and he really got what he wanted. Playing for the Yankees was worth an awful lot to him. At the end, playing for the Yankees was very important to him."
These days top notch relievers are fetching more than $10M annually — seven relievers will make eight figures this coming season, not including the still unsigned Craig Kimbrel — and it seems the Yankees may've traded the third guaranteed year for a lower average annual salary. Andrew Miller and David Robertson, who are roughly the same age as Ottavino, received two-year guarantees this winter.
Ottavino, 33, is a native New Yorker who was born in Manhattan and grew up in Brooklyn, which is pretty cool. Between he and Dellin Betances, the Yankees have two true homegrown players in their bullpen. Neat. Ottavino threw 77.2 innings with a 2.43 ERA (2.74 FIP) and 36.3% strikeouts last season. He's really good and there are several reasons the Yankees were smart to sign him.
With Ottavino on board, the Yankees have accounted for six of their eight bullpen spots. The six spots:
Closer: Aroldis Chapman
Setup: Dellin Betances, Zach Britton
Middle: Chad Green, Jonathan Holder, Adam Ottavino
That is pretty stellar, at least on paper. Relievers are notoriously fickle, so we'll have to see how things play out on the field. Right now, the Yankees have quite a collection of bullpen talent. Figure the out-of-options Tommy Kahnle gets one of the final two bullpen spots, with the last one going to a traditional swingman/spot starter or being used as a revolving door spot.
Of course, Ottavino is not without risk. He is one year removed from a 5.06 ERA (5.16 FIP) with 16.1% walks in 53.1 innings. Even last season he had an 11.7% walk rate. Also, Ottavino has Tommy John surgery in the not-too-distant past (May 2015) and you have to go all the way back to 2013 for the last time he was as good as he was last year. The Yankees are betting 2018 Ottavino is the real Ottavino.
My quick math puts the 2019 luxury tax payroll at $228.5M, assuming Luis Severino wins his arbitration hearing. (It'll be $227.65M if he loses.) That is over the $226M second luxury tax tier and subjects the Yankees to a 32% surtax. Trading Sonny Gray and his $7.5M salary will get the Yankees back under the $226M threshold and I'd bet the farm on that happening. Trade Gray and find a cheaper swingman.
Given their current payroll situation, signing Bryce Harper or Manny Machado would undoubtedly push the Yankees over the $246M third luxury tax threshold, which kicks in another surtax and pushes their 2020 first round draft pick back ten spots. I mean, they've done this much, right? Might as well keep going. I won't hold my breath. Either way, adding Ottavino to the bullpen is a big addition. Nicely done.