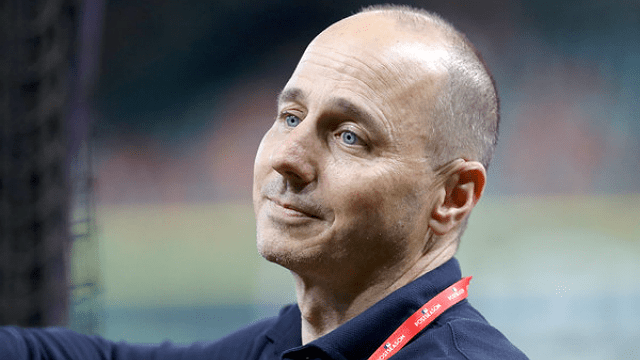 While the gavel on the Yankees' 2018-2019 offseason has not fully finished echoing, it's definitely been dropped and the sound is beginning to die out. The organization officially passed on Manny Machado; there's a more-or-less-zero-percent chance they sign Bryce Harper. The same applies to Craig Kimbrel, Dallas Keuchel, or any of the other remaining major free agents. On some level, all of this can be justified. As pointed out this weekend, the Yankees are going to be an excellent team without those big name players. They could be in a position to be even better, sure, but lots of wins are coming their way regardless. Brian Cashman explained his approach to the offseason in this David Lennon piece.
There's really nothing groundbreaking in the piece, but the tone is a bit paternalistic, especially Lennon's opening, implying that fans who've griped about a lack of Machado and Harper "don't know what [they're] talking about." I get it–there is an information gap between the fans and the front office and there always will be. The gulf of that gap is probably bigger than we know and ranges over myriad subjects we may not have even thought about. That doesn't mean, however, that such a statement is any less condescending.
"I just want to make good, sound business decisions," Cashman said. "I know in this world of social media, there's a lot of haters, judgers and experts that come along the way, and that's fine. Fans are short for fanatics, and I get that too. But our job is to make objective decisions and based on real facts. You just want people to be as objective as you are.

"In fairness to people out there that take those positions, they don't have all the information. I think if they were in a better position to get all the data points that guide our decision-making, they'd be in a better position to understand every course we plot. We're comfortable with what we have and what we've done. We believe in what we've got."
This is just a more detailed way of saying the above. It also masks the moves behind some curtain of careful consideration that we shouldn't dare to criticize. They know the secret sauce; we don't and never will, so let's just trust them. Pay no attention to the algorithms behind the curtain.
As for the "objective decisions" part of what he says, there's little subjectivity in saying that signing elite players at 26 is a good move, both baseball-wise and business-wise, even if those require ten-year contracts. Even contracts we might consider albatross contracts would look much different if they were for the age 26-35 seasons, like Machado's will be. Let's take a look, using Alex Rodriguez, Albert Pujols, and Miguel Cabrera–three players whose contracts became or have become the definition of onerous–as examples.
| | |
| --- | --- |
| Player | Average per 162 games/650 PA, age 26-35 |
| Rodriguez | .296/.391/.564/.955; 147 OPS+; 44 HR; 6.9 bWAR |
| Pujols | .301/.386/.559/.946; 155 OPS+; 40 HR; 6.3 bWAR |
| Cabrera | .321/.404/.558/.962; 158 OPS+; 34 HR; 5.4 bWAR |
All three players were/have been remarkably productive from the ages of 26-35. Between the three, there is only one below 100 OPS+ season in there–93 from Miguel Cabrera in 2017; he bounced back to produce a 130 OPS+ in 2018–though only in 157 PA. Raising the bar to a 130 OPS+–high, sure, but we're talking about three of the best hitters ever here–there are five seasons: Cabrera's 2017, three by Pujols, and one by Rodriguez. For elite talent, these hypothetical contracts tend to work out.
Robinson Cano–whose contract many fear will become an albatross–was also very productive in his 26-35 years, averaging a 134 OPS+ and 5.9 bWAR per 650 PA. He's probably a better comparison for Harper and Machado, since they're not (yet?) all-time greats like the three in the table above. And, of course, we should probably mention Jason Heyward and Jacoby Ellsbury here, as their long-term deals have looked far-less sparkling than the guys above. Still, there's an objective case to be made that elite talent from 26-35 is well-worth the investment.
Cashman also has to "figure out what he's going to eventually be paying young stars such as Aaron Judge, Gary Sanchez, Miguel Andujar and Gleyber Torres," in light of the long term Giancarlo Stanton contract. In his own words, Lennon calls Stanton a "payroll clogger" because of his high salary and AAV and there is more than a grain of truth to Cashman's words about having to pay his young guys. However, there's another side to that coin.
The first is that he can work out–or try to work out–extensions with them like he just did with Luis Severino. That would give the team some payroll certainty, which seems to be Cashman's concern for the future. Luck for him, then, that according to Cot's, the Yankees have very little money on the books beyond 2021.
Looking strictly at total salary, they have just Stanton's $29M and Severino's $11.5M on the books for 2022, as well as an option on Zack Britton. For 2023, the only guaranteed money is $32M for Stanton and at least $2.75M to Severino in a buyout. In terms of the luxury tax, it's just $35M guaranteed (Stanton and Severino) for 2022 and just Stanton's $25M in 2023. There seems to be plenty of wiggle room for the Yankees to build a great future roster with their young players now, as well as contracts to potential free agents like Aaron Hicks, Didi Gregorius, and Dellin Betances.
From Lennon one more time:
"If you have good, young stuff, it doesn't make you have to do anything," Cashman said. "You can continue to bet on their futures and grow with them, and we're growing with them."

They expect to win a World Series with them, too. That's the plan, anyway, even minus Machado and Harper.
I wish I got paid each time I said this, but I'll say it again anyway: the 2019 Yankees are going to be really good and could win the World Series, "even minus Machado and Harper." They're a team with a great young core that should carry them. But, again, this is the exact type of team to add elite talent to. Adding guys like Machado and Harper would help this team grow into a championship contender both now and in the near future, just when the young core is in its prime. Wouldn't building a near-guaranteed perennial winner be a "sound business decision"? I may just be a fan, but I sure as hell think so.