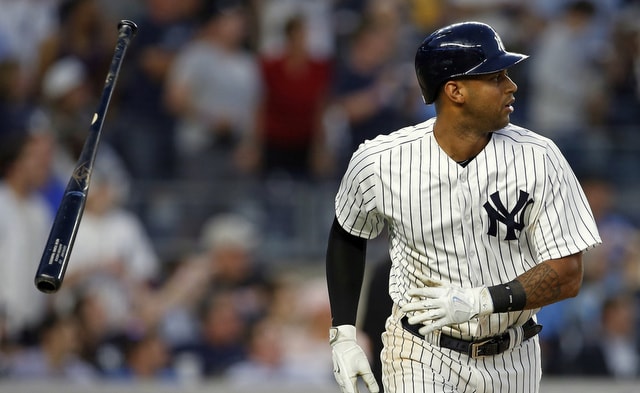 11:04am ET: The Yankees have officially announced the extension, so it is a done deal. "Now I don't have to worry about buying diapers," Hicks said at this morning's press conference, referring to his newborn son Aaron Jr. Here's to seven more years of Hicksie doing cool baseball things.
8:06am ET: The Yankees have locked up another member of their core. According to multiple reports, the Yankees and center fielder Aaron Hicks have agreed to a seven-year, $70M extension with a club option for an eighth year. The deal begins this year, so it covers his age 29-35 seasons. An official announcement is expected later today.
"I think Aaron Hicks is maybe the most underrated player in the game. He is such a valuable player, playing a premium position," Aaron Boone said to George King over the weekend. "As good as our guys control the strike zone he is probably the poster child for it. And the ability to hit with power and the speed he brings. He is really a complete player. He has come in to his own the last couple of seasons."
Here is the contract breakdown. For luxury tax purposes, it is a $10M hit from 2019-25 with an $11.5M hit in 2026 if the option is exercised. There's no luxury tax hit in 2026 if the option is declined. (The buyout is taxed during the seven guaranteed years of the deal.)
2019: $6M salary plus $2M signing bonus
2020: $10.5M salary
2021: $10.5M salary
2022: $10.5M salary
2023: $10.5M salary
2024: $9.5M salary
2025: $9.5M salary
2026: $12.5M club option or $1M buyout
No no-trade clause, but Hicks gets a $1M assignment bonus if traded.
Hicks, 29, has broken out as one of the best center fielders in MLB the last two years — only Mike Trout (+16.8 WAR) and Lorenzo Cain (+12.2 WAR) have been more valuable than Hicks (+8.6 WAR) in center the last two seasons — hitting .255/.368/.470 (127 wRC+) with 42 homers to go with strong defense and baserunning. That includes a career-high 27 homers in 2018. He's an all-around contributor.
The Yankees originally acquired Hicks from the Twins in a one-for-one trade involving catcher John Ryan Murphy back in November 2015. Murphy went 12-for-82 (.146) in 26 games with the Twins and spend most of the 2016-17 seasons in Triple-A. Minnesota sent him to the Diamondbacks in a minor trade at the 2017 deadline. No matter what happens with Hicks from here on out, that trade has been a massive win for the Yankees. Goodness.
Minnesota originally selected Hicks with the 14th overall pick in the 2008 draft and, once upon a time, Baseball America (subs. req'd) ranked him as the 19th best prospect in baseball. I love a good out-of-nowhere success story as much as anyone, but this is not that. Hicks has always been tooled up and highly regarded. It just took him some time to find his way at the big league level. The Yankees bought low and have been rewarded handsomely.
The Yankees signed Luis Severino to a four-year, $40M extension with a fifth year club option two weeks ago. He was four years away from free agency, however. Hicks was due to become a free agent following the 2019 season. The Yankees have also had extension talks with Dellin Betances — Jon Heyman says the two sides are still discussing a deal — though not Aaron Judge, apparently. I imagine that'll change soon enough. I assume a Didi Gregorius extension is on the to-do list as well.
This is the largest non-free agent contract the Yankees have given out since signing Derek Jeter to his ten-year, $189M extension back in February 2001. It's not even close, really. The Yankee have done several extensions in the $40M to $50M range (Severino, Robinson Cano, Brett Gardner, Javy Vazquez) but nothing close to $70M. An extension for Judge would figure to top Hicks' deal. If not in length, then at least in guaranteed dollars.